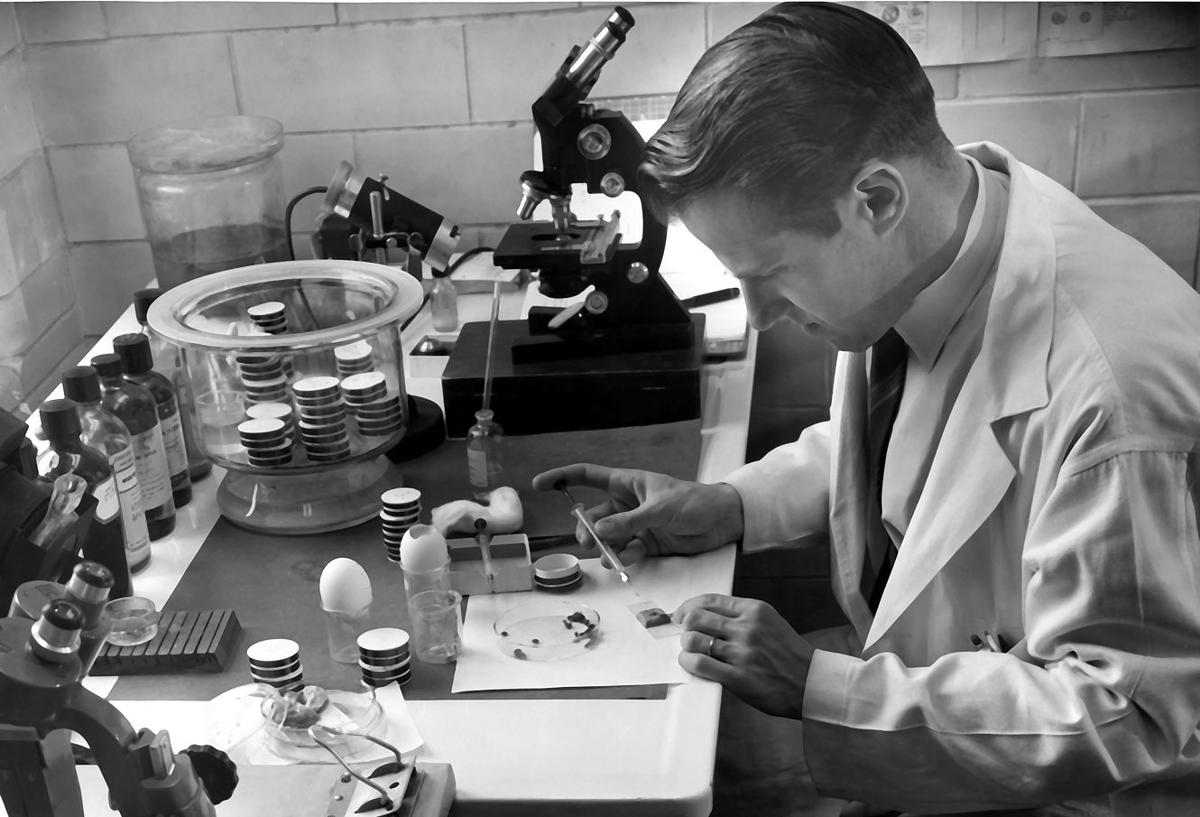 To the world, Willy Burgdorfer will always be remembered as the scientist who discovered the cause of Lyme disease.
In Hamilton, the former Rocky Mountain Laboratories scientist will be remembered as a patient and kind mentor to the researchers who followed in his footsteps, as well as a community member always willing to share his time through the Kiwanis and his church.
Burgdorfer died in Hamilton on Monday at the age of 89.
Born and educated in Switzerland, Burgdorfer joined the RML research team in Hamilton in 1951. Over a career that spanned 35 years, he studied a variety of tick-borne disease agents and authored over 200 scientific publications.
In 1982, his discovery of the bacterium that causes Lyme disease rocked the scientific world.
Lyme disease was first recognized as a serious health problem in 1975 after scores of children developed juvenile rheumatoid arthritis near the small town of Lyme, Connecticut. Researchers focused their attention on deer ticks as a potential carrier of the disease, but no one could solve the mystery of what caused the disease.
On the other side of the country at the Hamilton laboratory, Burgdorfer was working to help a fellow researcher find the cause of an outbreak of a totally different tick-borne disease called spotted fever that had occurred in New York in the early 1970s.
While studying deer ticks sent from New York in hopes of uncovering the cause of the spotted fever outbreak, Burgdorfer found the long, coiled microorganisms called spirochetes that would prove to be the cause of Lyme disease.
The spirochete was later named Borrelia burgdorferi in honor of Burgdorfer.
Retired RML researcher and friend Tom Schwan said Burgdorfer would call his most famous discovery "serendipity."
That discovery – which was made while looking for something totally different – is a testament to Burgdorfer's abilities as an "outstanding scientist," Schwan said.
Schwan first met Burgdorfer in 1983 when the RML scientist was speaking at the first international conference on Lyme disease at Yale. They met again at the university the next year.
In 1986, Burgdorfer was on the team who interviewed Schwan for a job at RML. It was the same year that Burgdorfer retired.
Burgdorfer was provided emeritus status at the laboratory following his retirement and continued to work with many of the young up-and-coming scientists there.
"He took me under his wing," Schwan remembered. "He helped me learn a lot of things that I used throughout my career. To me, he was wonderful.
"He shared his scientific knowledge. He was very patient to work with. He would sit down with me and help me plan out experiments … and he was always interested in having me meet his colleagues.
"He just made me feel like he had my best interests at heart," Schwan said.
Burgdorfer also made sure that his young colleague found time to be part of his community.
"He introduced me to the Kiwanis," Schwan said. "He was a longtime member of the Kiwanis. Very soon after I came here, he said: 'Hey, Tom. You would be good for the Kiwanis. It would be a good place for you to be able help your community.' "
Burgdorfer was very active in that organization and was instrumental in helping it form a youth soccer program that's still active today.
"He had a great career," he said. "He always treated other people as a gentleman. I will certainly miss him.
"It's kind of like knowing that even though you don't get into the mountains every day, it's nice to know that they are there," Schwan said. "It's always been nice to know that Willy is just down the street. He's going to be missed by a lot of people."
Get local news delivered to your inbox!
Subscribe to our Daily Headlines newsletter.