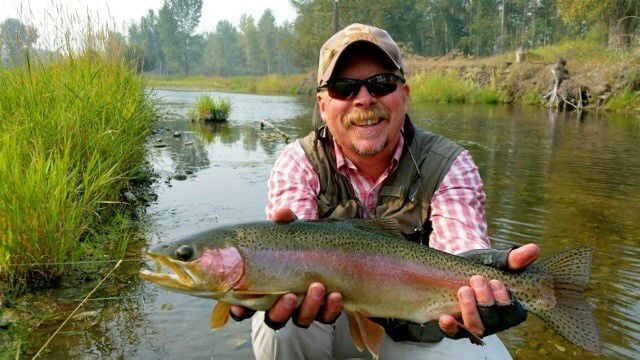 On Nov. 10, 2020 Montana lost another fly fishing legend, Paul Roos of Lincoln.
If you are a guide or outfitter, have fished the Big Blackfoot, or leafed through an Orvis catalog you have probably heard of him. If not, his name will go down in history with many of the great conservationists in the fly fishing industry. Pat Barnes, Dan Bailey, Bud Lilly and George Grant are a few that come to mind.
His name is synonymous with the Blackfoot as are the others and the rivers they made a living on and helped protect. Paul began his guiding career in 1970. At the time, the Blackfoot wasn't much of a fishery.
Years of mining, over grazing, dewatering, logging, and stocking of hatchery fish had taken its toll on the river and its native fish. Together with other concerned members, he helped found the Big Blackfoot Chapter of TU in 1978 and the Blackfoot Challenge in 1993.
Over the years these two organizations have brought members of the Blackfoot Valley together to conserve and restore hundreds of miles of in stream and riparian habitat. Native bull trout and west slope cutthroat, once on the brink, are flourishing.
Today the Blackfoot is one of the most popular rivers in Montana among fly fishers. This success was not only achieved through hard work but collaboration with a diversity of groups and stakeholders.
A big part of Paul's success in conservation was his ability to find common ground among multiple partners. He was able to listen and make you feel your ideas and concerns were as important as his. Trout Unlimited's conservation approach reflects that ethic: "The best conservation work comes from true partnerships between landowners, agencies, nonprofits, municipalities, and other stake holders."
I was fortunate to have met Paul on several occasions through our mutual affiliations with Trout Unlimited, Clark Fork Coalition, and the Fishing Outfitters Association of Montana. We also ran into each other a few times while floating the Bitterroot and Blackfoot.
He always seemed to have a calm and kind demeanor. I even had a chance to do a check float with him early in my guiding career. A good friend was guiding for Paul at the time and set up a float where the three of us could get out together. It would be an interview of sorts. I ended up getting busy working for other outfitters and had to pass. I still regret cancelling that float and not guiding for him. I'm sure I would have learned a great deal, which would have helped me throughout my career.
Along with his work in conservation, Paul helped grow and legitimize Montana's fly fishing industry. Pat Barnes who gave him his first guiding job taught him that "conservation and good business go hand in hand." He held his own guides to a higher standard of professionalism and required them to participate in conservation.
Paul set a high bar for the folks in our industry. I hope that more guides, outfitters, and shop owners will follow his lead and give back to the rivers we love and make our living. I know I will.
Eddie Olwell of Stevensville's Fishs Eddy O has been fishing the waters of western Montana since 1977 and guiding since 1999. Olwell writes a regular column for the Ravalli Republic called Fish Tales.
Get local news delivered to your inbox!
Subscribe to our Daily Headlines newsletter.