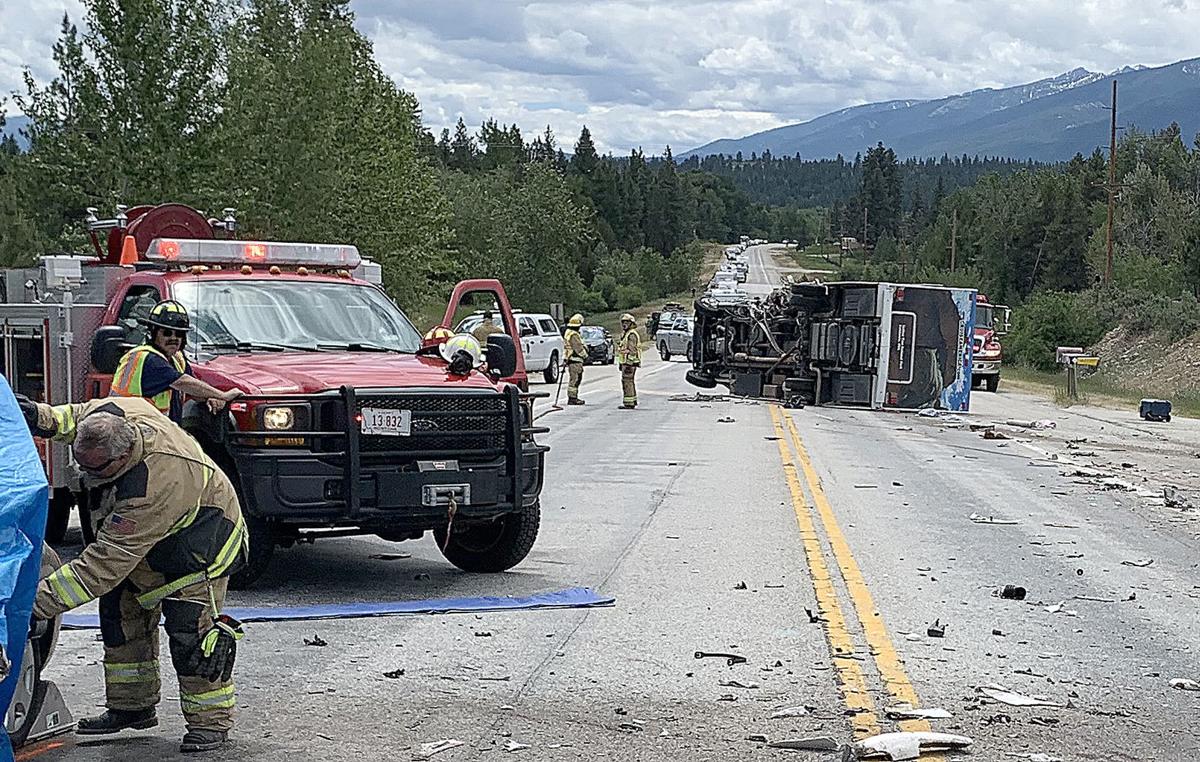 Two crashes south of Hamilton — one of them fatal — closed U.S. Highway 93 from Skalkaho to Lake Como for four hours Sunday.
Montana Highway Patrol troopers also responded to a serious crash allegedly involving a drunk driver later that day south of Florence.
The first crash occurred at about 12:20 p.m. just south of the Lost Horse intersection on U.S. Highway 93.
Montana Highway Patrol Sgt. Scott Bennett said a Hamilton woman driving north in a PT Cruiser swerved to the left and into the path of a motor home with seven occupants.
The motor home's left tires drove up and over the smaller car. The 51-year-old woman in the PT Cruiser was killed.
The motor home rolled onto its right side.
"It basically disintegrated," Bennett said. "There was debris everywhere."
All of the occupants — two adults and five children — in the rented motor home were wearing seat belts. They all survived the crash with minor injuries.
"They were from Salt Lake," Bennett said. "They had rented the motor home and had been touring national parks and much of Montana. They still had a couple of days of vacation left when the vehicle crossed in front of them.
"It was amazing that they were all seat-belted in at the time of the crash," he said. "That fact saved a lot of people from serious injury, if not death."
The motor home's driver was a 45-year-old man. He was accompanied by a 44-year-old woman and family members ranging in age from 19 to 12 years old.
Bennett said there is no indication of excessive speed or alcohol in the crash. The investigation hasn't determined why the woman swerved into the oncoming lane.
While emergency responders were at the Lost Horse crash scene, a three-car crash occurred a half-hour later near the Roaring Lion Road on U.S. Highway 93.
The crash happened after a vehicle slowed to make a left turn off the highway. The car immediately behind it also slowed, but a third vehicle plowed into the back of the two cars in front of it.
Bennett said a Montana Highway Patrol trooper from Missoula was called to investigate that crash.
"We were all tied up at the other accident," Bennett said. "I know the injuries were minor in that second crash."
The two crashes resulted in U.S. Highway 93 traffic being rerouted to the Old Darby Road for four hours.
Just before the highway reopened south of Hamilton, a Montana Highway Patrol trooper was called to a third crash scene Sunday southeast of Florence at about 4:15 p.m.
That crash occurred about a half-mile south of the roundabout on the Eastside Highway between Florence and Stevensville.
A 33-year-old Helena man was charged with felony counts of criminal endangerment and driving under the influence after he allegedly crashed his truck into an SUV. The SUV's driver was transported to the hospital via ambulance.
A charging affidavit filed in that case said Ross Thomas Ingman originally told a trooper that a friend was driving his vehicle at the time of the accident. he said that man had run away. The trooper used a computer on Ingman's vehicle to determine there was only one occupant in the vehicle at the time of the crash.
The trooper observed that Ingman appeared to be "highly intoxicated," according to the affidavit. "He was confusing and inconsistent in his statements, had bloodshot and watery eyes and smelled strongly of alcoholic beverage."
The trooper determined Ingman was unable to do field sobriety tests. Initially, Ingman was uncertain whether he needed medical attention from the EMS staff on the scene. He was transported to Marcus Daly Memorial Hospital for treatment, where he became "argumentative, incoherent and interrupted."
Ingman refused to provide a preliminary breath sample and initially refused to consent to a blood sample. His blood was eventually drawn and sent to the Montana State Crime Lab.
Ingman has four prior DUI convictions.
Ravalli County Justice Jim Bailey set bail at $15,000.
Get local news delivered to your inbox!
Subscribe to our Daily Headlines newsletter.