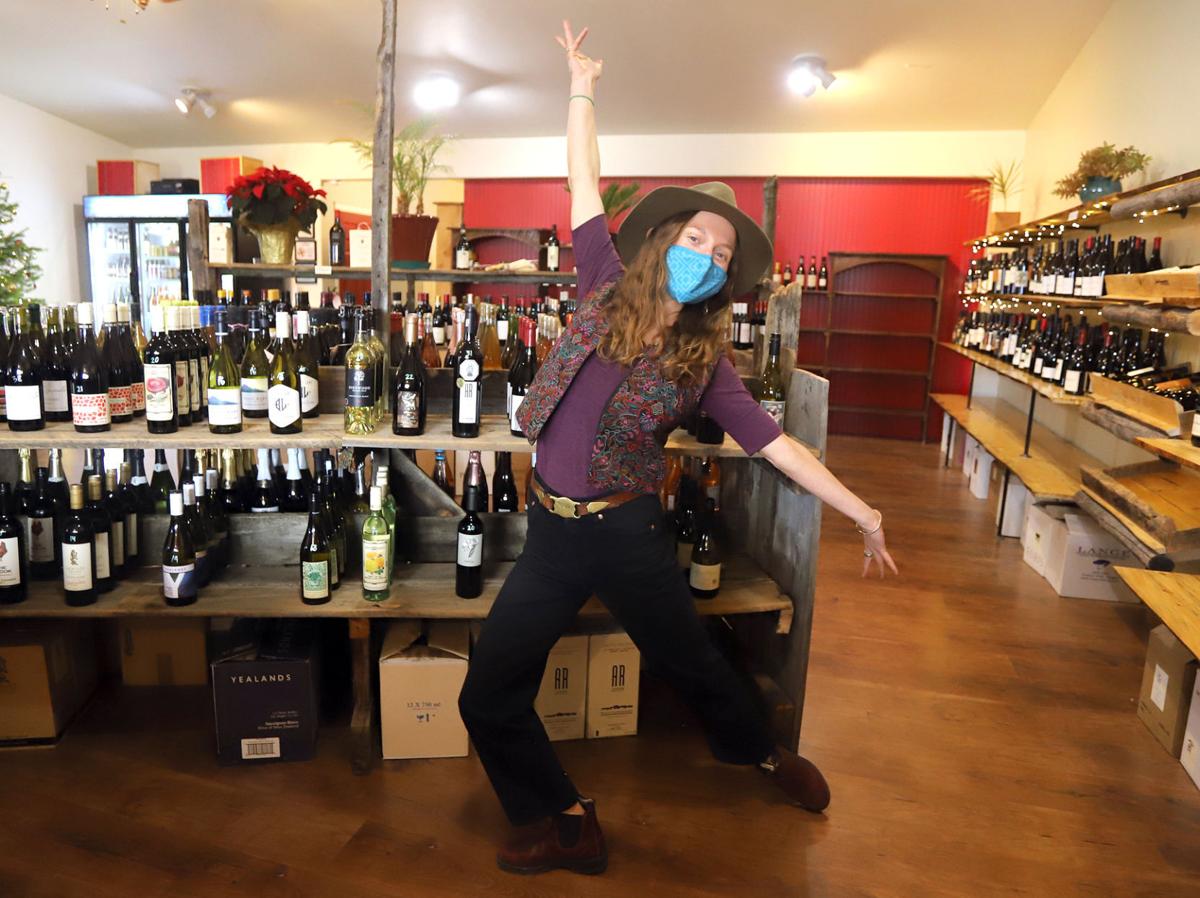 For the last seven years, Jessi Trauth has dreamed about opening up a business in the Bitterroot Valley that would combine her talents for performing arts with her knowledge about good wine.
And so when the right building came available in Hamilton, the Stevensville native decided she wasn't going to let a pandemic stop her from making her dream come true.
In September, Trauth opened Jessi's Wine and Goods at 100 Skeels Ave. in Hamilton.
"I felt like we needed something like this to shine some light and bring some joy in this time when people are facing challenges from the pandemic," Trauth said.
Trauth has always been ready to accept a challenge that others might think was too big.
Born and raised in Stevensville, she became captivated with the performing arts at a very young age. With the help of supportive parents, Trauth grew up dancing, singing and acting. Her talent would lead her to stages all over the world.
"I had some amazing teachers along the way," Trauth said. "My parents were a big part of it. My mother drove me to Missoula every day after school…It wasn't a typical childhood in Stevensville. I just loved it. I was always told I had what it took so I was going to try to see where it could take me."
Her eight years of touring the world playing roles in musicals like "West Side Story" and "A Chorus Line" offered experiences that would eventually help her realize that her heart had never left the Bitterroot Valley.
"When you do musical theater, you do a show eight times a week," she said. "You are up on the stage and there are thousands of people out there watching…I wanted to find a way to connect more with my audience. They were so far away. I couldn't tell if they were falling asleep or having a good time."
"To me, live theater is all about having an exchange of energy with people," Trauth said. "I didn't just want to go through the motions. I wanted to be live and giving people an authentic performance."
That need eventually led her to start doing wine tastings where she would pair a song or choreograph a dance with a wine. She moved to San Francisco and studied with talented winemakers and restaurateurs who wanted to try wine-themed dinner theaters.
Trauth also started her first jazz band while she was there.
"I've always felt like jazz, soul and blues is what I hear when I drink a great wine," she said. "I would sip a wine and hear a song."
When she moved back to Montana, Trauth formed a new band she named Cork and Spark. The talented group of musicians plays a variety of venues in western Montana, including Hamilton's Bitterroot Brewery and Missoula's Top Hat.
"It was really starting to take off for us when COVID started," Trauth said. "We had some close calls with COVID and decided to take a hiatus. We'll start doing wine tastings as soon as we get past COVID. I'm excited about starting to do events."
In the meantime, Trauth is content to begin building a community around her boutique wine shop.
"It wasn't like I was planning on opening when COVID started," she said. "I found this location in September. I had been looking for months for the right place. When this location came open, it just felt perfect. I really like that it's next to the music school. It's easy to park here. It feels like the energy is right.
"There are a lot of people who come in here and say 'I don't know anything about wine. I don't know if I should be in here.' I tell them 'no, this is exactly where you should be.' Finding the right wine shop and developing a relationship with my customers is a way to help them experiment and learn."
"It's the way I learned," Trauth said. "You find people you resonate with and then let them guide you. I keep track of everything my customers buy so we can talk about it the next time they come in."
Trauth takes pride in the fact she knows the stories behind the wines she sells. She is passionate about supporting small artisan winemakers from around the world.
"These are beautiful wines that speak of the place they come from," she said. "They are not manipulated to taste one way all the time. That means every bottle is a unique experience, just like every person who meets the wine is different. It's like opening a time capsule."
"When you know that the person who has made this has put all their love and care and passion into creating this thing for you to enjoy, there is a level of connection there that I don't think we get when we consume mass-produced things," Trauth said. "I hope to build a community here that supports grower-producer, small-production, artisan winemakers and others. To me, that's where the magic lives in enjoying wine, beer, cider and other foods that you can't find anywhere else in the valley."
Jessi's Wine and Goods sells fresh bread twice a week. On Tuesday, the shop receives deliveries from Missoula's Grist Milling and Bakery. Odd Fellows' Bakery bread from Salmon, Idaho is featured on Thursday.
"Both offer some of the best bread that I've ever had," she said. "I'm so proud and honored that they are selling their bread here."
The shop also offers a selection of artisan beer, cider and a variety of other specialized products.
"I'm getting new things all the time," she said. "No one will ever be bored here."
Trauth likes the fact she supports small artisan producers whose work is a labor of love.
"It's certainly what captivates my heart," she said. "I need to be able to survive on this shop, but I also want to bring something to this town that I love so much. After all my travels and growing up here, to be able to come back and bring something of value that I can offer means a lot to me."
Jessi's Wine and Goods is open Tuesday to Friday, 11 a.m. to 6 p.m. and Saturday, 11 a.m. to 5 p.m. To learn more, go to www.jessiswineandgoods.com.