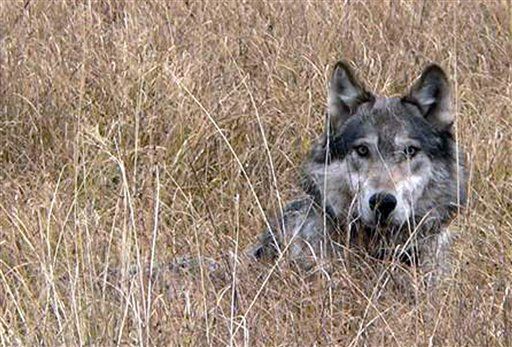 There were at least 625 wolves in 147 packs with 37 breeding pairs roaming Montana's wild lands at the end of 2012, according to figures released Thursday.
That's the number of wolves that state wildlife managers were able to verify for certain for the federally required annual wolf conservation and management report.
The state's annual minimum wolf count dropped by 4 percent in 2012. It was the first time that has happened since 2004.
The count doesn't include 95 wolves killed statewide by hunters and trappers from Jan. 1 to Feb. 28 this year.
While the overall wolf count dropped statewide, the number of packs and breeding pairs increased slightly.
That's what FWP wolf specialist Liz Bradley documented this year in the Bitterroot area as well.
"The overall numbers are down slightly from last year in the Bitterroot, but we are seeing a few more packs," she said. "The pack sizes are smaller, which is what you might expect with hunting and trapping."
The numbers in this report are a minimum count and don't take into account all the wolves on the landscape, Bradley said.
"You should look at it for a trend," she said. "It gives us an idea of what's going on out there."
Bradley documented 13 packs in the Bitterroot in 2012. That was up from 11 the year before.
At the same time, the annual minimum count dropped from 68 in 2011 to 59 in 2012.
Part of the decline in overall numbers could come from the loss of the Welcome Creek Pack in the northern reaches of the Bitterroot.
"It's no longer there," she said. "It got old and died and dispersed."
Wolf numbers continue to hold steady in the East and West Fork areas, Bradley said.
This was the first year that Montana allowed people to trap wolves, which increased the annual harvest. Hunters took 128 wolves statewide and trappers killed another 97.
In Ravalli County, trappers took 8 of the 14 wolves killed during the season that ended on Feb. 28.
"We're making some progress," said FWP Director Jeff Hagener. "Confirmed livestock loss has been on a general downward trend since 2009, and we have more tools now for affecting wolf populations."
"In some areas, where hunting, trapping and livestock-depredation removals have been effective, it looks like the wolf population's growth has been curbed this year," he said. "In other areas, the population may be leveling off, but we have more work to do. There are still places where we need to manage for a better balance among other Montana wildlife and with Montana's livestock populations."
A total of 108 wolves were removed through agency control efforts in 2012 to prevent livestock loss. In 2011, 64 wolves were killed in similar actions.
Cattle losses from wolves were the lowest they've been in six years. Confirmed livestock depredations due to wolves were 67 cattle, 37 sheep, one dog, two horses and one llama in 2012.
The minimum federal recovery goals for wolves in the northern Rocky Mountains was set at a minimum of 30 breeding pairs and minimum of 300 wolves for three consecutive years. That goal was met in 2002.
The 2012 wolf population estimate for the Northern Rockies – which includes Wyoming, Idaho and Yellowstone Park – is expected to be available the second week of April from the U.S. Fish and Wildlife Service at http://westerngraywolf.fws.gov.
Montana Fish, Wildlife and Parks' complete report will be online by April 12 at fwp.mt.gov