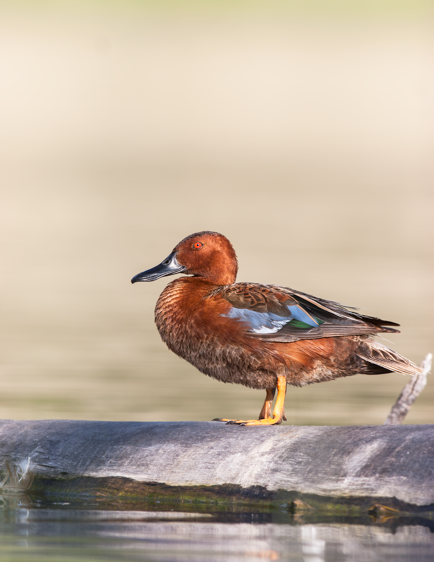 As the sound of irrigation sprinklers echo and ditches throughout the valley begin to deliver their share of Bitterroot River water for agricultural purposes, many bird species benefit from the seasonal pasture flooding associated with water delivery systems.
The water table slowly rises throughout the valley and areas that were dry just months prior are now inundated with shallow freshwater wetlands ranging from saturated soils to several inches of standing water. As temperatures rise these small seasonal wetlands create critical migratory bird feeding habitat by hosting a myriad of aquatic insect larvae that provide a protein-rich food source to wading birds and waterfowl.
The Cinnamon Teal, the largest of the three North American Teal species, common throughout the West, is seen in the Bitterroot this time of year, frequenting these seasonally flooded fields and ditches.
The male has beautiful rust-colored plumage which at times looks iridescent in the right light. For those of you lucky enough to focus in on this handsome duck with a spotting scope, look for its striking red eye. The female, as with most puddle ducks, has dull mottled-brown plumage, helping to camouflage the bird especially during nesting season.
Both males and females have light blue shoulder or covert feathers on the top portion of the wing. The speculum or secondary flight feathers have an iridescent green appearance. The entire wing of the Cinnamon Teal is nearly indistinguishable from their slightly smaller cousin the Blue-winged Teal. In fact, if only presented with a wing for identification, it is nearly impossible to confirm the difference between the two species. The Cinnamon Teal also has a longer and wider bill than its cousins.
Cinnamon Teal represent a waterfowl species that has two recognized separate populations.
One subspecies resides in western North America and four subspecies reside in western Central and South America. While the North American species can summer and winter in states like Arizona, Montana serves only as breeding habitat, as these ducks are long gone by the time the first snowfall hits.
Having the species here in the Bitterroot during the breeding season offers wildlife viewers a unique opportunity to observe the male courtship ritual. The greatest part to this spectacle is to watch three or four males displaying over one female.
Once the mate selects a winning male, she will build a well-camouflaged nest so covered in grass and sedge vegetation that she must crawl through a grass tunnel to access the nest. Once, here at Teller, I flushed a female Cinnamon and thought I had pinpointed her flush so that I could find the nest. I was about 18 inches off as she must have crawled out a foot or more before taking flight.
Following the nesting season, the adults will molt prior to departing for their wintering grounds. The male will lose its brilliant rust-colored plumage, looking more like a female. Shortly after arriving in their wintering states the male will slowly regain its cinnamon-colored plumage and by January will again be one of the most beautiful North American waterfowl species.
From a conservation perspective, The North American Breeding Bird Survey reveals a slight decline in number going back to 1968. As with most waterfowl species, loss of wetland habitat from conversion to agriculture and development is most likely the cause for lower Cinnamon Teal numbers. Here in the Bitterroot, Cinnamon Teal seem to be doing well as each spring they are one of the more common species observed. A drive along Lee Metcalf's National Wildlife Refuge's auto-route will undoubtedly reveal birds this time of year. When you do see one, look closely to see that brilliant red eye staring back at ya!
Sam Lawry, Teller Wildlife Refuge Executive Director has 35 plus years in the wildlife conservation profession. His contributions to the Ravalli Republic are intended to share some of that knowledge of wildlife in the Bitterroot with the community. If you would like more information about Teller Wildlife Refuge please visit our website at www.tellerwildlife.org.
Get local news delivered to your inbox!
Subscribe to our Daily Headlines newsletter.