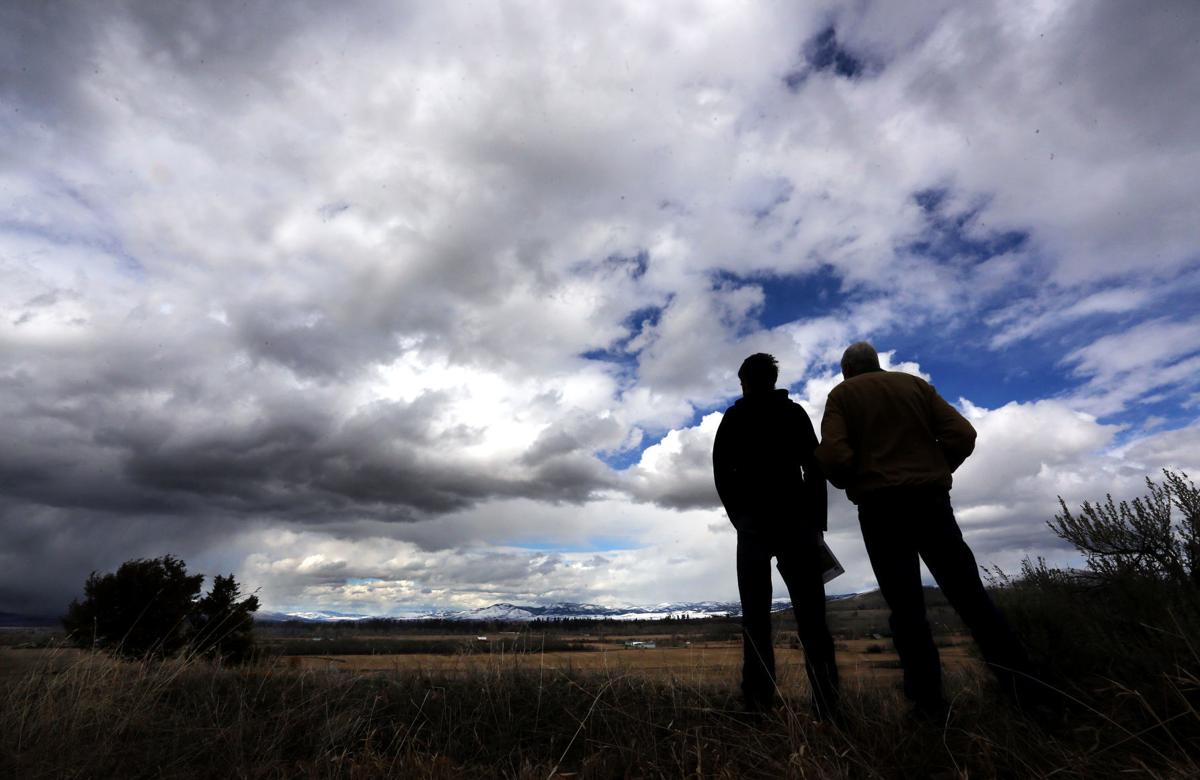 In 2006, Ravalli County asked its residents to take a leap of faith to protect prime agriculture lands, preserve important waterways and keep vital wildlife habitat intact.
They responded by passing a $10 million bond dedicated to protecting open space in the Bitterroot Valley.
More than a decade later, 6,200 acres have been conserved, including 5,000 acres of working agricultural lands. Twenty miles of rivers and streams are protected for perpetuity. About 3,600 acres of winter range vital for elk and mule deer will be there for generations to come. And there's a new public park along the Bitterroot River in Hamilton with another one in the pipeline.
When 2019 arrives, the county will have spent about half of the $10 million approved for its open lands bond program.
Longtime Bitterroot Valley farmer Alan Maki has been part of the county's open lands board since its inception.
"I think this has become a wonderful thing for our community," Maki said. "I think that it's been successful beyond anyone's expectations."
The fact that nearly half of the county's original bond remains untapped shows the lengths the land trust, open lands board and county commission have gone to ensure that projects are carefully selected and vetted, he said.
"The board strives to ensure the dollars are spent wisely," Maki said. "I think what it's done is given the farmers and ranchers in the county new optimism when they see agricultural lands being preserved. Where there is farmland, there will be farmers. Once people see that, they are encouraged to know that agriculture is here to stay in the valley."
Three-quarters of all the private land in the Bitterroot Valley has already been developed in some manner.
"It's been cut up enough so that it's not really being used for farming anymore," Maki said. "There is still a lot of ground that can be developed further in those areas."
The remaining pockets of farmlands are where much of the open lands program is focused.
"Those little areas of the valley are now slowly but surely going under conservation easement," he siad. "It's been a wonderful attribute for the valley."
Bob and Jane Popham placed a conservation easement on the farm that's been in the family for 130 years in 2011. At the time, there were folks that thought they were making a mistake.
"They told me I was legislating from the grave," Bob Popham said. "I said, 'Yeah. That's kind of my intention.' I have no qualms now of having made that decision. I thought it was the right thing to do then and I still think it was the right thing to do."
Popham had already seen about a third of his family's farm disappear before he came to own it.
"It hurts me to this day to see what happened to it," Popham said. "I'm glad we were in a position to get this done. I wished we could have done it 20 years earlier. I'm really happy that the voters saw the importance of saving these working farms and ranches. They easily could have all been lost."
Placing a conservation easement on his farm hasn't changed the way his family operates.
"I think a big share of these places aren't owner operated any more," he said. "A lot of these place are renting their lands out. People in agriculture can't afford to buy this land, but they can afford to rent it."
Commissioner Greg Chilcott said the program has been successful in giving agricultural producers an option other than subdividing.
"Agriculture is our number one economic driver," Chilcott said. "This program has done a good job in helping to keep our agricultural community in a position where they can continue to produce products
"I anticipated that we would have gone through the bond money more quickly, but I think the due diligence in the parties involved has made a difference."
Chilcott said the land trust and open lands board have done a great job in selecting projects and finding ways to leverage matching funds from both federal and state agencies.
"All of us have different priorities and we're not always in line with each other, but the majority of the projects that have been brought forward have had the support of the county commission," he said. "We've not turned one down yet."
Corvallis dairy farmer Dan Huls was on the county planning board and the right to farm committee when the idea of an open space bond was first floated. He was part of the group that took a hard look at what Gallatin and Missoula counties had accomplished.
"We were told by Gallatin County that it had been able to successfully leverage money from other sources," Huls said. "For every $1 they spent, they were able to leverage it multiple times. We followed their model. The Bitter Root Land Trust has done a really good job in learning how to obtain those matching federal funds. That's really, really helped.
"I feel really pleased that it's worked out as well as it has," Huls said.
Gavin Ricklefs, the Bitter Root Land Trust's executive director, said fiscal responsibility has always been an important component in the county's open lands program.
"We live in a community where we are all stretched," Ricklefs said. "We want to ensure that these investments in our community are done carefully. The county commission holds everyone's feet to the fire. The 13-member community advisory board takes a hard look at each project and sets the tone for what the expectations are for each one."
The county has so far received about $4 million as a cash match primarily from two programs contained in the federal farm bill. Both of those programs are included in the recently signed farm bill.
"I think that Congress has recognized in a bipartisan way that our ability to feed ourselves is crucial and that our food networks right now might not be sustainable," Ricklefs said.
The first six of the 27 projects that have been through the process didn't receive a match from the federal government, but the county has been successful in obtaining the funding since then.
"I think they were sitting back and waiting to see if our open lands program would be a viable partner for this program," Ricklefs said. "Since then, Ravalli County has been a leader in the state in bringing in that federal funding."
On top of the federal and state funding, Ricklefs said the landowners who have participated in the program have been "profoundly generous in what they ask for in return. The fair market value of the lands involved in the program is $16.1 million. Landowners have been paid about $8 million for that.
"Landowners and their generosity in the open lands bond program has been absolutely critical in making this successful," he said. "It took some brave souls to step forward and be willing to be first, but since then there's been a backlog of interest."
Rickfels said the program is not for everyone, but works "for a lot of families in the right conditions.''
"It's a fantastic tool to be able to have in our community and incredible that our community has stepped forward to support it in such a significant way,'' he said. "Without it, we could lose the agricultural heritage, open lands, wildlife habitat, and rivers and streams that make this place so unique.''
While it's important to preserve those attributes for the people who live here now, Maki said future generations are going to benefit as well. 
"The future,'' according to Maki, "is what the Open Lands Program is all about!"
Get local news delivered to your inbox!
Subscribe to our Daily Headlines newsletter.