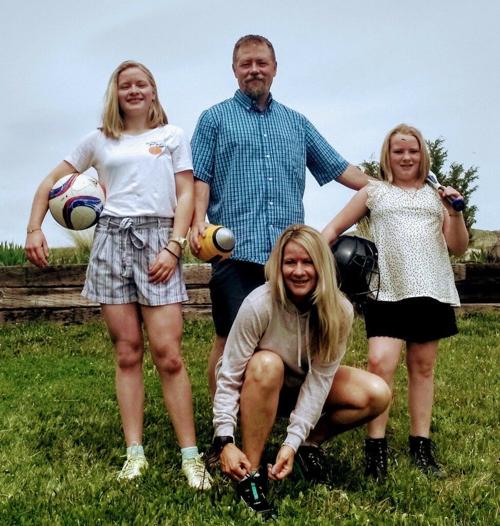 Stevensville Middle School physical education teacher Lori Lewis has been awarded the Middle School Teacher of the Year by Society for Health & Physical Education (SHAPE) of Montana.
Lewis has taught PE at Stevensville Middle School for six years and said the award was a "shock and honor."
She was nominated, then sent in a biography, letters of recommendation, and a health lesson and a PE lesson with the Montana education standards.
Lewis teaches grades six and seven, coaches the high school and middle school cross country teams and is the high school track coach.
Since schools began teaching online after the governor closed schools on March 17 to prevent the spread of the coronavirus, Lewis has been busy posting "Silly Girl Running" on Instagram to inspire her students.
"I run every day and I see if the kids can figure out where I'm at," she said. "It keeps kids involved and shows them it is important to be healthy outside and inside. No matter what is going on their mental and physical health is super important, they need to maintain that for life. I try to model what I do and what I believe."
Lewis said teaching physical education online required creativity like Bingo and scavenger hunts where kids needed to get outside and find various items.
"They sent a picture and a write-up because I also teach ELA (English Language Arts) so cross-curricular lessons," she said.
She discovered her running and Instagram posts were inspirational to many of her students and if she didn't post her runs by 8:30 a.m. she heard from the kids who were worried. They contacted her with concern or comments about her location like "Mrs. Lewis where have you been?" or if they recognized the area sent her comments like "I've been there!" or "Hey, we just missed you."
Every day she had her students focus on mental health, physical health and good eating choices.
"It seemed to work best when the kids stayed focused," Lewis said. "Physical activity is so important. I don't think people understand that physical health fits so well with the mental, it helps people balance and stay stress free."
She said the positive take away from the COVID-19 closures are the family together times.
"I found it beautiful seeing as many families as I did out walking and just being together," Lewis said. "It was cool to see the unity. I hope it continues."
SHAPE Montana is a volunteer organization serving Health and Physical Education teachers with conferences, workshops and continuing professional development opportunities.
SHAPE Montana Awards Chair Emily Raymond said SHAPE strives to bring the best practices for Health & Physical Education to the teachers of Montana.
"The SHAPE Montana Wellness Award recognizes individuals in our profession who have devoted themselves to modeling the values of Health & Physical Education by maintaining a high level of health and fitness and living a healthy lifestyle," Raymond said. "[SHAPE Montana] is proud to present this award to Lori Lewis and thanks her for her service."
SMS Principal Tracey Rogstad said Lewis will be receiving her award this fall at a staff meeting rather than the annual SHAPE state conference as it has been cancelled because of COVID-19.
"I believe Lori is very deserving of this award," Rogstad said. "She teaches with passion and love for her students that reaches well beyond the classroom. Congratulations Lori."
Get local news delivered to your inbox!
Subscribe to our Daily Headlines newsletter.