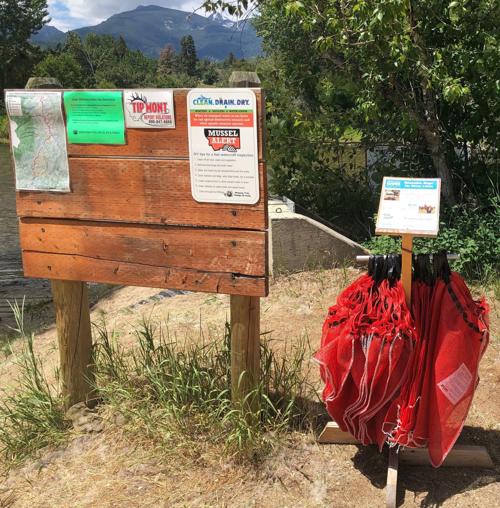 Earlier this year, over 20 reusable bag stands were placed at local fly shops, grocery stores, businesses, and fishing access sites, getting a total of 2,215 bags into the hands of river bound people.
The bright red bags were unmistakable, reminding people to grab a bag before floating down the river.
Inspired from their annual River Clean Up event in August, the Bitter Root Water Forum created the Clean Up All Year program with the hopes to keep litter out of the River year-round. With every bag, the message was clear: Keep our river clean.
The Bitter Root Water Forum is a local nonprofit that works to bring the community together to protect, restore, and enhance the waterways of the Bitterroot Valley. In addition to River Clean Up efforts they also do on the ground restoration and watershed education.
"The River Clean Up brings people together around the river that gives us so much. But, each year volunteers continue to pull thousands of pounds of trash from the river. This is why we started the program of getting reusable cleanup bags in people's hands before they head out to the river," said Emilie Lahneman, Big Sky Watershed Corps for the Water Forum. "And after only two years of the program, we're starting to see results."
This year at the annual River Clean Up event, a much smaller volume of trash was pulled from the river. Volunteers reported finding less litter and were able to focus on getting larger and/or older materials out of the river.
"This year was the first year we put bag stands at Fishing Access Sites, and we think that made a big difference in the surrounding area," said Lahneman. "With the program working so well in these areas, we plan on putting stands at more fishing access sites next year."
The program will be wrapping up for the 2019 season on October 15th. To celebrate the Water Forum is hosting a River Clean Up Photo Contest. Head to their Facebook page to vote for your favorite photo by noon on the 15th. The winner will receive a $25 gift certificate to the Bitter Root Brewery.
Stands will be removed from businesses for the winter, but will be back out for the river season in April 2020. Thank you to everyone who participated in keeping the river clean this summer. And a special thanks to Hamilton High Wood Shop Class, Montana Fish, Wildlife, and Parks, and the Rapp Family Foundation, whose support made this program possible.
Get local news delivered to your inbox!
Subscribe to our Daily Headlines newsletter.