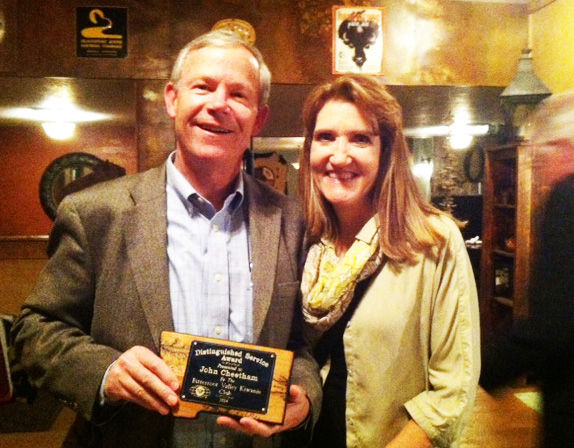 The Bitterroot Valley Kiwanis honored local members with Kiwanian of the Year and Distinguished Service Awards at their installation banquet this week.
Amy Irwin, Justine Morris and John Cheetham were honored for outstanding committee work and exceptional service to the club and community.
Bitterroot Valley Kiwanis president Caleb Senn said all three were deserving.
"Our club nominated and chose Amy Irwin for Kiwanian of the Year to recognize her beyond the call of duty efforts as our 2013-2014 president," said Senn. "Our club membership grew, and our projects ran smoothly largely due to Amy's leadership and tireless efforts.
"Amy Irwin set an outstanding example as president of our club. Our club grew in the last year. I noticed a monumental change in the tone at projects - camaraderie was better than I've seen in years and it made everything seem easier. Behind the scenes, Amy made significant efforts to ensure that while Bitterroot Valley Kiwanis is a big time commitment, we had fun in the process."
One of the Distinguished Service Awards was presented to Justine Morris in recognition of her distinguished leadership in the club's fair booth and her outstanding community involvement both within and outside Bitterroot Valley Kiwanis.
"Justine Morris hit the ground running when she joined our club," said Senn. "I am continually amazed at her ability to juggle complicated projects at the leadership level. Furthermore, she has been instrumental in our efforts to brand and communicate our club's efforts in recent years. As a member, Justine attacks each project with a positive attitude and I feel lucky that she chose Bitterroot Valley Kiwanis."
The Bitterroot Valley Kiwanis also selected John Cheetham to honor with the Distinguished Service Award for "his consistent support, outstanding attitude and diligent service to Bitterroot Valley Kiwanis."
"John Cheetham is a longtime member and Past President of Bitterroot Valley Kiwanis," said Senn. "His dedication is unwavering and he is one of the most dependable members of our club. I rely on him for mentorship and counsel as I encounter various challenges in projects and general leadership. While I lack an accurate figure, I am confident in saying that over the years, his hours of service through our club have made a significant impact in Ravalli County and I am proud to have him as a member."
Since 1971, the Bitterroot Valley Kiwanis Club has been serving the community, helping thousands of Ravalli County children and their families and creating programs that promote a strong community.
Kiwanis donate time and money towards humanitarian, educational and community programs that benefit the community and youth.
The Bitterroot Valley Kiwanis Club current project list includes: Youth Soccer, Key Club, Youth Basketball, Christmas Food Boxes, All-Valley All-Star Classic Basketball Games, Youth Fishing Derby, Daly Days Pancake Breakfast and the Ravalli County Fair Booth.
New to tracking service hours, Senn said the club gives "a significant amount as we are a very "hands-on" service club.
"The first half of October our members worked over 90 combined hours on Kiwanis projects alone, not including meeting attendance and external service work."