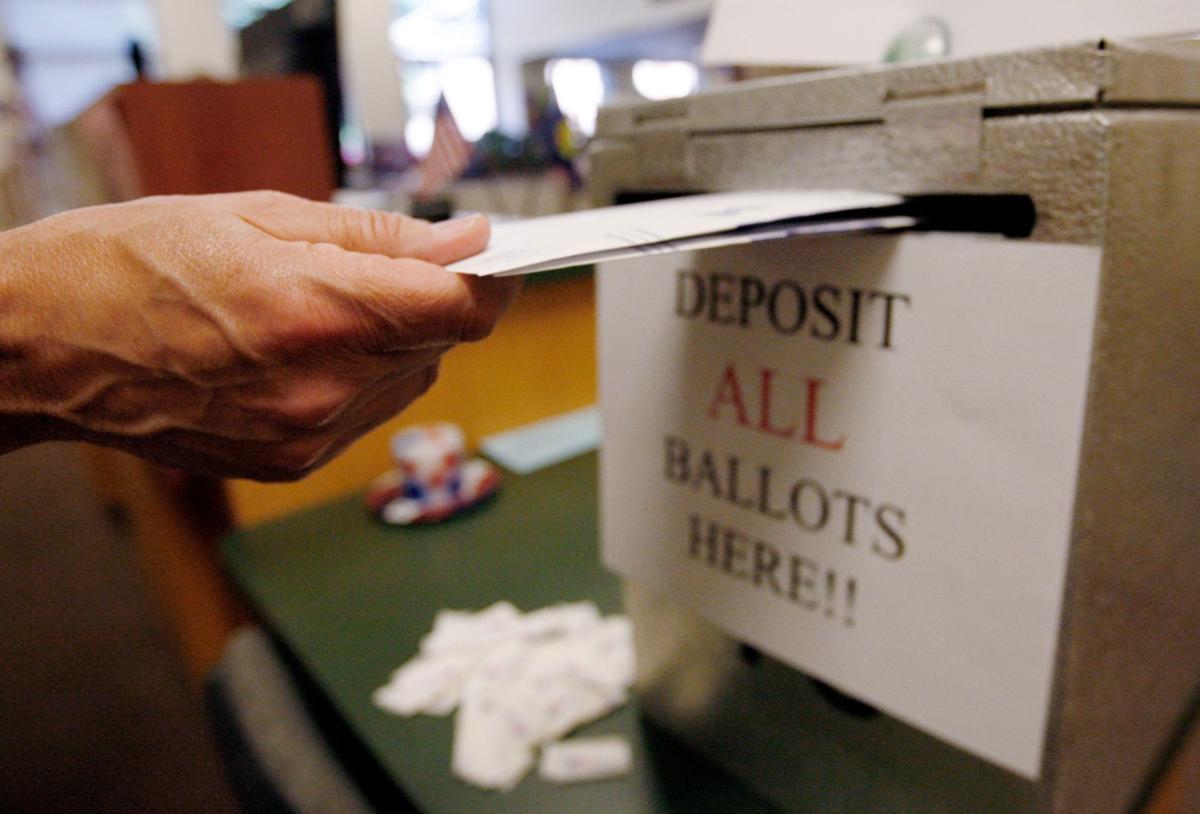 The final day of filing for this year's state and county election brought some last-minute surprises.
Several uncontested races suddenly had challengers. A state senate candidate withdrew from one three-way race to enter another for a House seat in the Florence area. And a man from a family who has a history of filing with parties that don't claim them will run as a Democrat.
All of Ravalli County's five state legislative seats open this time around are contested.
On Monday — the final day for filing — Republican Scott Roy McLean dropped out of the Senate race to file against Republican incumbent House District 88 Rep. Sharon Greef.
Until Monday, Greef was running unopposed.
A former Stevensville mayor, James (Jim) Crews, also filed as a Republican.
McLean didn't respond to a request for information about his decision Tuesday.
Greef ran for the seat after her husband and longtime legislator, Ed Greef, came up against term limits.
"After serving in Helena this past year, I'm looking forward to returning and continuing to represent the people in HD88," Sharon Greef said. "I've appreciated the support I've received, especially after the session, as people saw what was accomplished."
Greef said she looks forward to meeting her opponents to discuss "the issues that matter the most to all of us."
"I've called the Bitterroot home for 34 years and feel very passionate about protecting the values that make it such a special place to live," Greef said. "I decided to first run for office in 2018 after working on staff during the previous two legislative sessions. I felt my experience and background would be a good fit for HD88."
Greef's business experience includes managing a Stevensville log home supply store and working as an auditor for Safeway in Montana. She is active in the Florence Carlton Community Church and serves as a Stephen Minister, a lay person trained to provide care to people in difficult times. She and her husband have two daughters, five granddaughters and two great-grand twins.
"I'm running as a conservative Christian who cares too much not to run," she said.
Crews, 63, served as a Navy Nuclear Machinist Mate 1(SS), Commercial Nuclear Maintenance Standards Advisor, Professional Weapons Handling Instructor, writer, a former telecommunications technician and is currently retired.
He is a hovercraft pilot who recently asked for a permit to operate on the Bitterroot River. Crews said he is a multi-use rights advocate for all citizens regarding natural resources.
Crews has lived in Stevensville for 20 years and served on the town council as president and mayor.
"I am running for House Seat 88 for several reasons," Crews said. "The first is that I believe we need to have a bit of local government reform, in that the citizens need to have a simpler method of holding local government officials accountable to the citizenry.
"Second I want to see what we can do to restrict the Montana Administrative Rules process so that non-elected officials have less power to write rules that become law, removing or restricting a citizen's rights. The current process favors large organizations and not necessarily the rights of the individual citizen."
"I want it to be known that Montana is not for sale, nor are the rights of Montanans," he said.
Two former Republican House members — Nancy Ballance and Theresa Manzella — with very different views on how government should operate face each other in the primary for the Senate District 44.
Ballance represented the citizens of House District 87 for the past eight years. She also served as a trustee on the Hamilton School Board before the legislature. Ballance is a retired as an Information Technology executive responsible for developing large-scale business applications for IBM, Farmers Insurance and Zurich Financial Services.
She is also a woodworker, horsewoman, golfer, skier and gardener. She and her husband have one son who lives in Corvallis with his wife and the couple's two grandsons.
"I am term-limited out of House District 87 and am running for Senate District 44, which encompasses the entire north half of Ravalli County," Ballance said. "As a pro-life, pro-gun, fiscal conservative who has earned the reputation of getting things done in Helena, I feel it is my duty to continue building on my record of delivering conservative solutions in healthcare, education, agriculture, and economic development for my district and for Montana."
"I believe Senate District 44 needs the type of leadership, experience and tangible results I have provided over the past eight years," Ballance said.
Manzella's background includes the establishment of a fine line of performance horses that earned state, regional, national and international championships. She has also managed a variety of businesses, including bar and restaurant, construction and property management, and worked as a supervisor at EDS for General Motors.
"I'm a Christian, constitutional, conservative Republican," Manzella said. "I have a proven 'A' rated voting record over the last three sessions with the Montana Family Foundation, Montana Shooting Sports Association, the NRA, Americans For Prosperity, United Property Owners of Montana, and Legistats /Legislator Loyalty."
"I've also earned the Conservative Achievement Award from the American Conservative Union for voting in adherence to the U.S. Constitution over the past three sessions as well," she said. "I'm the 2017 'Keeper of the 10th' award winner for preserving states' rights, and I've also been received the Phyllis Schlafly Eagle Forum Award. I'm pro-life, pro-God, pro-gun and pro-limited government. I support private property rights, as well as public access."
Timothy Gibney of Hamilton filed Monday as a Democrat to challenge Margaret Gorski of Stevensville.
Gibney's parents have both run for parties that have disavowed them. In 2012, Donna Gibney ran as a candidate for Democrat county precinct captain in a year when several Republicans filed for the Democrat posts. In 2018, the Montana Green Party denounced John Gibney's bid for House District 85 after he refused to back away from statements at an anti-refugee protest in Missoula that party officials called bigoted.
John Gibney filed as a Green Party candidate Monday for the U.S. House.
When reached by telephone, Timothy Gibney refused to talk about his reasons for entering the race.
"I'm not allowed to discuss any information at this time," Gibney said.
Gorski said Tuesday that no local Democrats knew of Gibney.
"We have an election system where anyone can run for office," she said. "It does raise a question in my mind if this is really a party primary … It makes me suspicious that the Republican party is playing games with the primary. It does make it ever more important for voters to do their homework on (who) the candidate really is."
Four Republicans will face off in the primary for the House District 85 seat.
Hollis Poe, 73, has been a longtime member of the Ravalli County Republican Central Committee who now serves as the county's state committeeman.
Poe and his wife started and operated a business in Darby. He has worked with the Ravalli County and state Republican party for 19 years.
"I believed the time had come when I needed to step up and serve Ravalli County in the legislature," Poe said. "That's the reason I'm running. I have a long list of accomplishments that have produced results."
Matthew Locati, 44, of Darby has been in real estate for almost 22 years.
"As a conservative and being in the real estate industry, I've seen so much of the demographics of Montana changing," Locati said. "We are getting so many out-of-staters who want our way of life, but don't necessarily want to preserve the Montana way of life."
As someone dependent on providing good customer service and negotiation, Locati said he feels like he can offer access to the state legislature where he could work together with his constituents to write bills that would help the people of Montana.
Republicans Michele Binkley and Kyle Ellsworth didn't respond Tuesday.
Laura Jackson of Hamilton is running as a Democrat for House District 85.
"I have lived in the Darby School District since 1976 when I bought the land I have made my home, about five miles from where my great grandparents homesteaded," Jackson said.
Jackson worked as a Forest Service fire dispatcher and lookout in the Selway Bitterroot Wilderness. She has always been a practicing artist.
"To preserve our core western life values and amenities in an evolving, increasingly interdependent world, we most need flexibility and respectful dialogue to find our way forward as Montanans," she said. "Listening, questioning, deciding together on best practices are essentials, which I propose and believe will serve us as we face urgent needs to support decent life and livelihood options, present and future, in Montana."
House District 86 incumbent David Bedey will face a challenge from fellow Republican Kenneth Allen in June's primary.
Allen, 40, is a Marine Corps veteran with a degree in criminal justice. He worked as a Nevada corrections officer before becoming an entrepreneur who now is part owner of Brewskis Sports Bar and The Silvercoin in Hamilton. Allen is also a volunteer firefighter who is currently working on his EMT certification.
"Getting involved in politics has been a goal of mine for a long time." Allen said. "I want to be a representative of the people and a leader that the voters can feel confident about. There are too many politicians in office who are out of touch with what the community really wants. I want to influence change and tackle problems that are important to this community. The only way I can do that is by running for House District 86."
Born and raised in Hamilton, Bedey served 30 years in the military, including deployment during the Persian Gulf War and as West Point professor. He spent nine years on the Hamilton School Board.
During the 2019 legislative session, Bedey served on the House Appropriations Committee. He is currently chairing an interim committee on funding for special education, community colleges, career and technical education and funding the state library.
"I am running for re-election because I wish to continue serving the people of House District 86 by bringing conservative principles to bear on the challenges facing the district and the state of Montana," Bedey said. "During the 2019 session, I succeeded in getting legislation enacted that expands access to veterans' services and places more emphasis on career and technical education. I'd like to return to Helena to keep up the momentum in these two areas. I also plan to continue working with my colleagues to promote economic development across the state."
Three Republicans have filed for House District 87.
Sashin Hume of Florence owns an antique store and estate sale company. Hume said her 30 years of experience in small business provide her with an understanding of the economic problems people face in Ravalli County.
Hume said her goals are to protect gun rights, farmers, local control of education, economic growth, using Montana's natural resources and fight the Water Compact. She said she will always vote no on personal property tax increases.
Hume said she will "work tirelessly to clear the muddy waters of government and arm Ravalli County citizens with facts and truth." Hume said she's spent 13 years working in either grassroots movements fighting to protect Montana citizens or in political committees representing them.
Ron Marshall, 57, is a U.S. Army veteran and a small business owner since 2014.
"I am active in the legislature as an advocate for small business and over-regulation of small business," Marshall said. "Over-regulation and the wasteful spending that is happening at the state level is what moved me to run. We need to encourage small business growth and job creation in the valley."
Jolena Bugli is also running as Republican for HD 87.
Democrat Laura Merrill, 61, of Stevensville will face the winner in November.
"I am running for office because I feel that I am the right candidate at the right time, standing ready to address core issues that face all of us in the Bitterroot Valley, regardless of political affiliation," Merrill said. "I have the skill set to listen to different ideas, build consensus, and develop solutions for those issues important to the residents of my district, and for the people of Montana."
Merrill has lived in the Victor-Stevensville area for 30 years.
Prior to moving to Montana, she worked as a forest pathologist with the U.S. Forest Service. She has worked as a real estate broker in the Bitterroot Valley for the past 29 years.
Merrill has served on several nonprofit boards such as the Bitter Root Water Forum, the Bitter Root Land Trust, and currently as Bitterroot Performing Arts Council president.
Get local news delivered to your inbox!
Subscribe to our Daily Headlines newsletter.