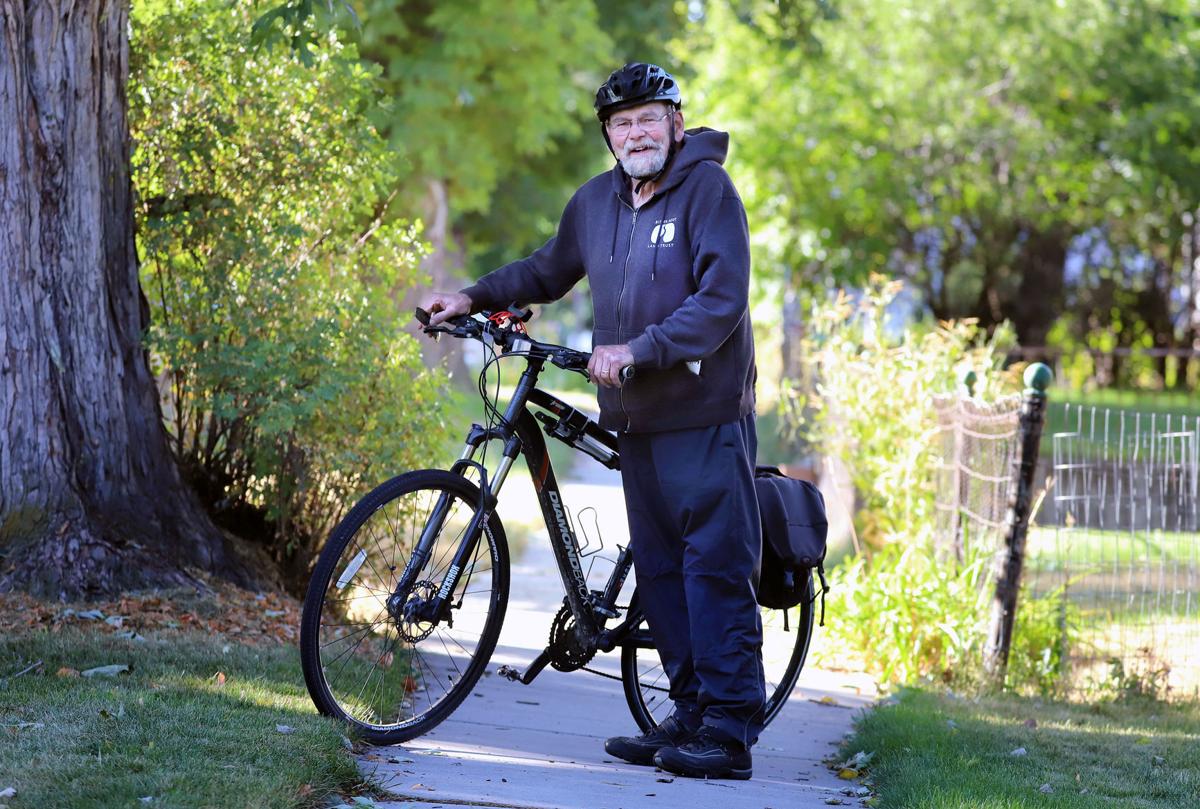 When the Bitter Root Land Trust decided to trade bicycles for a dance floor in 2017, John Ormiston just kept on pedaling.
This year will be the 12th that the 82-year-old Ormiston has made it a point to climb on his bike and ride through some of the prettiest places in the Bitterroot Valley now forever preserved for future generations through work accomplished by the land trust and through the generosity of landowners.
Originally, Ormiston joined with others for the 50-mile Tour of the Bitterroot, which served as a fundraiser for the land trust.
By then the retired wildlife biologist was already a big fan of the work the Bitter Root Land Trust was doing throughout the valley. Ormiston has served on the trust's board of directors for two decades.
"When I started with the bike tour, I wanted to raise $100 a mile or something like that," Ormiston said. "It was a pretty low number. I think I raised a couple of thousand dollars that first year."
After that, he was hooked.
"This wasn't about me or the bike ride," Ormiston said. "It was about supporting the Bitter Root Trust. It also inspires me to get on my bike because I know that sometime this summer I'm going to have to ride. That means I need to get in shape."
"That 50-mile ride was pretty daunting," he said. "Some years I put in over 700 miles getting prepared for it. This year I didn't really get started riding until sometime in May because of the pandemic. I didn't get started fundraising until July."
Each year, Ormiston sets a goal to raise more than the year before.
"When I was 75, I decided I would try to get $100 for every year of my life," Ormiston said. "I raised $7,500. Last year, the goal was 10 grand. I raised about 11. I knew I had to exceed that this year — and since it was the 12th year — I set my goal at 12 grand. So far, I'm at $10,500."
Amid a pandemic, it's been a bit of a challenge for Ormiston to get the word — and his clipboard — out and about.
"I think so far I've had about 129 people pledge to get to that $10,500," he said. "Last year, it was about 220. This year I haven't been able to go to the Audubon meetings or places where crowds gather where I can pass around my clipboard."
"People know me by my clipboard," he said.
Bitterroot Land Trust communications director Emy Royce said Ormiston's commitment to the annual fundraiser has been inspirational.
"I've seen how John's work has expanded the impact of conservation in the community," Royce said. "There are many people who have come to know what the land trust does and all the good work that's happened in our valley because of John's efforts."
Like other nonprofits, the Bitter Root Land Trust has been forced to find new ways to reach out to the people and get them involved in supporting their mission this year due to the coronavirus.
The land trust has created a series of Bitterroot-inspired virtual events that include homegrown picnic baskets, adventures, and an outdoors miles challenge that gives everyone a chance to help raise money just by recording the miles they cover running, riding, or hiking on their favorite trails. OnX is matching up to $2,000 at a $1 a mile.
"What is really exciting about this is that John doesn't have to do this alone," Royce said. "Anyone can do this. Whether it's riding a bike or walking the ADA trail at Skalkaho Bend Park or hiking way up into the mountains, everyone can get outside, enjoy the outdoors and support the Bitter Root Land Trust at the same time."
Instead of the annual barn dance fundraiser this year — which replaced the Bitterroot bike tour in 2017 — the Bitter Root Land Trust is hosting live stream music from the Flying E Ranch in the Burnt Fork on Sept. 24. The free, family-friendly event pairs front-porch-picking by Pinegrass with heartfelt stories made possible by the community of the Bitterroot Valley.
That's the same day that Ormiston will make his 25-mile loop ride around the Burnt Fork drainage east of Stevensville.
"I've advertised it as John and all of his friends," Ormiston said. "Last year, my son and two other guys rode with me. This year my son said he'll go."
Every year is the same. Some people offer their pledges up front and others like to wait until he makes the ride.
"And I always tell them you donate now or donate later," Ormiston said. "If I don't make it, my obituary will say memorials can be made to the land trust. You can pay now or pay later."
Get local news delivered to your inbox!
Subscribe to our Daily Headlines newsletter.