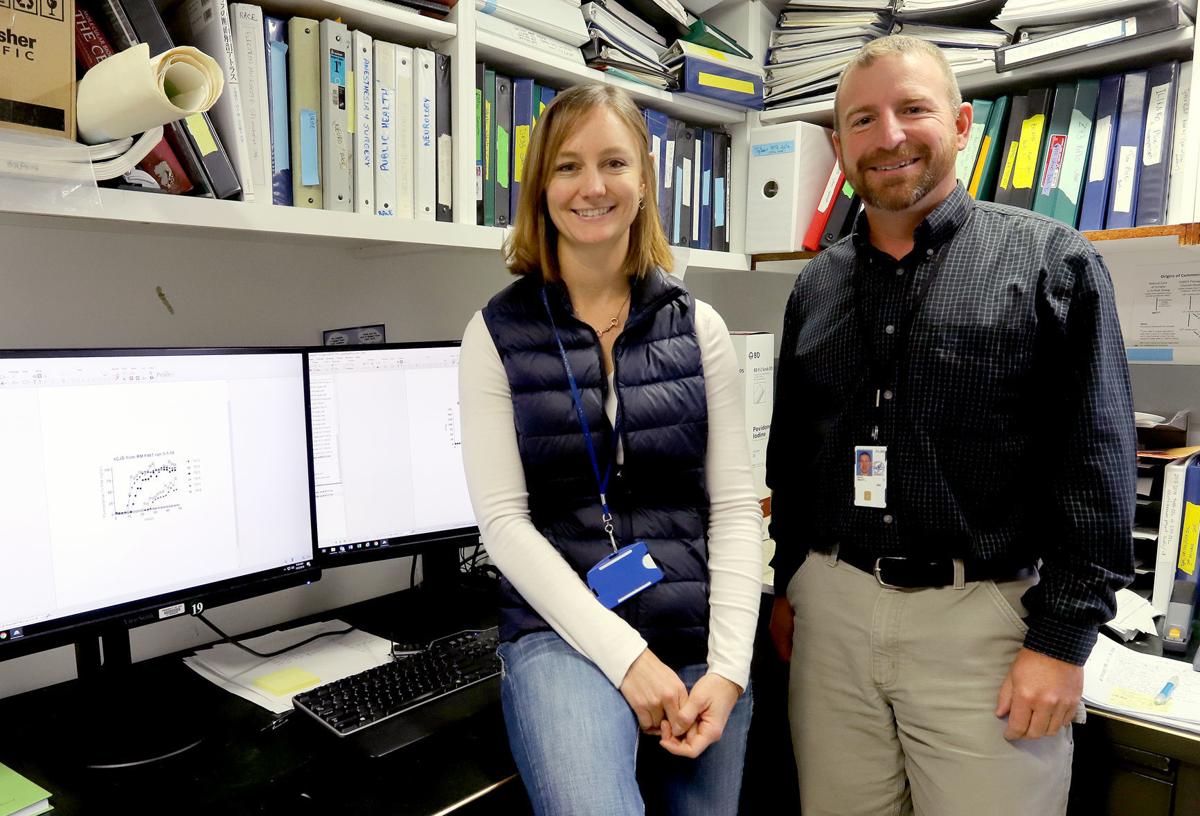 With chronic wasting disease continuing to show up in new locations in Montana, a recent study completed at the Rocky Mountain Laboratories in Hamilton could provide solace for hunters worried about their potential of further spreading the deadly disease.
The study showed a five-minute soak in a 40% solution of household bleach will decontaminate stainless steel knives or other equipment coated with the prions that cause CWD as long as they've been cleaned of any solid tissue.
The study completed by two RML scientists was published in the scientific journal PLoS One Friday.
CWD is a brain-damaging disease in cervids, like deer, that is always fatal. To date, the disease has not been found in people, but since other prion diseases have affected humans, scientists, wildlife managers and public health officials suggest careful handling of potentially infected wild game carcasses.
Since deer and other cervids can be infected with the disease from a minuscule amount of the misfolded proteins, wildlife managers urge hunters to discard animal carcasses in approved landfills. 
While there's been no link between CWD and the human version of the disease, Creutzfeldt-Jakob disease, health and wildlife officials encourage people not to consume the meat and to be careful during the processing of any animal harvested in areas known to be infected with the disease. 
This week Montana Fish, Wildlife and Parks officials added Yellowstone County to the list of areas with confirmed cases of deer infected with CWD along the southern border of the state. The disease was first detected in Montana in 2017 and has now spread across the state with infected herds also found along the state's northern border and in the Libby area.
The study completed by RML staff scientists Brent Race and Katie Williams came in response to inquiries from wildlife biologists, hunters and game wardens who were dealing directly with infected animals.
"They would tell us, 'Look, we're in contact with all this material, how can we decontaminate our equipment?'" Race said. "I would have to tell them that, 'Well, we have some other things that work on other prions, but no one has shown it to be effective for chronic wasting disease.'"
Since Williams was very proficient at one of the prion detection assays available at the laboratory, "we knew we could do this study," Race said.
The fact that Race is a hunter and Williams' family also hunts encouraged them to move forward knowing the general public didn't have access to the same equipment the laboratory uses to decontaminate equipment.
Earlier studies at the laboratory had shown that prions easily bind to stainless steel that's commonly used to make knives or meat saws. They also knew that prions were particularly hard to neutralize.
"The nature of the prion folding makes it very difficult to destroy it," Race said. "They are resistant to heat and resistant to UV light. They are resistant to a plethora of things that kill common viruses and bacteria. You can cook other proteins and destroy them, but you can't cook a prion and destroy it."
Williams said they knew that household bleach worked to deactivate prions associated with other diseases.
The researchers used CWD-infected brains from white-tailed and mule deer. They tested various bleach concentrations and soak times to determine the most effective combination to eliminate the prions.
While bleach worked well on stainless steel, it was not an effective method to decontaminate CWD-infected tissue. Even at full strength at 30 minutes, the CWD-infected brain tissue retained prion activity.
"It's not as simple as throwing your knife or saw into a bleach bath," Race said. "If you have got any pieces visible to your eye, you want to wipe that clean and discard it accordingly before using the bleach to decontaminate the surface. Bleach is not able to penetrate organic tissue very well."
Race said it was important to note that bleach is a caustic substance. If hunters opt to leave their knives and other equipment in the solution for too long, it could damage the steel.
"Don't overdo it. … If hunters do want to be cautious, this is a step that they can take to decontaminate their knives."
For those who don't take that step right after butchering an animal and discover later it was infected by the disease, Race said the same technique can be used to decontaminate their knives, saws or grinders.
"The prions will be there still," Race said. "They'll still be there two weeks later. Prions adhere to a lot of things, but stainless steel seems to be particularly good."
While FWP plans to continue sampling animals harvested in high-priority areas of northern, western and southern Montana for CWD, this year the state will also pay for running tests on animals harvested anywhere else in the state. Hunters wanting to participate in the new program need to collect their own samples and send them to the FWP lab in Bozeman.
Get local news delivered to your inbox!
Subscribe to our Daily Headlines newsletter.