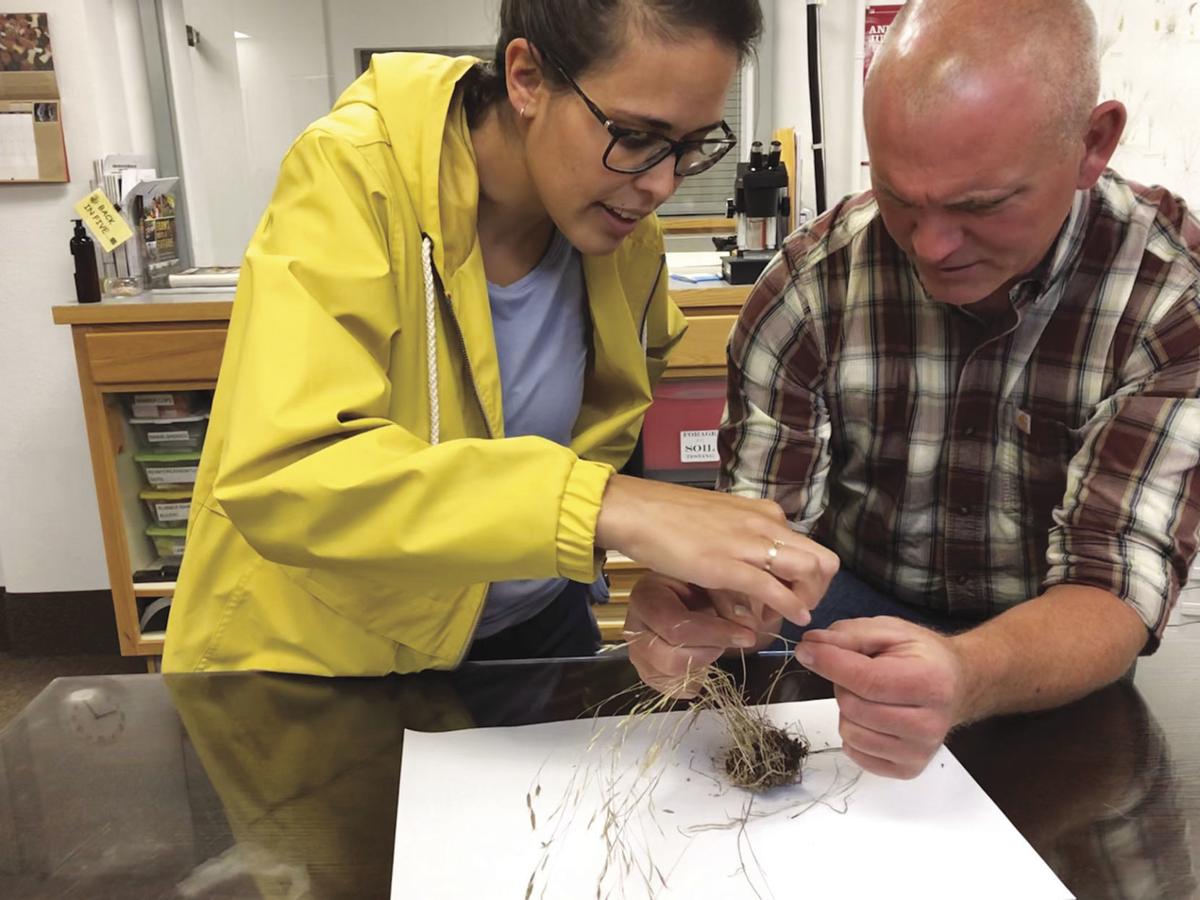 When most of us hear the word "weed" we think of dandelions, thistle and other obnoxious plants that grow in our gardens and hayfields. What we often do not think of, is grass. Ventenata, a grass species similar in looks to wild oats and cheatgrass, was just recently added to the Montana Noxious Weeds List. This raised the number of noxious weeds in Montana to 36. Ventenata is a winter annual invasive grass species that has been found taking over important plant communities, and diminishing habitat for livestock and wildlife.
According to Kelliann Morris, Ravalli County's noxious weed coordinator, for a weed to be added to the Montana Noxious Weed list, a proposal must be submitted. This proposal is then reviewed by a group of professionals such as Montana State University representatives, agricultural producers, extension agents and county weed district coordinators. If the proposal proves that a certain weed is significant enough to potentially "have detrimental impacts on our economy," it may be added to the list. Once added to the Noxious Weed List, there is more potential for counties to receive funding to control the weed. Morris says that "Ventenata was listed because it's in a lot of different places, causes damage to farm ground and invades many areas. Now we can educate communities and receive grant funding to control it." This money comes from the Montana Department of Agriculture Noxious Weed Trust Fund, which was established in 1985 in hopes of providing funding for the development and implementation of weed management programs.
Ventenata specifically has the potential to negatively impact pastures, rangeland, and annual crops due to its low forage value and shallow root systems. The grass also carries a high concentration of silica, making it unpalatable to grazing animals. These factors could lead to a heavy decrease in agricultural production and a potential increase in soil erosion, causing damage to our land for years to come.
On the Noxious Weed List, Ventenata is listed as a Priority 2A weed. According to the list, a 2A weed is common in isolated areas of Montana. Management criteria require eradication or containment where it is less abundant. Management shall be prioritized by local weed districts.
When identifying Ventenata, it is important to look for grass between 6-18 inches tall with unusually long ligules and reddish-black nodes along the stem. Around late May and continuing throughout June, open and airy panicles emerge as the stems begin to harden. Once these panicles open, the plant takes on a shiny appearance and the awns become twisted and bent at a 90-degree angle. Each plant produces about 15-35 seeds. This grass is most commonly found on south-facing slopes with shallow, rocky, clay-loam soils within moderate precipitation zones.
There are currently five known species of Ventenata that are considered native to southern Europe, western Asia and northern Africa. However, only one of these species has been found in Northern America. It was first discovered in the United States in 1952 in Washington State. Since then it has spread throughout Oregon, California, Idaho, Utah, Montana, Wyoming, Wisconsin, New York and Maine. It has also been reported in certain provinces of Canada. This just goes to show how rapidly Ventenata can spread and why it is such a concern when it comes to weed management.
Controlling Ventenata is not easy, especially when targeting range and pasture settings. Mowing during heading is unsuccessful because the plants will only bend over and get caught in the swather or mower. If Ventenata is mowed before heading, the stems could produce another crop of seeds. However, if landowners are tenacious enough, mowing the land multiple times throughout the growing season has shown some success. There is also no guarantee that fire provides any control either. Despite all of this, because the seed is only viable for two to three years, long-term aggressive treatment and monitoring can potentially decrease or eliminate a Ventenata infestation.
Using herbicides as a method of control is also limited, due to the regulation of herbicide use on certain sites of land uses such as hayfields, pastures, croplands, or permanent rangelands. Ventenata has shown to be resistant to glyphosate (RoundUp) as well as some other herbicide active ingredients. If you think the use of herbicides to fight Ventenata is best for you, talk to your local extension agent for specific recommendations based on your property goals.
Just as with any weed, prevention is the best method of control. Weeds love to take advantage of damaged and unhealthy land with poor soil. By working to maintain a healthy population of ideal perennial vegetation, your land will be less susceptible to invasive plant species like Ventenata.
If you think you may have Ventenata or any other noxious weed growing on your property but are not sure, feel free to bring pictures or samples to the Ravalli County Extension office and we will be happy to take a look.
Get local news delivered to your inbox!
Subscribe to our Daily Headlines newsletter.