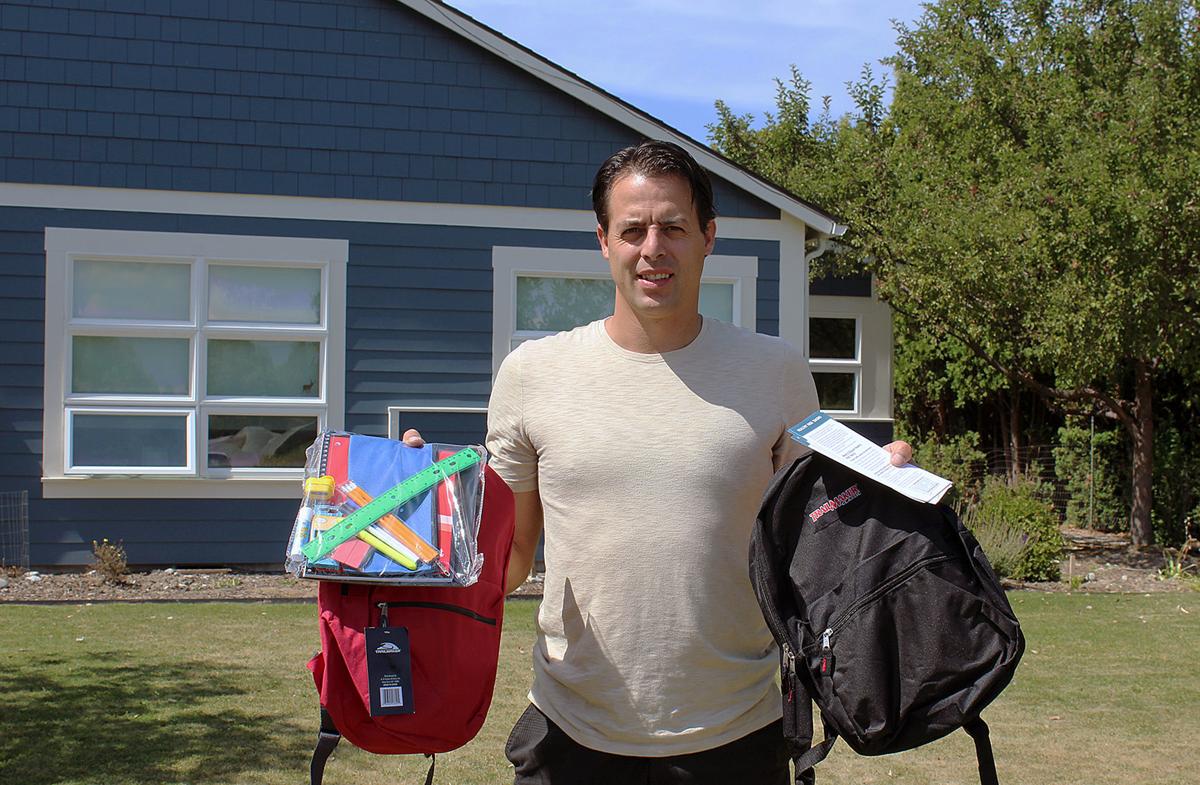 Ryan Wetzel, prevention specialist for WMMHC in Ravalli County, said the resource information is important.
"My job is to get resources to community folks and to the homes and families that would really benefit from it," Wetzel said. "My grant covers backpacks and I'm putting this information inside of these bags. We want to put Parenting Montana and WMMHC resource information tools in the hands of parents and guardians. This is also a good way to give back to the community."
He said families would benefit from the information and resources. The information covers topics like healthy communication, body language and things children may be facing on the internet.
"It is just a really good resource for parents to have on hand to give them pointers on healthy communication skills for their children," Wetzel said. "Also, there are people struggling financially. Some people think the valley is full of wealthy people but that is not the truth. There are families working multiple jobs yet have a tough time even getting backpacks for their kids. School shopping is expensive."
Because of different school start dates, Wetzel has dropped off 40 backpacks to Darby School via counselor Kurt Kohn and also 40 to the Hamilton School District office 40 for ages 5-14.
"Information in the bags pertains to different age groups so I have to keep them separate," Wetzel said. "I do have bags for high school age kids as well."
With the Ravalli County Fair parade starting at 10 a.m. on Wednesday, August 28, Wetzel thinks a lot of kids will show up at 8 a.m. pick up a backpack and use it for collecting candy at the parade.
"It was all strategic planning with my Hamilton Middle School kids," he said. "We have prepared 350 backpacks because we know there is a great need. My primary goal is to reach families who definitely need them."
The information includes the resource www.ParentingMontana.org and Wetzel said it is one of the best websites he has seen.
You have free articles remaining.
"They have information about everything you need — mental health, concerns, resources for you as a parent," he said. "I've worked in the mental health industry for nearly 15 years and this is a wonderful website."
Wetzel said no paperwork is needed prior to getting a backpack, just drop by.
"The positive that I received is just 'thank you,'" Wetzel said. "I had a single mother of four come in and I had them and it was like she hit the lottery. She started crying and hugged me. That's what it's about. These are sturdy packs full of school supplies and important information."
The free backpack will also have information about Bitterroot Ecological Awareness Resources (BEAR) the outdoor-based mentoring program for youth.
Katie DeFelice, program coordinator for BEAR, said the information is about available programming this school year.
"I think we've done programming in almost all the valley schools at one point or another but last year we did it in Victor and Hamilton and will continue to focus there, we don't have staff for more than that," DeFelice said. "The brochures explain we do in-school programming which is game-based activities with a focus on teen walk, leadership, building confidence and communication, a lot of pro-social behaviors."
Afterschool the focus is more on weekend activities and outdoor-based activities like backpacking, hiking, climbing, snowshoeing and skiing.
"We try to act as mentors for the kids," DeFelice said. "We are creating opportunities for kids to have access to healthy adults that are supportive and can facilitate well-being, BEAR is a safe place and so much fun."
Angela Allen, Ravalli County Public Health Nurse, said a public health representative will be at the free backpack event to distribute helmets and fit them on children.
The Western Montana Mental Health Center backpacks will be given away on the lawn across from Claudia Driscoll Park at 209 N. 10th St. in Hamilton. Backpack distribution begins at 8 a.m. and continues until the people stop coming. The remaining backpacks will be available at the WMMHC booth at the Ravalli County Fair then distributed to local schools.