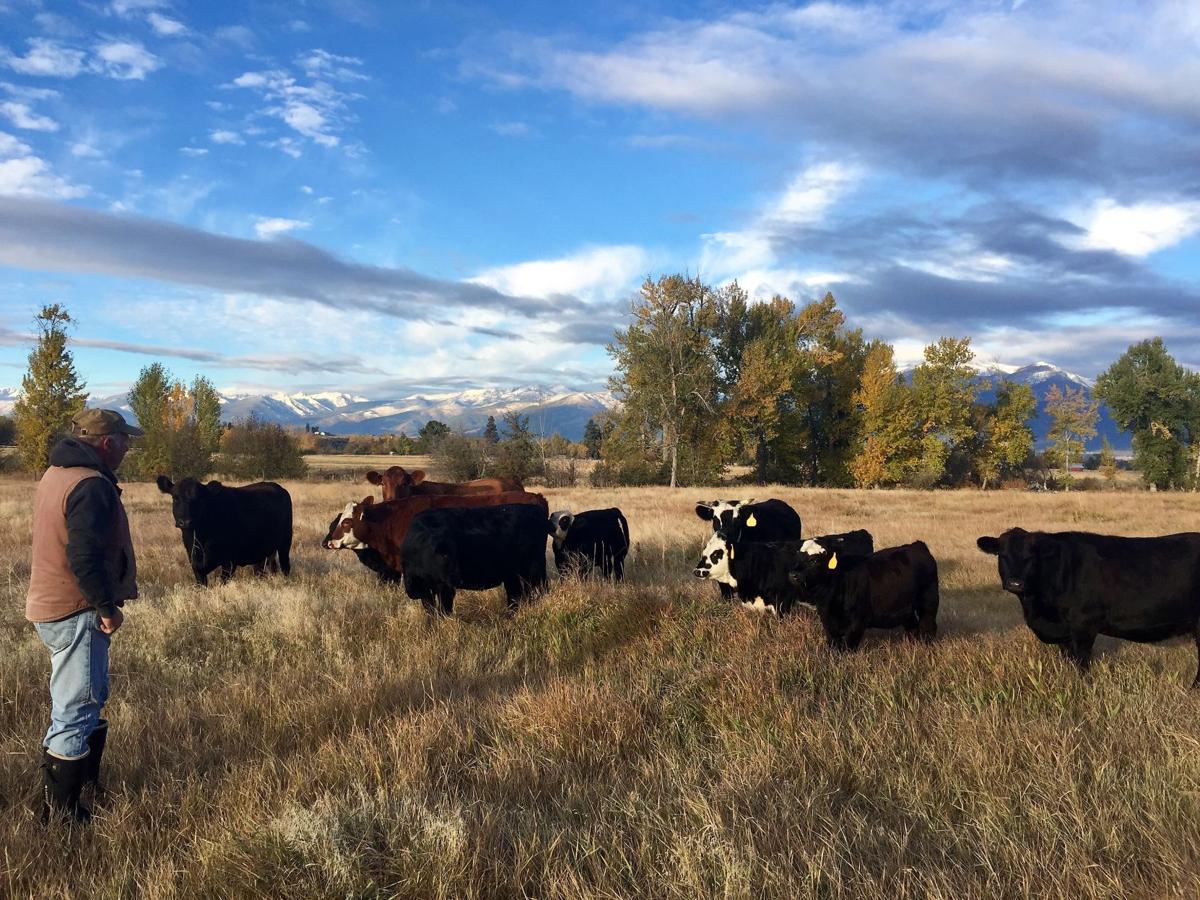 This story was published in the spring edition of the Ravalli Republic's Agriculture Quarterly publication included in Sunday's edition of the newspaper.
It was a cool September morning on Lazy Burnt Fork Ranch. There was still frost on the barn roof untouched by the early morning sun. The air is crisp as Steve Peckinpaugh leans up against the barn, smiling as he looks over the cows.
"They seem so much happier grazing when they are closer together," Steve says. "I never thought I'd say that, but it's true. That's a benefit I didn't expect."
Steve and his wife, Catherine, along with fellow rancher, Dan Kerslake, are raising Angus cattle together on the Peckinpaugh's conserved Stevensville ranch.
After attending a forum in Missoula on grazing innovations a few years ago, they decided to modify how they graze their cows.
"We were looking for ways to maximize the grass resource, address weeds, improve soil health, and provide healthier pastures for the cows," Steve explains.
Now they "flash-graze," also known as "intensive grazing." Small sections of pastureland are grazed, and then left to rest for at least 45 days, sometimes longer.
"It ensures all the forage is eaten, not just the 'good stuff, and in turn the weeds have all but disappeared," says Steve.
There is a lot of science that backs up the benefits of flash-grazing.
Good for Ranches, Good for Water
The Natural Resource Conservation Service has been collecting data for years. The grasses are taking the carbon out of the air and putting it back into the soil, where they get absorbed back into the grasses, increasing their nutritional value. Increasing carbon levels in the soil allow for greater water retention.
"There's more organic matter in the soil, which means more nutrient-rich grass for cows. It's a natural cycle that helps ranches like ours weather the changing times," notes Lee Severson, another rancher utilizing flash-grazing.
Lee manages Flying E Ranch, one of the larger conserved ranches in the area. "We adapted this grazing strategy a little over 10 years ago. The biggest difference I've seen is that I can feed our cows natural grasses for longer, instead of hay. If you can feed them grass instead of hay, not only are the cows better off, it saves money and water."
This technique helps protect the watershed and enhance ranch operations. It also promotes even, consistent grazing. As a result, in combination with increased water retention, pastures become better habitat for increasingly threatened pollinators, like bees and butterflies.
The fact that the land is also supporting pollinators makes Steve smile again as he watches the cows. "Ranchers have long been stewards of the land," observes Steve. "Conserving our land, and investing in our soils, makes our community stronger too."
Get local news delivered to your inbox!
Subscribe to our Daily Headlines newsletter.