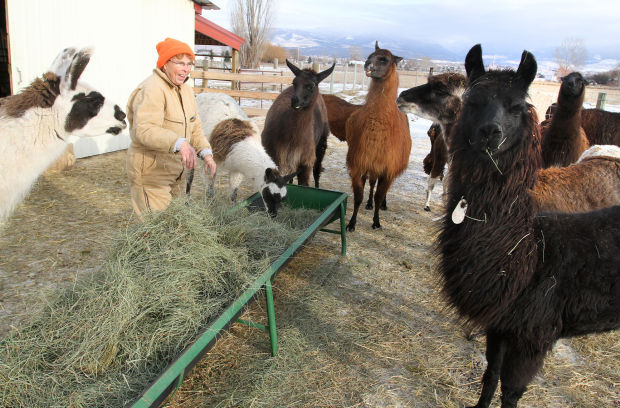 CORVALLIS – Montana's only llama sanctuary is overflowing and short on hay.
"This year, we're way above our capacity," said Char Hakes of Safe Haven Llama and Alpaca Sanctuary. "We normally try to stay at 65. Right now, we have 75."
And that's after turning away about 20 llamas that were coming from far away.
Adoptions are down and feed prices up this year.
The haystack was starting to drop as Hakes made her evening rounds to ensure that all of her charges met the cold night with a full stomach.
"I don't have enough hay to get me through to the end of May when we again find some pasture for these animals," she said.
At this point, she thinks there's enough hay to last to the end of January. She'll need another 15 to 20 tons to get through to spring.
In a normal year, the sanctuary would adopt out about 10 to 12 animals to new owners. This year, only five were adopted.
"I'm not quite sure why those numbers are down this year," she said. "I think the cost of feed might have something to do with it."
Old age didn't make a difference in the herd size this year either.
"Normally, I lose about 10 of them a year to old age," she said. "This year, I only lost two. All of the old ones are gone now. I'm left with a bunch of middle-aged llamas. Once a llama hits 15 to 16 years, no one wants to adopt them."
Llamas can live for about 25 years.
Hakes has tried some new ideas in hopes of finding additional money to keep the animals fit and well fed.
This year, she offered people a chance to sponsor an animal for $20 a month, which is about the cost to feed and care for one over 30 days.
"In return, I send them a picture of the animal that they sponsor and story about it," she said. "I've been trying that idea since January, but it's been kind of slow."
This is the ninth year for the Safe Haven Llama and Alpaca Sanctuary.
"We've had some people call us this year from other states," she said. "We just couldn't take in any more animals. One person had some alpacas, but we just didn't have the space. There has to be a stop point."
"Char has a hard time doing that," she said.
Anyone interested in helping out can call 961-4027.
Get local news delivered to your inbox!
Subscribe to our Daily Headlines newsletter.