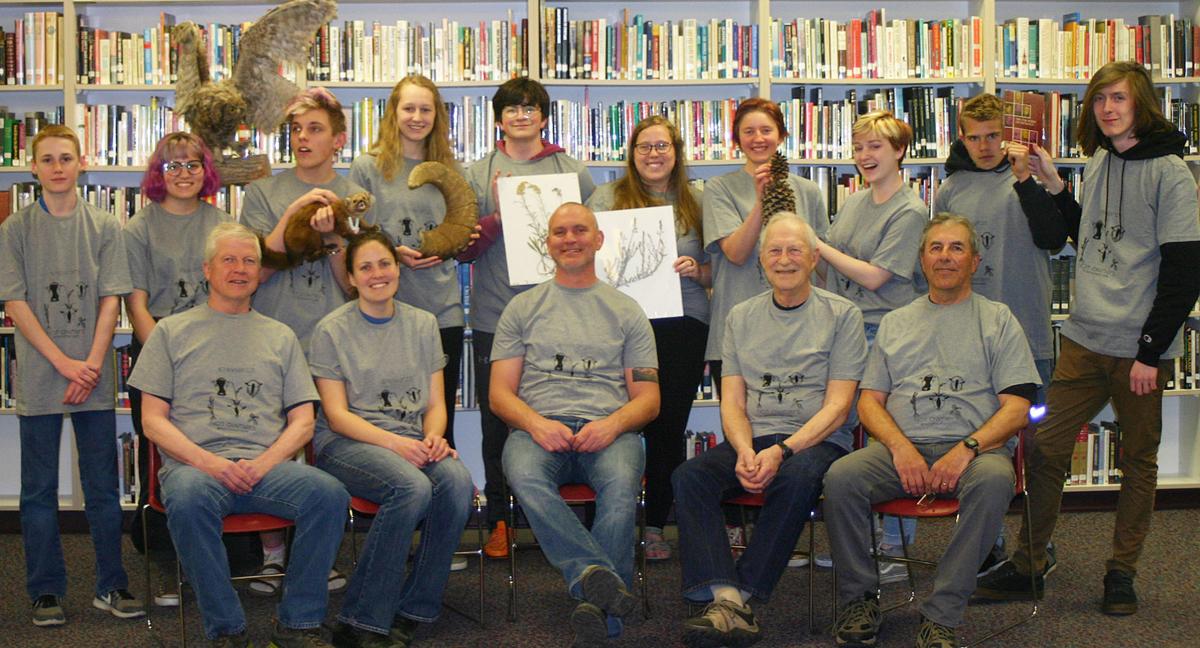 Hamilton High School's Envirothon Team placed third at the 2018 State Envirothon Competition in Lewistown against 31 participating schools.
The Montana Department of Natural Resources and Conservation sponsors the Envirothon competition as a way to educate students about natural resources and help them become aware, concerned citizens by using problem-solving skills.
The issue for the recent 2018 competition was "Western Rangeland Management — Balancing Diverse Views." Teams had to design a university-level, four-year program for the study of Range Science.
The HHS team missed second place to the Missoula FFA team by .25 of a point. First place was Helena High.
In 2017, the Hamilton team finished second to the Helena High team but attended national competition when Helena withdrew. The HHS Envirothon team went on to place ninth in oral competition at the North American Envirothon Competition in Maryland last summer against 54 state and provincial championship teams all focusing on soil and water conservation.
High school teams learn concepts from natural resource professionals in their own community, who help students understand real life applications.
The HHS Envirothon team is coached by Marie Antonioli and Tom Schmit.
This year, new mentors provided study sessions, field trips, and competition insights.
Patrick Mangan, MSU Extension Agent, organized a field trip and provided a practice problem helping the team to experience rangeland first hand.
"I was really impressed with the desire, focus and critical thinking the students brought to their Thursday evening practices," Mangan said. "They were excited to be there and wanted to go beyond just absorbing the information. They wanted to think about it, wrestle with it, learn how to apply it and put it together with other things they had learned."
Mangan said the dynamic learners were thinking deeply about land management.
"Marie has organized the program well and it was great to be involved," he said. "The students are super invested in it and work really hard."
Dietrich Perchy, first year science teacher at HHS, made practice tests, attended field trips and made study guides for the students.
"I was very impressed and proud of the amount of brainpower and effort the Envirothoner's put into their work," Perchy said. "I feel incredibly fortunate to have been a part of a program that encourages students to work together in order to solve challenging problems about the environment and to learn a great deal from two fantastic educators at Hamilton High School."
Antonioli said, "Continuing mentors organized field trips to give the kids the opportunity to see environmental concerns up close and at a personal level."
Lea Guthrie, mentor and stewardship coordinator for Bitter Root Land Trust, organized a field trip to Middle Bear Farm and created a practice problem about Conservation Easements.
"It was a pleasure to watch this fantastic group of students work together to come up with solutions for real natural resource challenges," Guthrie said. "They were creative, knowledgeable, thoughtful, and a lot of fun."
Rebecca Mowry of Montana Fish, Wildlife and Parks organized a field trip to the Calf Creek, Wildlife Management Area and created a corresponding practice problem for the team.
The HHS team called "Mayflies" placed third on test scores and seventh on an oral problem.
Individual awards: Captain Olivia Schmit won second place in Aquatics, losing first on a tie breaker; Colleen May won first place in Range, winning first on a tie breaker; Sam Bosio won 11th place in Soil; Shelby Cruse won third place in Forestry; and Gabe Hoenstine won fourth place in Wildlife.
Schmit, a senior, said her favorite parts of the Envirothon Team program were the field experience and mentorship.
"It was great to get outdoors and experience the environment in an academic way," she said. "All of our mentors were incredibly patient and supportive of us and helped us learn as much as possible. I've learned to love our environment and value the natural world."
The HHS team called "Crested Wheat Grass" placed ninth at state, earning a ninth place in test scores and an eighth place in oral problem. Individual results: Captain Lilly Ogden placed 15th in Forestry; George Glidden won third place in Soil; Lauren Ryter placed ninth in Wildlife; Jared McGourty placed 11th place in Range; and Logan Bratsch won fifth place in Aquatics.
Ryter, a junior, said the Envirothon was an eye opener.
"Before Envirothon, I had some interest in biology and wildlife, but after joining the team I found a passion for science," she said. "I was a part of the wildlife group and I learned a lot from my mentor, Rebecca Mowry. She and my teammates made this process a lot of fun! Because of them I am looking forward to learning even more about Montana's rangeland, wildlife and agriculture."
The HHS Envirothon team will present information about the competition to the Bitterroot Conservation District board meeting at 7 p.m. Tuesday, May 29.
Get local news delivered to your inbox!
Subscribe to our Daily Headlines newsletter.