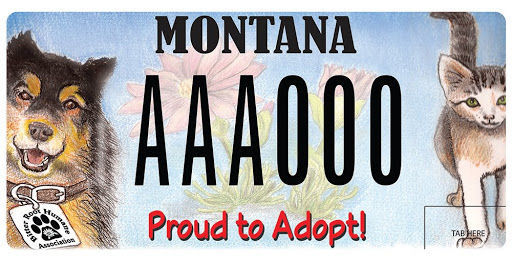 For the past seven years, it hasn't been hard to pick out people who supported the Bitter Root Humane Association.
Their cars carried a bright blue license plate that featured one of the association's most famous canines, a cute cat and a drawing of bitterroot flowers above the words "Proud to Adopt" in red letters.
The colorful plate was designed by Hamilton's Dorinda Troutman as a gift to the shelter.
In seven years, the plate brought in $41,480 that was used to operate the association's shelter in Hamilton.
At the end of January, the association was one of 85 nonprofits across the state that received a notification from the Motor Vehicle Division that their specialty plates were being revoked because they failed to meet the minimum number of plates on the road under rules approved by the 2019 Legislature.
The new rules say any specialty plate with fewer than 400 plates on Jan. 3 would be discontinued.
As of that date, the Bitter Root Humane Association had 377 registered plates.
The specialty license plate program brought in about $7,500 a year for the humane association. That amount is not going to be easy to make up in other fundraisers.
"Part of the problem is we really didn't know about this," said Linda Williams, the association's treasurer. "They said they sent us a letter in September, but no one remembers seeing it."
The association's president, Kathy Butts, said the issue was first brought the board's attention last week.
Both agree that it probably would not have been that hard to find another 23 people willing to purchase the license plate to retain the funding.
"People are always so supportive of us," Williams said. "I wished we would have had a little more time. I think there would have been people willing to get a license plate to support us."
You have free articles remaining.
A Montana Department of Justice spokesperson shared a copy of the September form letter notifying the Humane Association of the new rules. The September letter referred to the 400-plate minimum requirement, but it did not say the Humane Association's plate numbers were lagging.
That notification didn't come until a Jan. 31 letter that informed the Humane Association its plate would be revoked.
By then it was too late for the association to attempt to get more license plates sold.
The Humane Society of Western Montana and Animeals, both in Missoula, and The Stafford Animal Shelter in Livingston also had their plates revoked.
Child Bridge of Bigfork saw its license plate discontinued.
Its co-founder, Mary Bryan, said that the organization knew that it was short of the 400 minimum by 158 plates.
While every opportunity to generate revenue is critical for all nonprofits, Bryan said her organization focused on finding and equipping foster families saw the license plate as a way to build awareness of Child Bridge and its goals.
The organization's license plate prominently included the phone number, (406) 2-FOSTER.
"We thought getting that phone number out there was huge at a time when the needs are very high for new foster families," Bryan said. "I think every opportunity to get the word out in an appropriate way is important … especially in a culture where we are already bombarded by information."
Byran said it's disappointing to lose to a tool to bring awareness to the issue of foster care, child abuse and neglect in Montana.
Other organizations didn't find much support through the program.
The Montana Area Agencies on Aging Association only had about 80 plates in the program.
"It raised a little bit of money, but it was pretty minimal," said Montana Area Agencies on Aging Association area director Karin Roehm. "We made a conscious effort to just let it go."
The Bitter Root Humane Association plans to ask the state for some additional time to find another 23 drivers willing to buy a license plate.
"This is a program that has grown over the years," Williams said. "Once it's revoked, we have to wait four years to reapply."