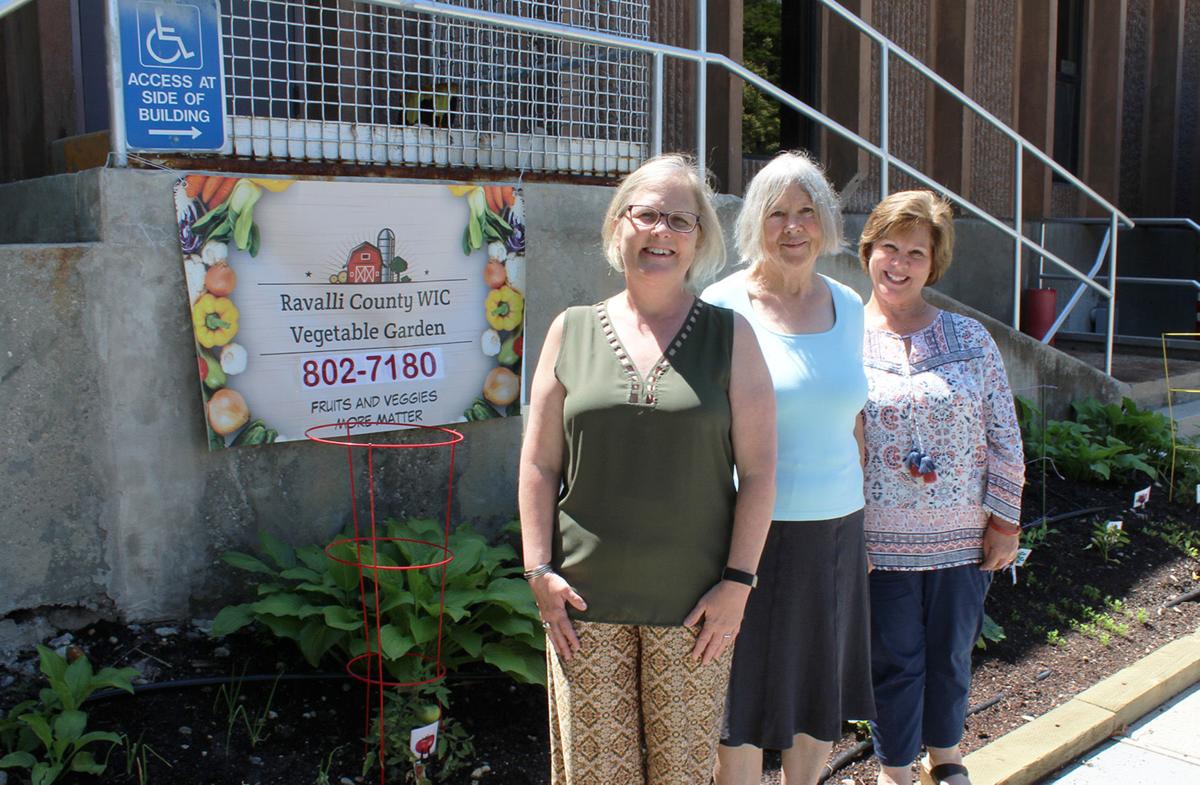 Changes include a new phone number, updated federal guidelines for eligibility, a grant to "normalize breastfeeding," a garden to communicate about nutrition, and a broader stance for inclusion.
WIC is a nutrition program designed to provide nutrition and health education, breastfeeding support, access to healthy foods and referrals to other services. WIC serves families with infants and children up to age 5, pregnant and post-partum moms, and welcomes moms, dads, grandparents and foster families.
"Inclusion is the goal," said Teresa Messerman, WIC director for Ravalli County. "We are not reinventing the wheel but gleaning from what's been working elsewhere."
Linda Seed, breastfeeding peer counselor, added that "we want to support every configuration of family."
Ravalli County WIC received a $500 grant from "Montana Breastfeeds! Cut-Out Project" to take photographs of moms with children in WIC clinics that are made into life-size freestanding cutouts that can be placed anywhere. The Bitterroot Breastfeeding Task Force, a team from Marcus Daly Memorial Hospital, Public Health and WIC applied for the grant to support and normalize breastfeeding.
"When you first look at it, you think you're looking at a real person," Seed said. "They are nursing a baby or whatever. It is to normalize breastfeeding and highlight it."
The photographs they have seen include moms with new babies, moms in different cultural and ethnic groups, moms who are nursing older babies or two babies in tandem, military moms, moms and dads together, a dad holding a child while mom is nursing a new baby.
Ravalli County WIC is currently searching for moms and families to participate in the group photo session Aug. 8.
"We are hoping to make three to four cutouts, and have neat ideas," Messerman said.
The cutouts would make random appearances throughout the community — possibly at the public library, the hospital waiting room, public health and any place or event where WIC has an outreach table. The cutout photos would also appear by the "Baby Bungalow," a tent provided by the Montana Breastfeeding Coalition as a private place for moms to nurse their babies.
"Along with the cutout is the story of who this person is," Messerman said. "It is a personal thing, and we have to have moms willing to share their personal story very publicly. We are very excited about this project."
Federal income guidelines change each year on July 1. The new criteria for support are: $23,107 for a household of one, $31,284 for a household of two, $39,461 for a household of three, $47,638 for a house hold of four, and $55,815 for a house hold of five. For each additional family member add $8,177. Pregnant women count as two.
Ravalli County WIC has a garden on the north side of the public health office.
"We got a lot of support from Evan's Ace Hardware, and the county is helping us with water," Seed said.
"It is another way to show how easy it can be to eat healthy by growing a little bit of your own food," Messerman said.
When food from the garden is harvested, it is placed in the WIC office for clients to take and enjoy.
"We include a recipe or two that they can use," Messerman said. "We aren't harvesting much, but enough but for tastes. We had snap peas and the kids loved them and had a happy little moment."
Ravalli County WIC staff attended a learning collaborative held in Billings where WIC staff was advocating for incarcerated moms.
"They enter prison pregnant and deliver there," Messerman said. "Then they have to decide if they want to be a breastfeeding mom even though their baby has been taken away from them? How can we support that mom in that situation of breastfeeding?"
The programs in Billings are allowing moms to pump, then are packaging the milk for shipping to a family member to feed the baby.
"I don't know how it may work in a foster care situation," Messerman said. "We've had two families here receiving breast milk. It's a resource for the infant that the mom can't take care of."
Previously, Messerman and Seed had not considered that scenario and have brought the details to discussion with the county detention center and the nurse practitioner.
"Some moms bring pumps but may find themselves in jail without the thought, 'I need to get my pump,'" Seed said. "If they are breastfeeding and suddenly they can't, they may be too uncomfortable or may develop an infection."
Contact Ravalli County WIC at their new phone number 406-802-7180 or visit their office 8:30 a.m. to 4:30 p.m. (closed at noon) Monday through Thursday, at 205 Bedford St., Suite P, in Hamilton.
Get local news delivered to your inbox!
Subscribe to our Daily Headlines newsletter.