Darby, like some other Old West towns, has an upright piano outside on the boardwalk.
Darby residents Cal Ruark and Julie Mortensen are searching for a quality indoor home for it, hopefully with public access.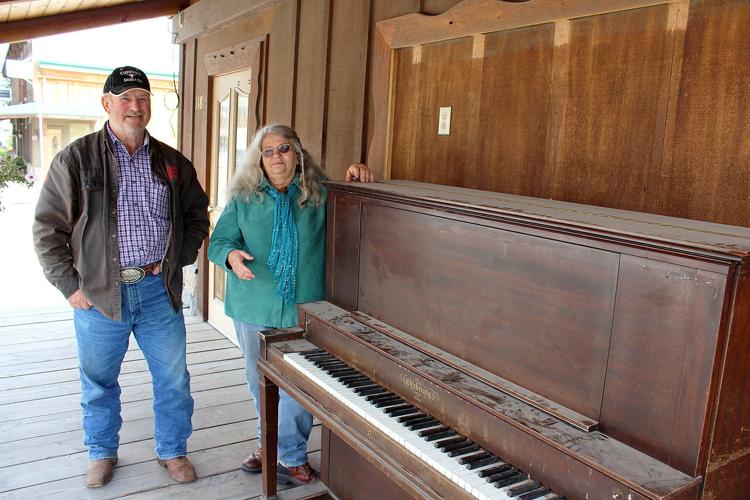 The piano has plenty of history.
The piano was made about 1909 in Boston, Massachusetts, by Chickering & Sons, established in 1823.
"I ran the serial number," Mortenson said. "It was shipped by train, then freighted to Darby for the grand opening of the Valley Bar in 1910. It has been in Darby being played since two years before the Titanic sunk."
Mortenson said her research showed Chickering was the first to make a piano with a solid one-piece cast sound board and offset piano strings.
"When you open there piano there are all the different awards that Chickering had received from Napoleon III and others, and the serial numbers," Mortenson said.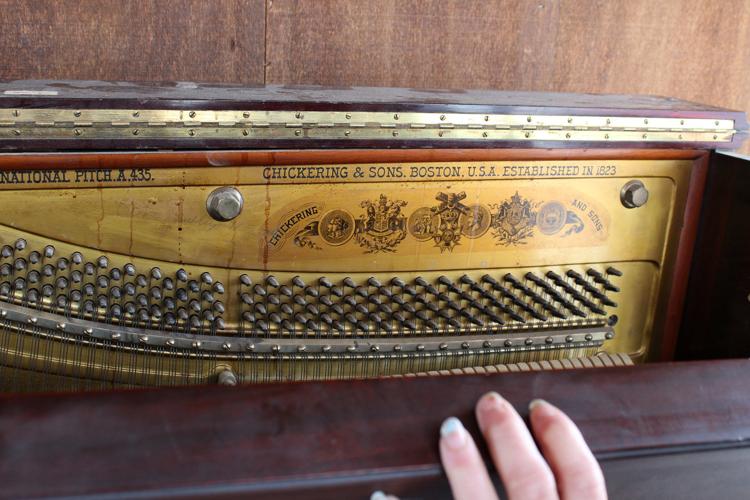 Although the piano is under the awning, Mortensen said she is worried about the extreme temperature changes and moisture.
"I'm trying to get it rescued," she said. "The easiest inside location would be the Darby Clubhouse but they already have a piano, and said no. I have a sponsor to pay for the moving and tuning of the piano."
Mortensen said she used to play piano.
"I've always loved piano but it is not my language. I mostly play guitar," she said. "I can't pass a piano without playing a little bit. It is sad that this piano is outside. I've seen old pictures of loggers dancing in the street with a piano on the boardwalk. This is the piano that was there."
She believes it was the first piano to come to Darby.
"It was a big deal to have a piano in a bar, so much so that every western movie had one," Mortensen said. "Even when they had a little tiny hole-in-the-wall bar, the fact that they had a piano and a piano player was important to the town. You couldn't get traveling shows to come in and entertain if you didn't have a piano. Not every home could afford to have one, not all the churches had one."
The piano's journey to the boardwalk is interesting. It was in the Valley Bar in Darby for decades, then did a roughly 30-year stint in the Ponderosa Bar (once known as Dahl's Tavern) in Hamilton, before returning to the Valley Bar in 1983.
Ruark, president of the Darby Rodeo Association, said the piano was one of the items in the Valley Bar that was given to his organization, along with the building at the end of the block before the bar was torn down.
"We received all the old items, an old beer cooler, a lot of old stuff," Ruark said. "There were a lot of pictures. They took your picture when you were 50 and when you died they moved your picture to the other wall. If someone would take the piano, appreciate it and make sure it wouldn't get hurt, it would be great. I don't want it to get ruined or for someone to take it and resell it. It is in nice shape."
Other than lots of dust, some chipped keys and one cracked piece of trim, the piano has stood the test of time.
Mortenson and Ruark are not looking to have the piano completely restored or placed in a museum where it can't be played, but adopted by someone who cares, and placed somewhere it will be appreciated.
They'd like to know more of the history, also.
"There has to be hundreds of pictures of different people for decades playing that particular piano from 1920 on," Mortensen said. "There is a note that said it was tuned last in Darby in 1988. There have to be people who played it for years and are still around, and people whose great-great-grandfather played this piano. I'm not saying it is extremely valuable, but it a piece of history just pushed out onto the boardwalk."
Mortensen said there are some historical photos in the piano bench of people playing the piano.
Ruark welcomes more historical piano-playing photos and invites people to send them to him at PO Box 279, Darby, MT 59829.
"We just want to find a home for this historic piano where people can play it," Mortensen said.
"Interested people can call me at 544-5436," Ruark said.
Get local news delivered to your inbox!
Subscribe to our Daily Headlines newsletter.