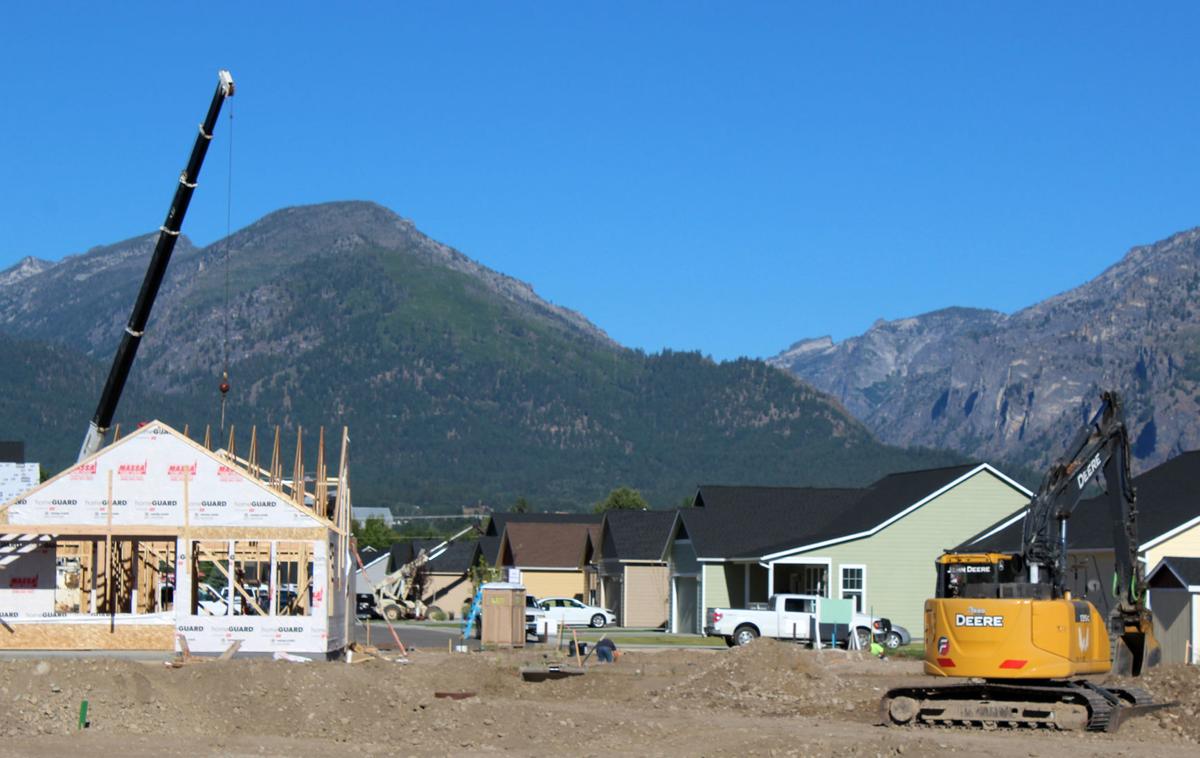 A building boom in Ravalli County and an increase of population leaving larger cities due to COVID-19 has the Bitterroot Affordable Housing Coalition predicting increased homelessness in Ravalli County.
On Monday, Jim Olsen, Jaime Ogden and Jim Morton presented the state of homelessness in Ravalli County and gave some possible solutions to the Ravalli County Commissioners.
Ogden said the Bitterroot Affordable Housing Coalition is a "strong and dynamic coalition of service providers."
Coalition members are Bitterroot Family Shelter, Bitterroot RC&D, District XI Human Resource Council, First Presbyterian Church, Ravalli Head Start, Ravalli Services, SAFE and Summit Independent Living, churches and other organizations and concerned individuals.
Ogden is the community programs manager from SAFE in the Bitterroot. For 30 years, SAFE been providing emergency shelter, housing, services and community programs for people experiencing violence.
Ogden said the Bitterroot Affordable Housing Coalition formed in 2016 to address what housing providers saw as a growing problem of homelessness, housing affordability and hunger in Ravalli County.
"Churches and people with services for homeless and hungry had noticed that the number of people we were serving with those types of needs seemed to be increasing," Ogden said. "We know domestic violence is a leading cause of homelessness for women, but at that time (2016), we were experiencing a variety of people calling our crisis line because they were homeless whether or not they were experiencing violence."
This January the annual Point-in-Time Homeless Count discovered there were 100 homeless people.
"Of course it is an undercount because you're not going to connect with everyone," Ogden said. "It was more than we had been able to count before and it gives basic demographics. With 50 surveys completed what we learned that most of the people have lived in the valley a long time, they aren't transplants."
About half were multi-person households with children, less than 10 had been in jail in the past year, most of the homeless had an income and one fourth were disable.
Ogden said that there are three projects – a rapid rehousing project, an offender housing assistance project through Human Resource Council and HRC's 16-unit project in Stevensville.
Ogden said the housing crisis has worsened due to the pandemic, personal economic situations, in-migration from other places and the changes of availability of rental properties as owners sell what they used to rent.
"Both housing availability and affordability are at a crisis level in Ravalli County," Ogden said.
According to the US Department of Housing and Urban Development (HUD), housing affordability is 30% of a wage earner's gross annual income. Families paying more are considered cost-burdened and may struggle with necessities such as food, clothing, transportation and medical care.
In Ravalli County, roughly 50% of renters and more than 30% of homeowners are cost-burdened.
Coalition member Olsen said that on Sunday he checked the availability of rental housing and found only seven places for rent, with rental prices being beyond affordable.
He said there are about 200 jobs in Ravalli County but housing prices are too high. Rentals often require the first and last month of rent and a cleaning deposit. Olsen said the variety and circumstances of people moving in to the valley adds to the competition for housing.
"The problem is that housing prices are driving up and the people standing behind the counters can't afford to live [here]," Olsen said.
Emergency shelter beds in Ravalli County are currently full. Bitterroot Family Shelter, Salvation Army and SAFE all use hotel vouchers for emergency situations but there are few hotel rooms available. Living in a recreational vehicle or campers has increased with around 150 full or partial hook-up RV sites in Bitterroot RV parks. Bitterroot National Forest reports an increase of campers staying over the limits.
Morton, executive director of District XI Human Resource Council, said the bottom line is that there is not enough affordable housing. He said high land prices make the situation difficult for private-sector developers to make housing affordable for working people.   
"If you had a reasonably well-paid job of $15 to $18 an hour, is there an apartment for you?" Morton asked. "No. Even with a reasonable income there isn't housing available. That is exacerbated by people moving in the last few months by even just a virtual tour, buying land or renting."
He said the coalition's concern is for families "doubling up."
"The positive is people care about one another and families and individuals move in together," Morton said. "They struggle and make it work, but it takes a toll. It gets overwhelming for folks and we have other issues that start in terms of behavior."
BAGC's ideas for solution includes living cheaper with fewer square feet per person including remodeling shipping containers or a "Multifamily Hacienda" with private and communal living areas with shared expenses.
All ideas include affordable housing, and soon.
"When winter comes COVID-19 may turn homelessness from a problem to a crisis in Ravalli County," Olsen said.
Ogden said that the presentation to the commissioners "was to call them to the table."
"We are asking them to participate," she said. "We have a really good understanding of the dynamics and are at a place where coming up with solutions will require participation and know-how from local government. Some of the remedies may be legislative or involve partnerships with government."
She said Olsen's Hacienda idea is just an example of the type of creative solutions that are needed.
"It is time for us to move towards solutions and possibilities especially with winter coming," Ogden said. "We are really concerned about people living in a recreational vehicle. We want to support them if they are comfortable but we also presume there are people who might want more permanent housing and can't afford it. The Bitterroot Affordable Housing Coalition is looking for what is possible, and a good, realistic and doable fit for our community."
Get local news delivered to your inbox!
Subscribe to our Daily Headlines newsletter.