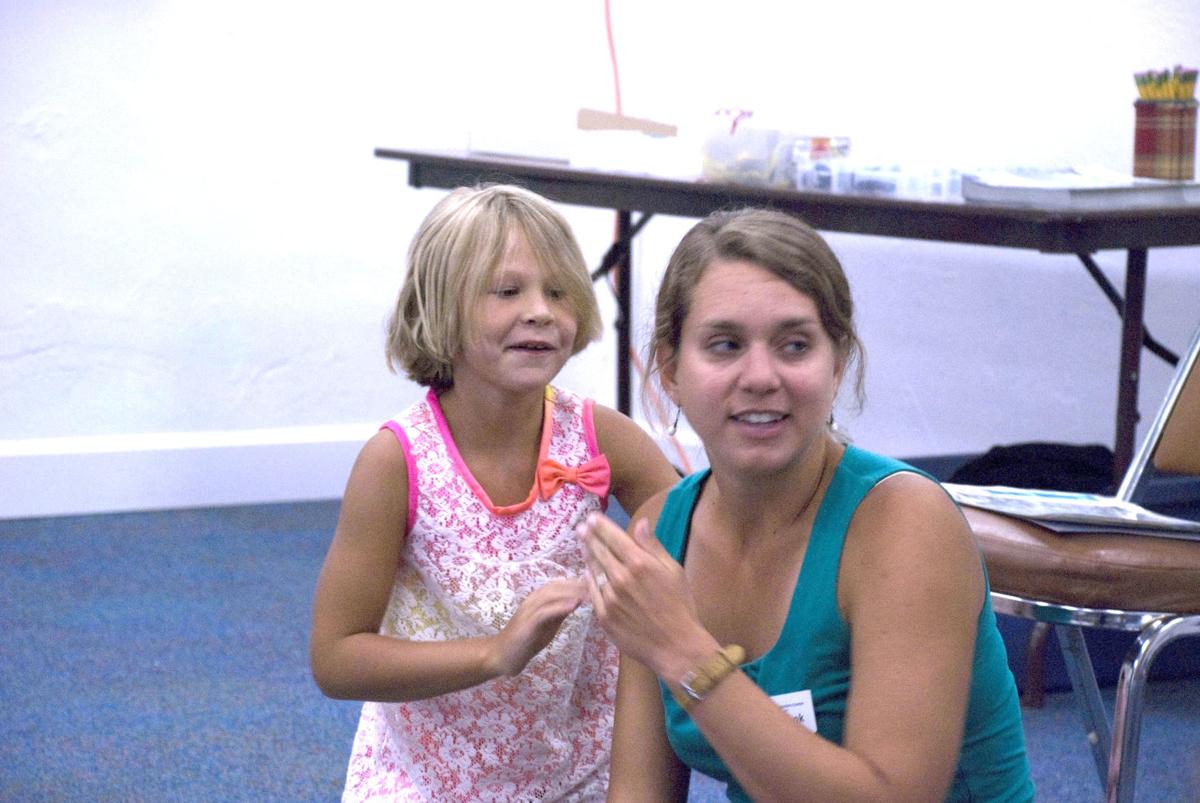 "Lewis and Clark's bird" became "dog bird" after eight repetitions Tuesday afternoon during a game of telephone at the North Valley Public Library.
The game demonstrated the challenges of translation between the Native Americans and the Corps of Discovery on their famed expedition.
At the Lewis and Clark expedition "field trip," children learned tactics the Corps of Discovery used to explore and record the Louisiana Purchase. They practiced drawing sketches of animals from a description, mapping out different rooms of the library using a compass and inspecting books in great detail with a small magnifying glass called a loupe.
Annika Riley works as the youth services library specialist at North Valley Public Library. In addition to running science programs and the summer reading challenge, she tries to bring in outside groups to talk to the children.
So far for her first summer on the job, Riley has had Fish, Wildlife and Parks come to speak about native fish and insects, and the Montana Natural History Center to talk about Lewis and Clark.
Riley said she organized the Montana Natural History Center's visit to Stevensville so the children could learn some of the ways Lewis and Clark kept track of what they saw on their expedition.
"Because of the history of the Lewis and Clark expedition in the Bitterroot Valley, I thought it would be relate-able for the kids," Riley said.
Zane Svaren was one of the seven children attending the field trip. He walked around all the library rooms with his compass while drawing his map.
He seemed confident with the library's layout. 
"I checked out books here the other day," Zane said. "Well, at least I've got the kids' section down."
The children were encouraged to map out the library, focusing on books about plants and animals. The most popular item found was a stuffed cat atop a library shelf.
Bailey Zook was the teaching naturalist who visited the library for the event. Throughout the school year she visits 67 fourth and fifth grade classrooms around the Missoula area to talk about what a naturalist does.
"I love working with the kids and seeing them get excited about nature," Zook said.
Zook read a description of a sage grouse from Meriwether Lewis' journal to see how close the children could get in their sketches. With just the information that it was, "a little smaller than a turkey, and had a sharp-pointed tail," many of the children arrived at a sketch similar to Lewis'.
At the end of the field trip, Zook asked the children what they thought was different about their experience and Lewis and Clark's experience.
The consensus was that Lewis and Clark's trip was "probably really hard, pretty exciting and a lot longer."
Get local news delivered to your inbox!
Subscribe to our Daily Headlines newsletter.