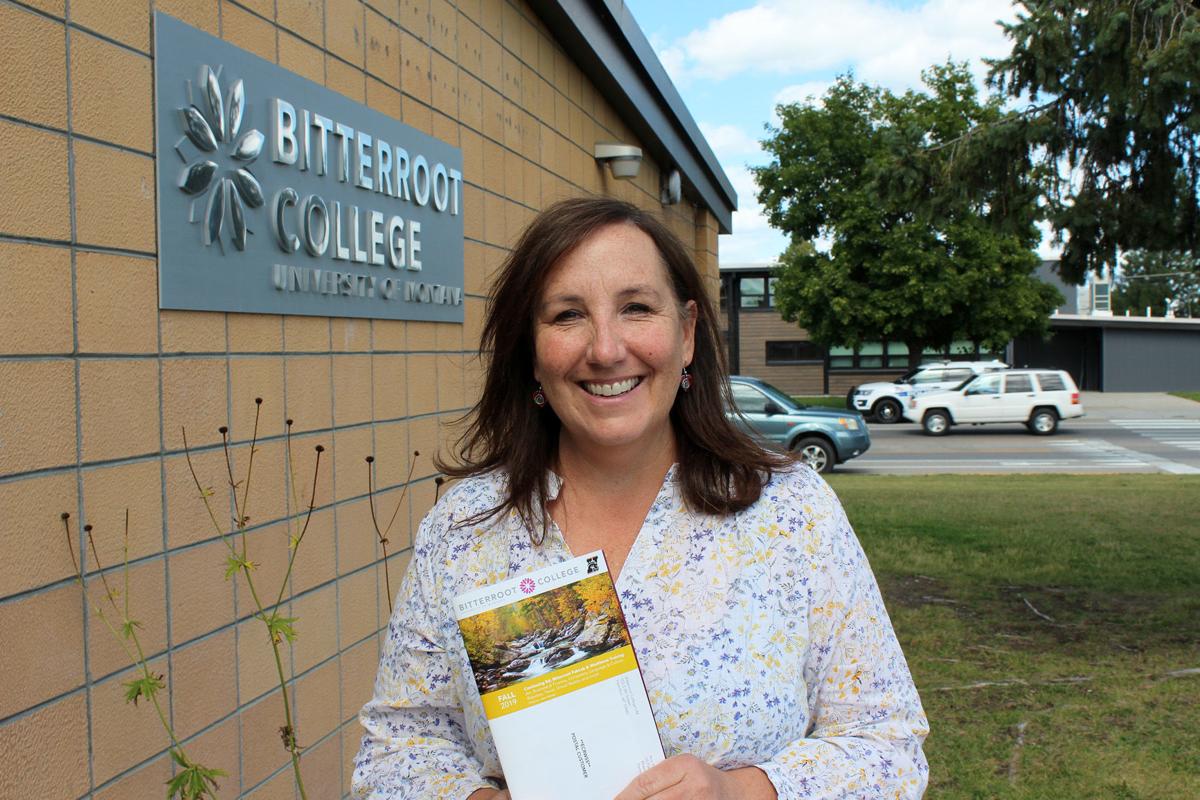 Bitterroot College brochures listing continuing education classes, FabLab and workforce training have been mailed and students are signing up for classes.
Continuing Education Program Director Lea Guthrie said the school has ongoing favorites and some new programming for the year.
"The Montana Studios are offering a Hollywood special effect class ("Special Effects: An Introduction") from a professional in the field," Guthrie said. "It will be right before Halloween and you'll learn how to do scars and bullet wounds, professionally."
The Montana Studios are also offering a course called "Film Set Design: Cyc Wall" teaching students how to build a cyclorama, a seamless "infinity wall."
Both courses can be counted towards the International Alliance of Theatrical Stage Employees (IATSE) Labor Union credits.
"Their goal is to train people who could start contributing to the film industry because they want to bring more filming and production here," Guthrie said.
Hamilton resident Faylee Favara is teaching the "Sceneworks: Theatre Workshop" course that covers from beginning to advanced, with an evening of the performance.
Corvallis resident Jason Savage will be teaching beginning and intermediate Digital Photography classes.
"He's a stunning photographer," Guthrie said.
Deb Rogala is offering an "Explore Montana!" series with "Art Venturing in Montana / Fall Fandango" and "Ghosts of October."
"Deb is planning exciting trips for folks interested in exploring Montana," Guthrie said. "That's fun, especially if you like to travel but don't want to take yourself."
Business and finance classes include partner courses from Ravalli County Economic Development Authority (RCEDA), retirement planning and Quickbooks courses. They are specifically geared for local people who want to build businesses in the Bitterroot.
Cultural offerings include classes on China, Japan, Spanish and Greek language and culture.
The Bitterroot College is offering many classes for individuals thinking about health, from "Eating Smart, Being Active" (by Jennifer Murrilo) to "Pickleball" (Novice and Intermediate by Ray McNeal). Mountain biking, basketball, volleyball, square dancing, Tango dancing, soccer, yoga, kickboxing and completing a 5K Race are just a few of the choices for being active.
Arts classes include oil painting, watercolor, knife-making, welding, woodworking, pottery, guitar and banjo.
Bitterroot College offers classes for students wanting to earn credits, continuing education for hobby or just to learn more.
Workforce training programs include medical assistant, certified nurse aide, pharmacy technician, commercial driver license, welding certification and food manager.
The bookkeeping certification program isn't listed in the catalog but is an ongoing program.
"It is a full certification for people who want to take the program," Guthrie said. "You could be a consultant, work for yourself, or be a bookkeeper for organizations around town. It is a whole series."
All the workforce classes are for people who want to get skills, get the certification and go out into the workforce. Most of these classes are evenings and weekends for people with jobs. These classes are for people wanting to change careers, or who want a leg up in those industries.
Some of the workforce classes have a substantial fee.
"But we have many partners in the community that have funding to help pay for those" Guthrie said. "Rarely do we have students in the workforce training that don't have some sort of financial support. If people are interested, they should call us and we'll connect them to the right people for assistance."
Bitterroot College has set an annual schedule for workforce training programs. Upcoming programs are: January — EGK technician, certified phlebotomy technician, HVAC with credential, COMPTIA A+ computer certification; February - dental assisting, high-pressure boiler operator, commercial driver's license; and May — certified medical administrative assistant and low-pressure boiler operator.
The Bitterroot FabLab has equipment available for the public to use and classes to teach the operation skills.
"You can come in, take a class to learn how to use the 3D printer then get a membership to come in and print your own stuff," Guthrie said. "My son and I took the instrument making class this summer. I made a ukulele and he made a cello. It was so fun."
Drones, robotics, fusion, virtual reality, laser cutting and engraving and Python with the Raspberry Pi are all available classes.
Classes for college credit began Aug. 26, most continuing education, workforce training and FabLab classes start in late September, early October. Some classes are discounted or are free for Hamilton School District residents, Hamilton School District employees and residents over age 65. Veterans Upward Bound (VUB) pays fees for eligible U.S. military veterans taking Bitterroot College Continuing Education classes. Call Lori Borth at the VUB office in Billings, 800-356-VETS (8387) then bring the VUB fee waiver approval to Bitterroot College to register for classes.
Register online, by phone at 406-375-0100 or in-person at Bitterroot College, 103 S. 9th St., Hamilton.
Get local news delivered to your inbox!
Subscribe to our Daily Headlines newsletter.