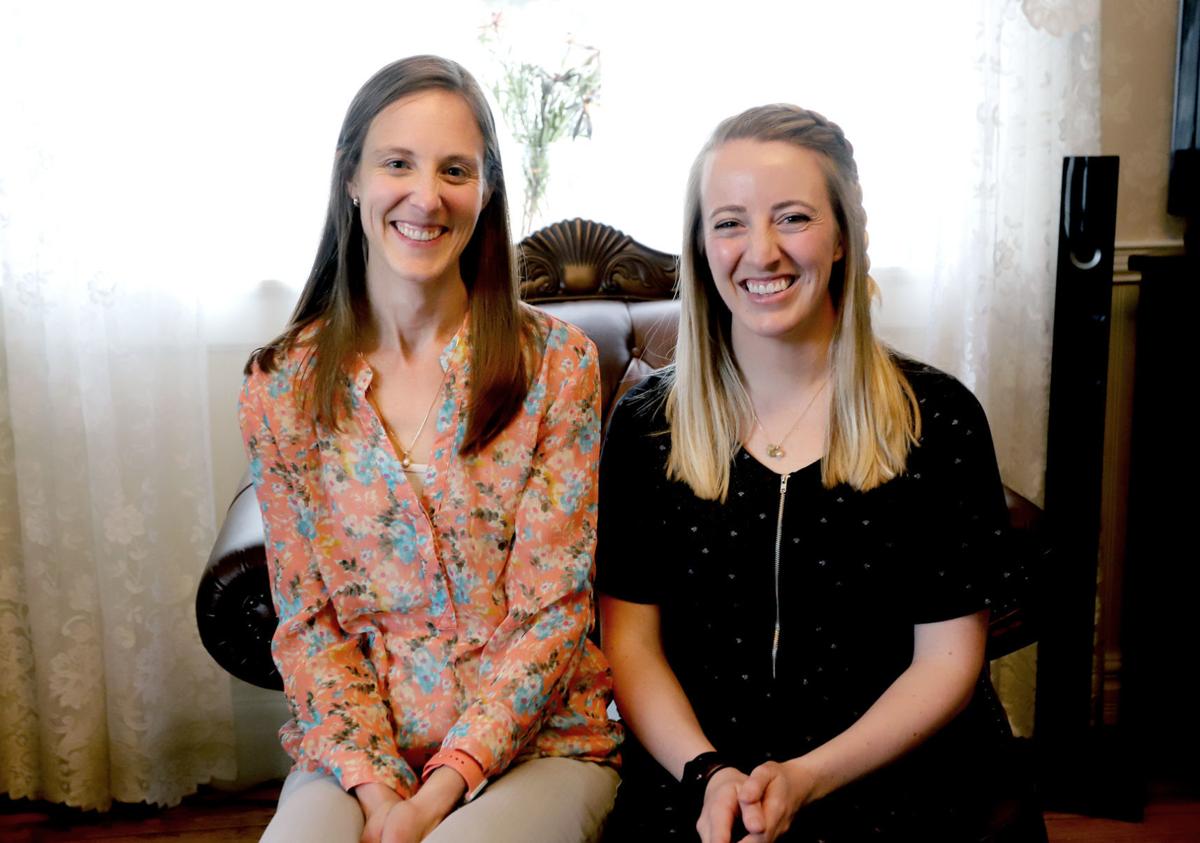 They have a story that no mother wants and  that causes many in the public to look the other way: mood disorders brought on by the birth of a child.
"People need to know that this isn't something that they caused themselves," said Annie Smith, one of two mothers who recently shared her struggles in the hope of helping others.
"The community needs to know that the repercussions can be really severe. If there was more support and understanding, instead of judgment, that could make a huge difference in a woman's life."
A 2010 study suggests that more than 400,000 infants are born to mothers who are depressed, which makes perinatal depression the most under- diagnosed complication in this country.
In some cases, new mothers experience postpartum mood disorders and related psychoses that can leave families reeling and mothers feeling isolated and afraid.
Smith and Rachael Watters didn't know about each other until recently, but both experienced severe bouts of perinatal mood disorders that temporarily turned their lives upside down.
Both young mothers initially suffered in silence when the first symptoms appeared following the birth of their children. They worried how the world around them would respond to the troubling thoughts that were racing through their minds.
The two women experienced two different forms of perinatal mood disorder.
Watters was four months pregnant with her second child when her family moved to Hamilton after her husband accepted a position at the Marcus Daly Memorial Hospital ER about six years ago.
Two weeks after she delivered her baby, Watters begin to experience hallucinations and delusions while she slept.
"I experienced severe insomnia to the point I was afraid to fall asleep," Watters said. "I literally felt like Satan walked beside my bed at night. I didn't initially tell my husband because I was afraid he would take the kids and lock me up."
As she continued to lose touch with reality, Watters reached out to her husband, who stepped forward to help her find treatment. After being diagnosed with postpartum psychosis, she began receiving mental health care from Hamilton's West House.
A couple weeks later, while out on a run with her husband, she had another psychotic break that scared both of them.
"My husband describes it as a disconnected monitor," Watters said. "The words didn't sound like they were coming from me. I told him I had to go home and say goodbye to the kids because I was going to kill them. It was probably the scariest moment of our lives and I didn't even know it was happening."
Watters was treated at St. Patrick Hospital in Missoula to be stabilized. It would take almost two months before she was fully recovered.
"When I came home, I was afraid to hold our baby," she said. "I didn't even know what I was capable of … At one point, I told my mom I might never be able to care for my kids. I didn't think I would ever get back to the way I was."
It took about a year before the couple decided to have their third child. There were no physical or mental complications that time around.
"That pregnancy was really amazing," she said. "We had moved from the house where we had been living. It felt like it was a fresh start."
The couple decided to have a fourth child. Two weeks after she was born, Watters said she started experiencing major anxiety, maniac behavior and insomnia.
"When I realized I had gone crazy again, it was devastating," she said.
She was having a lot of thoughts about violent deaths that involved something happening to her neck. When her mother found a turkey in the family's garage that had broken its neck attempting to escape, Watters had a manic episode and attempted to jump out of a second floor window at her home.
Her mother restrained her.
Watters again spent time in a psychiatric facility in Helena to be stabilized.
This time word got out that Watters and her family needed help and the community wrapped its arms around them. She also met another woman in the Bitterroot who had a similar experience and became part of a storytelling group that performs a production called "MOMedy: A Postpartum Storytelling Endeavor" and shared her story as a TEDx talk.
The MOMedy show will be presented at the University of Montana's Dennison Theater on Mother's Day.
"The response that I have received was overwhelming," she said. "People were telling me thank you for sharing. I had no idea that would happen, but it was super encouraging.
"This is a message that everyone needs to hear," Watters said. "Everyone knows someone who has had a baby. Things don't always go as expected.
"My desire is to bring more awareness to it," she said. "To normalize it and break down the stigma. People need to recognize that there is a lot of vulnerability that comes after having a baby — psychologically, emotionally and socially. Things are turned upside down. It's a time when women really need a lot of support."
Postpartum psychosis is a rare illness, compared to the rates of postpartum depression or anxiety. It occurs in approximately one to two of every 1,000 deliveries. The onset is usually sudden, most often within the first two weeks of giving birth.
Smith's experience with a perinatal disorder was different, but no less frightening.
She was living in Utah at the time with her husband, who serves as a U.S. Army medevac pilot. He was about to be deployed to Iraq.
"I had a great pregnancy, great delivery, without any complications," she said.
About a week after delivering her baby, Smith started getting disturbing "intrusive thoughts" that often included doing harm to her child. On the first day her husband went back to work, she remembers standing out on the couple's second-story balcony with the vivid image of her arms suddenly not working and her baby dropping out of them and falling over the edge.
"I backed up into the brick wall behind me," she said. "I wouldn't go outside with my daughter for weeks."
Things got worse as her thoughts morphed into intentionally harming her child.
"They came into my mind like a normal thought," she said. "I didn't know what to do. I literally hid all the knives in the house."
She decided to tell her husband and his response was helpful.
"I told him I could not get these thoughts out of my head," Smith said. "He was so supportive. He said he trusted me and that I was a good mom. He said they both knew there were chemical imbalances that can happen following childbirth."
Smith tried to get help from a therapist, but couldn't initially find one with experience with postpartum obsessive-compulsive disorder.
The disorder is one of the most misunderstood and misdiagnosed of the perinatal disorders. It's estimated that as many as 3% to 5% of new mothers experience the disturbing repetitive, intrusive images and thoughts that can appear to come out of the blue.
Research has shown the thoughts are driven by anxiety and are not delusional. They have very low risk of being acted upon.
But Smith didn't know that. After her husband deployed, she moved back to her hometown, Hamilton, to be with family. The disturbing thoughts continued.
"I would stay up to 3 a.m., pack my bags and research places to commit myself," Smith said. "It got to the point that I thought the only way I can protect my daughter was to kill myself … I can't really explain that because I wasn't suicidal. I just wanted to protect her, but I didn't want to die."
Smith eventually found the right doctor who could prescribe medication that helped her even out during that period of her life. She said that was a really important step.
The other came when she attended one of the mental health series talks sponsored by the Rocky Mountain Laboratory, where she found additional support.
The series started as a result of a 2018 suicide of the son of one of the lab's scientists, Dr. Kimmo Virtaneva. Virtaneva and his wife, Monica, have chosen to use their son Mika's death to encourage people to talk about mental health, the latest research and helpful resources.
The next talk on April 25 at the Hamilton PAC at 7 p.m. will feature Dr. Pedro Martinez of the National Institute of Mental Health in Bethesda, Maryland.
Titled "Is this Normal? Navigating the Lifetime Changes from Puberty Through Menopause," Martinez's presentation will describe the "normal" changes that occur due to hormones affecting women's health and the mile markers where things tend to go wrong, including depression, postpartum mood disorders and related psychoses. He will discuss what constitutes an actual disorder, the causes, frequencies, symptoms and spectrum of treatments.
Following Martinez's talk, Watters will present her portion of MOMedy. Since it contains strong emotional content, it might not be suitable for people under the age of 15.
The presentation is free.
"The hardest part of talking about mental illness is that it looks different for everyone," Smith said. "That makes it hard to know how and when to respond."
People told her that maybe she was just experiencing the "baby blues" — a common scenario that happens to many women following birth, but she knew that wasn't the case.
Both she and Watters said that if women continue to have symptoms beyond two weeks following birth they should reach out for help. Those who are close to new mothers can help, too, by checking in and making sure that everything is going well.
They hope that by telling their stories, others might be willing to do the same and a conversation will begin that will help ensure that no mother has to suffer through a challenging time without support.
Smith said her mother wasn't quite sure at first about her decision to speak out. After all, she was from a generation where people didn't talk about such things.
On the morning before the interview, Smith said her mother made her breakfast and told her that she was proud of her daughter for her courage to step forward.
"I feel like this is my way of paying it forward to all those who choose not to hold back on sharing their stories," she said. "I literally feel like that saved my life to know that I wasn't alone."
Get local news delivered to your inbox!
Subscribe to our Daily Headlines newsletter.