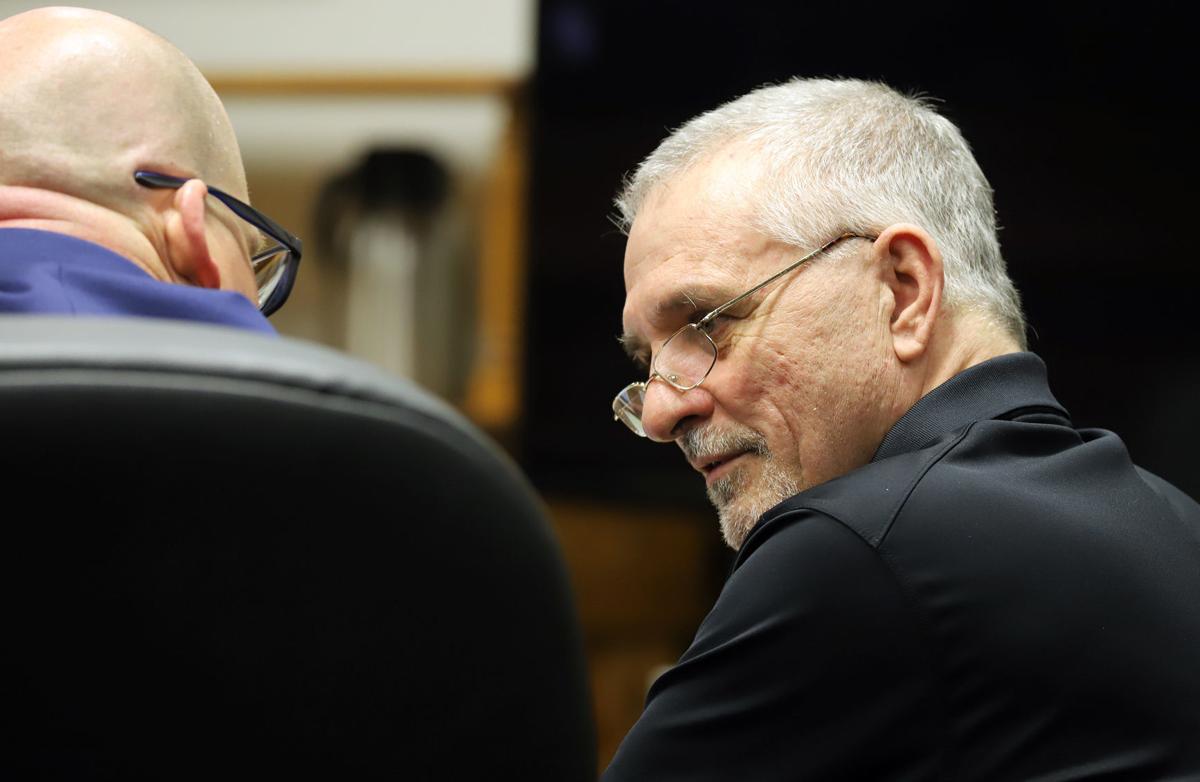 Those three words always brought comfort to Phil Leonardi's children whenever they experienced any scrape or bruise.
On Tuesday morning, the longtime Corvallis teacher said he told his 9-year-old son just that as the boy lay mortally injured on the pavement near their family home after being hit while riding his scooter along the edge of Golf Course Road last July.
Leonardi was the first to testify in the trial of Joseph McNamara in Ravalli County District Court.
The 60-year-old McNamara is charged with negligent homicide, criminal endangerment, leaving the scene of an accident, drug possession and tampering with evidence in the death of Robert Anthony Leonardi.
The boy was killed within sight of his family home at the corner of Golf Course and South Crest roads.
On Sunday, July 7, the Leonardi family was winding up a fairly busy weekend that had begun with the celebration of a dear friend's father's birthday Friday, night followed by a trip to the Farmers Market the next morning, Hamilton's skatepark opening and a family movie night.
Everyone was up early Sunday to watch the World Cup.
After the match ended, Leonardi went out to his shop to work on a wood project. He knew that Robert planned to go across the road to play with some longtime friends, but it was something that was so common that he didn't think twice about it.
It was a trip the boy had made many times. The family's rules for crossing the road were simple. With a straight shot a half-mile in either direction, their children knew to wait alongside the road if they could see a car coming.
Leonardi remembers looking up to see his son spinning around in front of him on the driveway on his scooter as he worked with his sander.
"I made eye contact with him and gave him a head nod," Leonardi said. "Then I put my head back down to continue with the project that I was sanding."
The sander was loud and he had his radio playing music in the background, but that didn't drown out the sound that came next.
"I heard the screeching of tires," he said. "And I heard the impact. … It brought my attention right up. I've lived on Golf Course Road virtually all my life and I know the cars that come and go generally.
"I saw Robert tumbling," he said. "I dropped the sander right there and I started to run. I ran. I ran and it's not far. Fifty yards perhaps. I shouted my wife's name as loudly as I could."
He was the first to get to Robert.
"I'm frightened," Leonardi said. "I'm frightened to move him. He's been in an accident. That's what we've been told, right? Don't move someone."
"I get down right next to him. I'm right there. Right there in his face and I'm telling him that I got you. I got you. I spent a lifetime doing that with my kids. Usually, it's the minor scrapes and bumps, but I always tell them I got you."
Leonardi remembers someone else running toward him as he reached his son. He knew he needed to call emergency medical services, but he couldn't operate his phone. So he handed his phone off to that person and told him to call 911.
Leonardi then heard the man say, "I couldn't see him. I couldn't see him."
None of that registered at that point. Leonardi had his son in his arms and Robert was looking at him.
"And I'm telling him that I got him. He's looking at me and now I've entrusted that someone is calling 911."
And then he hears the man say, "I can't. I can't."
By that time other people had arrived. His wife and daughter. The neighbors. Members of his extended family were there.
"I have Robert," he said. "I try to breathe some life back into Robert and it's not a pleasant sound. By now others have arrived who have more experience. My daughter is screaming, 'Robert, get up. Get up Robert.' My wife is screaming 'Robert, get up.'
"He's still looking at me at this particular point," Leonardi said.
And then Leonardi looked up and saw that the van that was parked alongside the road was gone.
Erika Allen of Corvallis testified that she also saw the tan van that McNamara was allegedly driving that day.
She was headed west on Golf Course Road and had seen Robert riding his scooter off the edge of the road seconds before she met the tan van traveling at high speed in the opposite direction. She looked in her rear view mirror and almost immediately saw the child fall into the road and the van swerve.
Dylan Davidson of Missoula had spent the weekend in Hamilton with his wife and child. They were driving west on Golf Course Road and saw the van hit the boy.
Davidson testified that he immediately called 911. They both raced over to the Leonardis. As his wife started performing CPR, Davidson said he noticed the van's driver standing there holding a phone. The man said he didn't know how to work a smartphone.
The next thing Davidson saw was the man running away from the scene, climbing into his van and driving away.
"He put the pedal to the metal," Davidson said. "There was dirt flying."
On Tuesday Davidson pointed to McNamara and said he was the man driving the van. After listening to a recording of the 911 call, Davidson told the county attorney's office that McNamara left the scene 1 minute and 35 seconds into the call.
McNamara's ex-girlfriend, Andrea Golie, testified that she and McNamara had spent Saturday night at her parent's home on Golf Course Road. Sunday morning they had visited friends in Hamilton where they drank gin mixed with Sprite.
Afterward, they traveled to Rotary Park just north of Hamilton and took some methamphetamine, she said. Golie said that led to a fight that ended with her telling him she wanted to end their relationship.
She drove him back to their friends' house and dropped him off. A Highway Patrol investigation showed the two shared angry texts and that McNamara made several calls, including one that occurred 1 minute before the 911 call that reported that Robert Leonardi had been hit.
Golie testified that McNamara drove to her parents' home. She was still in her car with the windows rolled up and the doors locked. She said he was frantic and kept asking her for a ride.
One day after the incident, Colleen Benson was walking her dog along Golf Course Road just two blocks east of where Robert Leonardi had been hit.
She testified her dog picked up a flip phone from the edge of the road. Since it was wet, she took it home and put it in a bag of rice to help dry it out.
A little while later, she decided to try to figure out who it belonged to. As soon as she opened it, she saw text messages. One read, "He's gone."
"I saw a picture of a man with two kids," Benson said. "I had heard what had happened from a neighbor. That was hard."
She asked the neighbor to return the phone to Leonardi.
"The next day a woman came to the door fairly early in the morning and knocked," Leonardi said. "She asked if the phone was mine. I remember this sense of relief. It wasn't the numbers that were on it. It was about all those images that I would have lost."
McNamara's attorney reserved the right to give his opening statement later. The trial is expected to run through Friday.
Get local news delivered to your inbox!
Subscribe to our Daily Headlines newsletter.