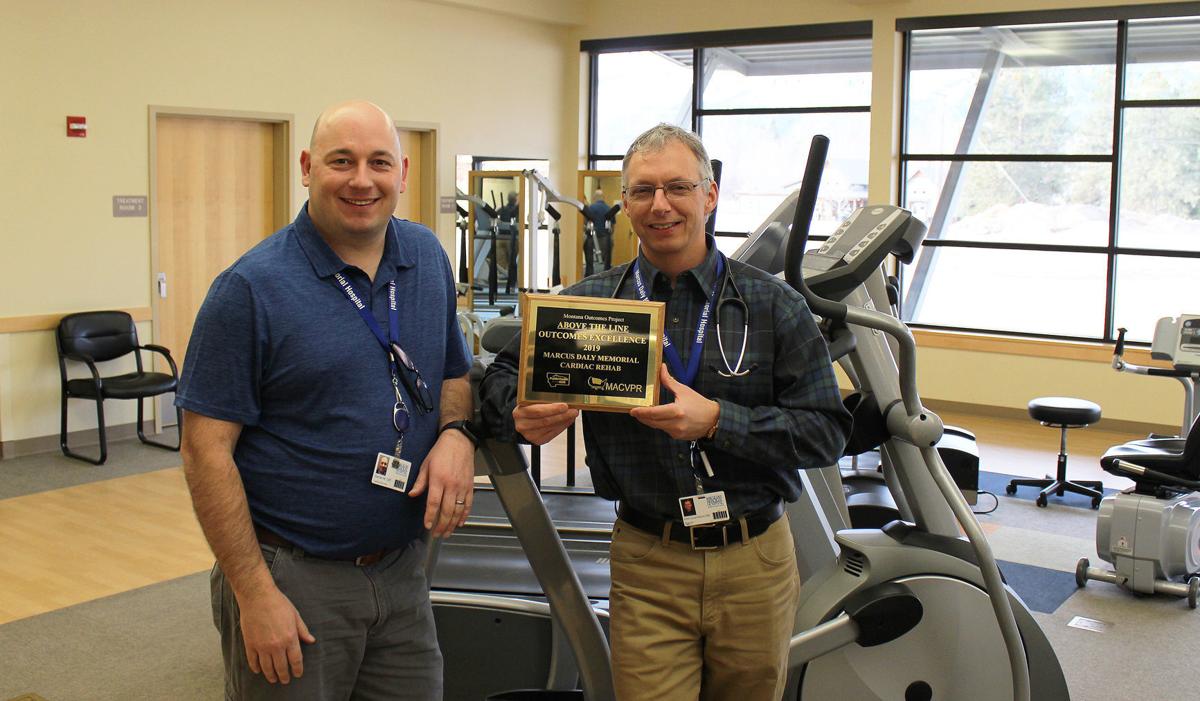 Recent recognition awarded to Marcus Daly Memorial Hospital's cardiac rehabilitation program shows it is the "gold standard" of such programs in the region, said Daniel McNeely, the hospital's cardiac rehab specialist.
"We are a well-rounded team that can do what the patients need," McNeely said. "Our little-big place has it and it is really good. Our care is personalized and we have the best service
The Montana Department of Public Health and Human Services recognized Marcus Daly's cardiac rehab program as Above the Line Outcomes Excellence for 2019.
Michael McNamara, who chairs the Outcomes Committee of the DPHHS Cardiovascular Health Program, said this is the 14th year of the project that includes more than 110 cardiac rehab programs from 16 states tracking and reporting on a uniform set of evidence-based, cardiac rehab quality indicators.
"The cardiac rehab program in Hamilton had the highest rating of all small hospitals from Montana and northern Wyoming participating in the project over this past year," McNamara said in his congratulations letter to MDMH CEO John Bishop. "Of the 13 quality indicators evaluated, your cardiac rehab program exceeded the regional benchmark in 11 of the 13 indicators."
McNeely said the Hamilton program has changed and developed, and patient numbers have grown by 30% each year for the past four years.
"It's been an astronomical difference," McNeely said. "This is the most referrals we've ever had in a year. It's over 200 right now."
McNeely also attributed the growth to the vision for services by Director of Cardiac Rehab and Cardiology Services Shaun Twardoski and the "explosion of Dr. Anthony Navone's cardiac practice here."
Referrals come from The International Heart Institute of Montana and area hospitals including Providence St. Patrick and Community Medical Center in Missoula, Sacred Heart in Spokane and the Mayo Clinic in Rochester, Minnesota.
The Marcus Daly Memorial Cardiac Rehab program involves 36 sessions, three times a week for 12 weeks. Education topics cover pharmacy, nutrition and exercise, and the rehab team comprises an exercise physiologist, a physical trainer, a dietitian and a respiratory therapist.
"A lot of patients complete the whole program but some work or want to get back to work so we modify it," McNeely said. "Our completion rate has been has been at 88% of all 36 sessions. That is one of the performance measures that they measured us on."
As the medical director of the program Dr. John Courchesne provides supervision, reviews patient charts, answers medical and cardiology questions and serves as a liaison from the Hamilton hospital to the referring hospital doctors.
"This is an important program," Courchesne said.
McNeely said peace of mind — akin to the feeling when someone is hiking — is a key ingredient for patients in terms of being motivated to complete the cardiac rehab exercise.
"It is the same feeling they get in cardiac rehab," he said. "They can look at the monitors and readouts here and see that everything is fine, so when they are out they know everything is great. We push them harder here than what they are going to do outside of the hospital so they can have peace of mind."
Courchesne said people have to be more active to live longer.
"They won't get that way unless they feel confident," he said. "Here they can look to see what their heart rate is doing and they are becoming more familiar with everything so they can feel more confident after this program and keep going to the gym."
McNeely said the solid medical experience of the program is important.
"They get educated when they are here and when they go out we give them a target range for their heart rate and they know they are within their target range," he said. "So they're good."
Courchesne said that the professionals in cardiac rehab can detect heart rhythm issues.
"It is a better situation than just doing your own thing," he said.
McNeely said cardiac patients come with a plethora of diagnoses and experiences. Courchesne said the growth comes from doctors acknowledging the excellence of the Marcus Daly cardiac rehab program.
"Everybody anticipated that this is a program for after you've had a procedure but there is more of a movement now towards patients that have heart failure, for prevention," Courchesne said.
"Only in the past 18 months heart failure patients have been added to the qualifying diagnosis," McNeely said.
"Your typical patient with heart failure isn't going to just get a gym membership and start working on things," Courchesne said. "This gives them confidence and some education too."
McNeely said that being selected the top program out of 110 cardiac rehab programs from 16 states being tracked indicates quality.
"It shows we have a gold standard program," he said. "We've met qualifications and standards. It's been a culmination of doctors and efforts. We work well together and we have a really good team. It takes a village, we want our patients to be the best. We do what we say we will do and we make our patients feel comfortable on the first day."
Courchesne agreed, saying, "Daniel is relentless. When there is an issues that comes up he will pursue it until it is fixed."
Get local news delivered to your inbox!
Subscribe to our Daily Headlines newsletter.