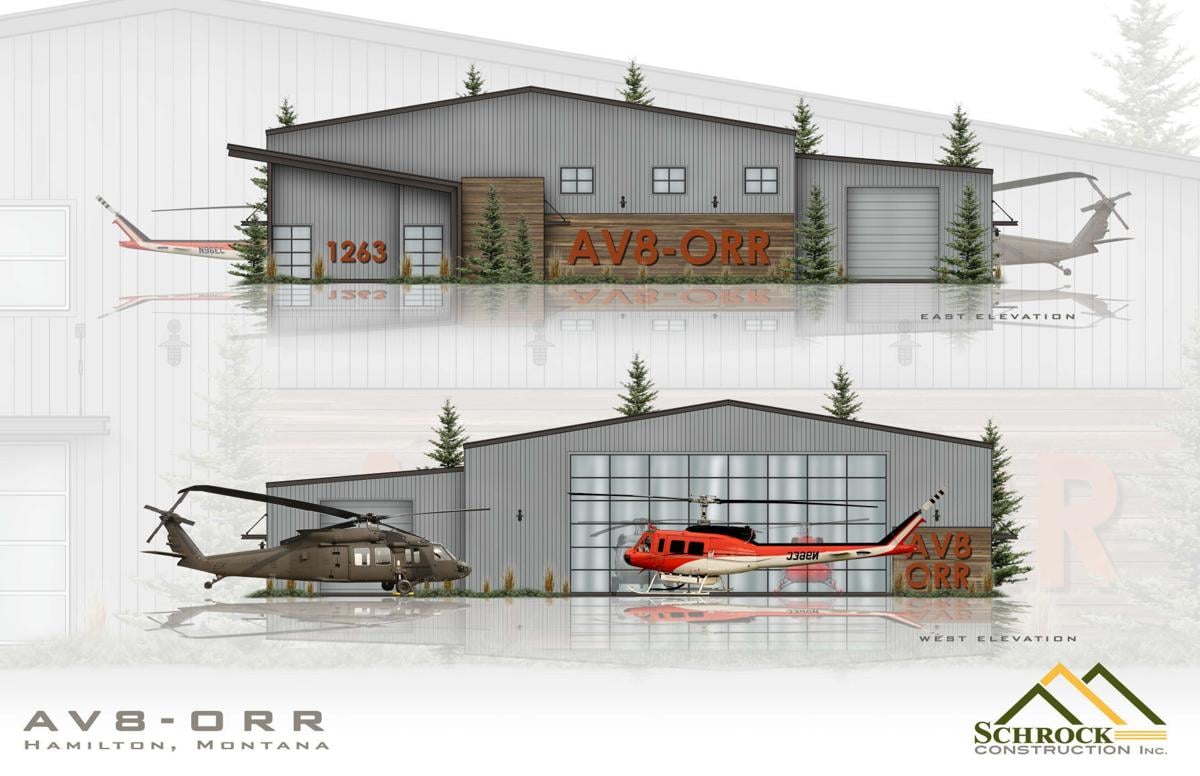 If you've traveled south of Hamilton on U.S. Highway 93 lately you may have noticed excavation taking place on the 10 acres south of Murdoch's and wondered what is being built.
Well it's definitely not a big box store or storage units.
Local aviation firm AV8-ORR Helicopter Services owned by longtime Bitterroot Valley residents, Andrew and Melissa Orr, are proud to announce that construction has begun on their new facility located at 1263 S. 1st St.
AV8-ORR Helicopter Services has been in business for 10 years and offers a diverse range of services including aerial firefighting, helicopter charter, agricultural applications, search and rescue, external load delivery, wildlife management, UAV (drone) services and more.
AV8-ORR Helicopters is a seasonal operation with peak months being June through August with the majority of their work taking place throughout the western U.S. This facility will primarily serve as an aircraft maintenance facility, aircraft storage and contain administrative space. It will also serve as a walk in location for anyone wishing to take a helicopter flight.
As AV8-ORR Helicopters grows so does the need for additional space for the operation. The Ravalli County Airport is a great airport but it can pose some difficulties for a helicopter operation to base from.
AV8-ORR's current hangar is located in and amongst private and corporate hangars. At times it can take up to an hour for AV8-ORR's helicopters to get in the air due to congestion issues with private jets, general aviation aircraft and other airport users. When responding to an emergency such as a wildfire that little bit of extra time can mean the difference between catching the fire and losing houses.
The Orrs spent a lot of time searching for a location that met their requirements such as, commercial designation, good access, and ample open space to allow for safe approach and departure corridors, noise buffer zones and affordability. This location checked all the boxes.
The FAA performed a review to determine suitability and has designated the location as a private heliport.
AV8-ORR has contracted with local builder Schrock Construction to build the facility. Revival Timeless Design created an amazing design that is exciting to see come to life.
"It's going to be a building we are proud of and one we hope the community will be proud of as well. Aesthetics and preservation of the view shed are important to us," said Andrew Orr. "An emphasis was placed on creating an attractive and functional building that enhances the south 93 commercial corridor and the community."
Energy efficiency is another key component of the building. Passive solar heating and natural light is being utilized as much as possible. The west hangar door measuring 45'x20' will be glass panels on steel framing.
"We wanted to create a work environment that was inspiring for our employees and potentially one the public can utilize and enjoy as well," he said. "The aircraft can easily be moved outside to create an indoor space capable of accommodating larger events such as celebrations, conferences or fundraising events. We are excited to be a more visible business in the community, committed to being good neighbors and giving back as much as possible".
The facility is scheduled to be completed mid-summer 2021. Once completed the public will be welcome and encouraged to stop by for a visit and take a helicopter ride. For about the same cost of a nice dinner for two an individual can experience the thrill of helicopter flight.
Get local news delivered to your inbox!
Subscribe to our Daily Headlines newsletter.