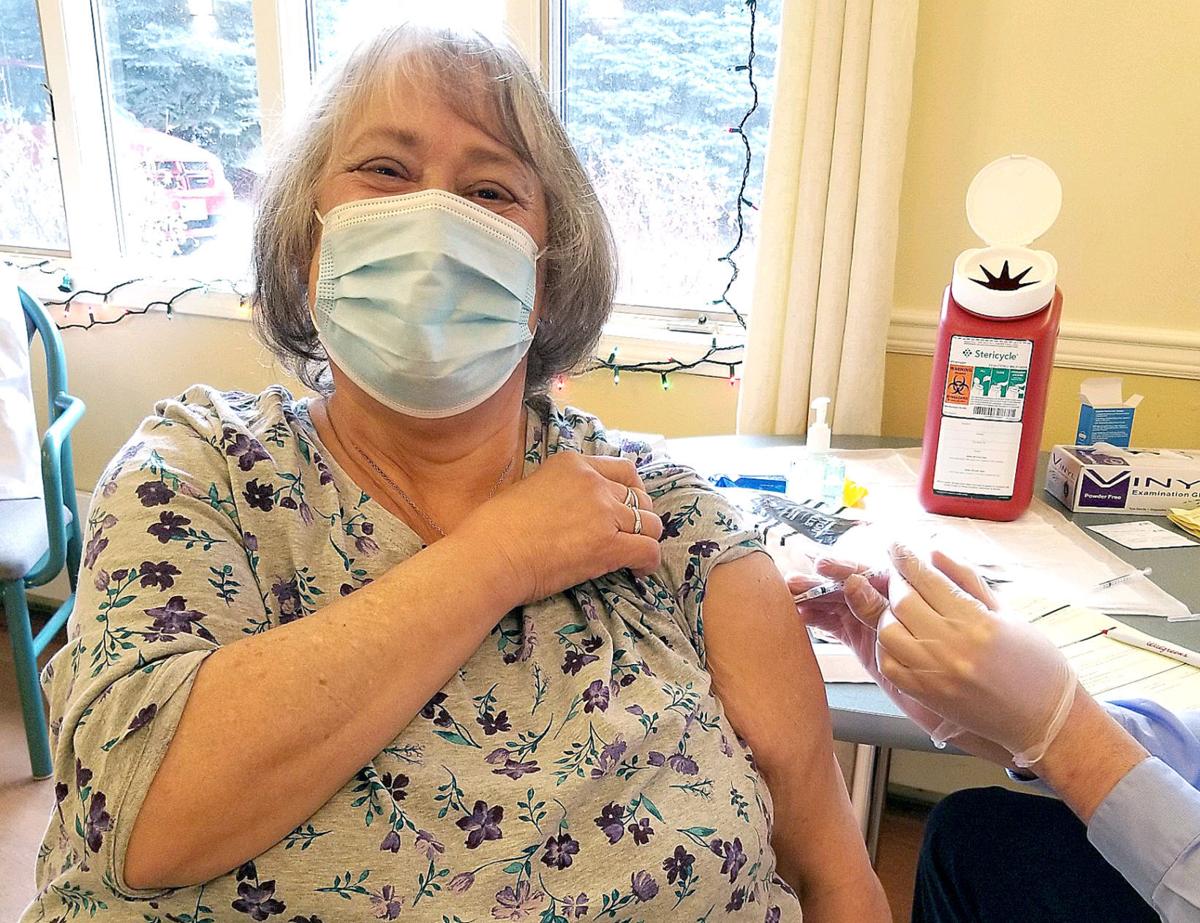 Residents and staff of Hamilton's Discovery Care Centre lined up Thursday for the first doses of COVID-19 vaccine administered at a long-term care facility in Ravalli County.
The facility's administrator, Rick Bucheit, said the first clinic administered by Walgreens would deliver 70 doses of the Pfizer-BioNTech vaccine to both residents and staff.
The Centre's sister facility in Stevensville, The Living Centre, will hold its first clinic Friday, Bucheit said.
Plans call for two additional clinics in the next six weeks.
At this point, Bucheit said he's not certain when the long-term care center will reopen to the public.
"My hope is that will happen in as little as a month," Bucheit said. "I wish the federal government was throwing a little more information out there about how that will be handled."
The closure of the facility due to the pandemic has been hard on both residents and staff.
"We really have a lot of residents who have been impacted significantly by not being able to have family visit," he said. "It's been terribly hard on people. You can tell people are fraying."
The reaction to the vaccine's availability has been mixed at the Hamilton site.
"Some people are elated," Bucheit said. "Some people have expressed concerns about how quick it's come to the market."
Bucheit planned on being vaccinated Thursday.
At the nearby Sapphire Lutheran Homes, administrator Cole Harden said he learned Wednesday their first clinic is scheduled for Jan. 28. Other clinics are scheduled for February and March.
Harden was told the clinic will provide 135 doses, which will be enough to vaccinate staff and residents who have said they wanted it.
"Overall, campus-wide we will be at about the 75% mark," Harden said. "Some people don't agree with it. Others have already had COVID and feel like they have immunity. Some just want a little more time. It's a mixed bag."
Harden said he plans to be first in line when the vaccination clinic begins.
Three other Ravalli County health care entities received new shipments of COVID-19 vaccine this week.
The Ravalli County Public Health Department, Marcus Daly Memorial Hospital and Sapphire Community Health each received 100 doses of the Moderna vaccine.
To date, Ravalli County has received a total of 1,600 doses of the vaccine.
Marcus Daly Memorial Hospital spokesperson Christina Voyles said the hospital will have administered the 100 doses it received this week by the end of the workday Wednesday. The hospital has given a total of 600 doses so far.
Sapphire Community Health received its first 100 doses of the vaccine Tuesday. It finished administering the vaccine on Wednesday.
"Currently, we have a lot more people lined up than we have doses," said Sapphire Community Health CEO Janet Woodburn. "There is a lot of interest."
Woodburn said the medical center is focusing on its patients over 70 years old.
"Here at Sapphire, we have hundreds of people at that age," she said. "There is definitely not enough vaccine yet even within our own patient base…There is light at the end of the tunnel. We're seeing it happening right here in our community."
Ravalli County Public Health Director Tiffany Webber said her office took a cautious approach during its first week of administering a portion of its initial 100 doses of the vaccine.
Webber said there may have been a misunderstanding following a newspaper article story that she had reservations about the vaccine.
"We think people should get it," Webber said. "We just wanted to make sure that it's done in a safe way."
Webber said the only reaction from the 50 people who have received the vaccine from her office has been a complaint about a sore arm.
Starting Wednesday, Webber said her office doubled the number of daily vaccine shots to 20. She expects that number to continue to increase as more vaccine becomes available. By Jan. 25th, Webber plans to open a vaccine clinic at the old city hall annex located at Third and State streets that will be manned by two registered nurses and an administrator.
"We are gearing up to go there," she said. "It will be staffed five days a week. We may have to do Saturdays too. I am hoping that other providers in the county will be able to provide the vaccine too."
The public health department is fielding calls from people anxious to be vaccinated.
"People are just crying out for this stuff," she said. "I think the hardest part for me is hearing from all the people who have special circumstances, but I have my marching orders and we have to follow those."
The state is currently in the Phase 1A. The first doses of vaccine are slated for frontline healthcare workers, long-term care facilities and healthcare workers with direct patient contact or virus exposure. There is an estimated 60,000 Montanans in that category.
In a press release Tuesday, Webber said public health is also scheduling Phase 1B, which includes first responders, EMS, firefighters, dispatchers, dental, home health, hospice and funeral services.
As of Jan. 5, Montana has received about 36,000 doses of the COVID-19 vaccine. About 25,000 have been administered.
While Webber hasn't been vaccinated yet, she plans to do so as soon as others who have more exposure to the virus are vaccinated.
"I am going to get the vaccine," she said. "I hoping then I won't have to fret so much about the potential of passing the virus to someone else."
She urged residents to continue to follow the WWW: Wear a mask. Wash your hands. Watch your distance.