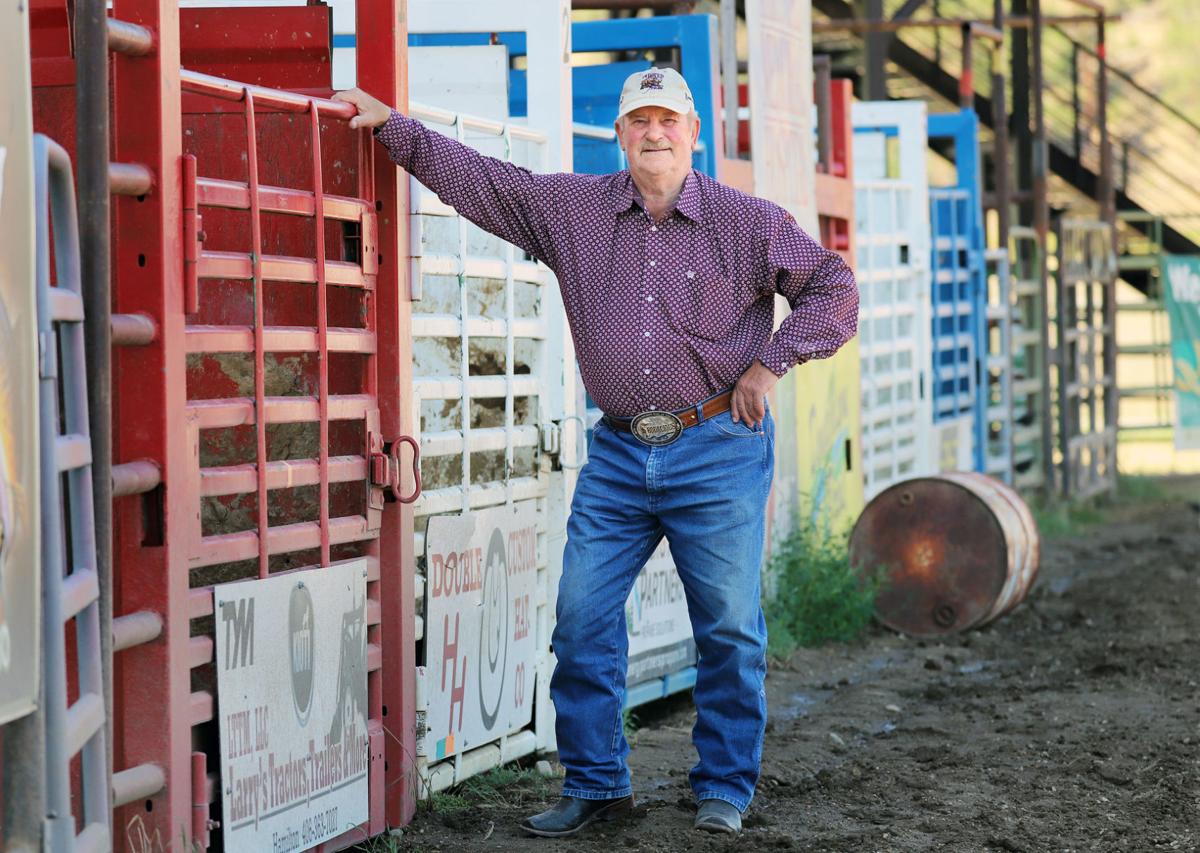 Sitting in a little patch of shade near the main gate into the Darby Rodeo Association's arena, Cal Ruark had nearly finished talking about an upcoming fundraiser when a couple of folks came riding over on horseback.
It didn't take but a minute for Ruark to be recognized.
"That's Cal," the woman said told her fellow rider. "He's the one who runs all of this. He's the one who put the dynamite in this."
"She's giving me a lot of credit when I got a lot of help here in making this happen," Ruark said, with a smile.
"You inspire a lot of help," she said, before the conversation turned to the joy of watching kids and their ponies race around barrels.
While other venues in Ravalli County have canceled events this summer due to the coronavirus pandemic, the Darby Rodeo Association and its president opted to keep its arena fairly busy. In June it hosted a rodeo that brought in a crowd of close to 1,500. There been several smaller events too.
Ruark said they set up hand wash stations and had masks on hand for anyone who might want one. So far, he's not heard that anyone had contracted coronavirus at the rodeo.
The upcoming week promises to be a busy one.
On Thursday, Aug. 13, the association plans to host its annual fundraiser, which features an outdoor concert with well-known country-western singer Dave Stamey. That event gets underway at 5 p.m. at the Darby Rodeo Grounds with prime rib and shrimp hors d'oeuvres, a no-host bar and live auction. '
Tickets for the fundraiser are $60. Those wanting only to attend the concert will pay $30. Tickets can be purchased at the Big Cat Café, 406 Saloon and Darby Wine and Spirits. They are also available online at 406saloon.com or bigcatcafe.com.
Organizers will set up the large tent once used at the community's Logger Days event in case of rain.
"We want to allow people to spread out a little bit more this year," Ruark said. "We'll have the tent set up in case there's a storm. All of the money we raise goes right back into the arena."
The association is currently saving for a tractor.
"Ford New Holland has donated the tractor we use here for the last four years," he said. "If you don't stay on top of this arena, it will get hard as concrete."
On the day before the fundraiser, Ruark expects somewhere from 80 to 100 women barrel racers from Montana and Idaho to tear up the track in hopes of a big payday at Saturday's Wild West Rodeo: Broncs, Bulls & Barrels event. The top 20 barrel racers will compete that night in between the Northern Rodeo Association sanctioned rides by saddle bronc, bareback and bull riders.
Ruark expects the Wild West Rodeo on Aug. 15 to attract some of the best bronc and bull riders from the region.
"Having the rodeo sanctioned guarantees us a lot of cowboys," Ruark said. "They can earn the points they need to qualify for the finals."
If more cowboys show up than Saturday's night rodeo can handle, Ruark said there will be a slack performance Friday night with $5 tickets for folks looking for something more to do. People will need to check the association's Facebook page or website to see if there is a Friday performance.
Gates will open at 5 p.m. Saturday. The rodeo begins at 7 p.m. Tickets are $15, $10 for seniors and kids under 10 get in free.
On top of the rough stock and barrel racing events, the rodeo also features a section of breakaway roping. The contestants will be vying for a chance to qualify in the American Series.
Ruark expects 60 to 80 breakaway ropers to compete Saturday morning for a chance to come back that evening for a chance at the pot.
"They are roping these calves in like 2.5 seconds," he said. "They are gunning for the money."
The association plans to use the same COVID-19 precautions as the last time around, including wash stations and face masks available at the ticket booth.
"We hope that people will use their common sense and come enjoy themselves," Ruark said. "We had a good crowd last time with no issues. We hope to see a lot of them back again."