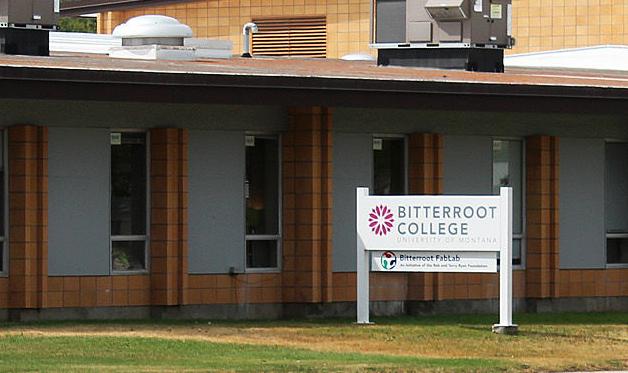 Bitterroot College and its developed educational services in the Bitterroot Valley are at a crossroads.
In her Director's Report on Oct. 21, Victoria Clark wrote that "unless stabilizing funding is provided for FY2022, Bitterroot College will need to pursue significant staffing and programming restructuring in order to maintain a presence in Ravalli County."
Bitterroot College, a program of the University of Montana, will have to restructure unless funding changes. It will need to reassess its location and what it will provide for community education. This could result in a discontinuation of non-college credit services, such as personal enrichment and continuing education workforce certification programs.
"Unless we become a Community College or the state makes us a legitimate campus, we really can't aspire to be a comprehensive provider of educational services," Clark said, Wednesday.
Only offering college credit classes is one possibility. Clark said this is the reality, COVID or not, because Bitterroot College funding is not sufficient for the provision of comprehensive services.
"We were never meeting the minimum investment in order to do what we are doing right now," she said.
For over 10 years, Bitterroot College has been growing and adding more programs in response to business and community requests.  
"But we have to be realistic," Clark said. "If the community wants comprehensive educational services, it needs to let the Board of Regents and Legislature know. While the community voted in favor of organizing a local community college district last May, now the Board Regents and the State Legislature weigh in. Residents concerned about the permanent presence of comprehensive post-secondary and adult educational services in the Bitterroot should lobby Board of Regent members before their November 19 recommendation vote to the Legislature."
Clark added that the community also elected seven trustees in May to oversee the proposed community college district. She said these trustees-elect are actively advocating for the formation of the new community college before the Board of Regents in advance of the regents' Nov. 19 recommendation vote. The trustees-elect can be reached at trusteeselect@bvcommunitycollege.org.
In the meantime, Clark is positioning Bitterroot College with solid partnerships to receive some grant funds.
This month, Governor Steve Bullock and the commissioner of higher education have distributed some COVID-19 federal money to Montana workforce development and remote training programs at two-year and community colleges.
"Quality, accessible education is vital to our communities and by enabling more Montanans to pursue college and technical education training, we can ensure that even small towns across our state never lack opportunities," said Governor Steve Bullock. "I look forward to this partnership in recruiting the new, innovative learners who will help us strengthen Montana."
The funding comes from Montana's portion of the Governor's Emergency Education Relief Fund (GEERF) part of the Coronavirus Aid, Relief and Economic Security (CARES) Act. A complete project listing is available at https://mus.edu/geer/.
Bitterroot College did receive some funds as a partner college on several of the grant projects and the components will be starting this spring through the fall of 2022.
"It just takes a while to develop programs," Clark said. "In general even if it doesn't give immediate COVID relief it will set up the state in a good direction. We're large and spread out so having remote access and training is critical. This [COVID funding] is the silver lining of a bad thing."
She said the funds will benefit Montana workplaces and workers in the long run.
Bitterroot College is not the lead on any grant awards but is a partner for programs in licensed practical nursing, construction technology, instructional technology, health professions basics and education.
The licensed practical nursing award has Bitterroot College as a dedicated partner with Helena College.
"The funds will expand their program and innovate with their existing faculty," Clark said. "They were aware that Bitterroot College would like a nursing path and they reached out to us."
Bitterroot College students would be admitted as a cohort, taking LPN classes remotely through Helena College, complete clinical training locally and not be required to go to Helena for any aspect of the program.
"Long-term, if this proves successful, Bitterroot College or the new Bitterroot Valley Community College, could have that program fully here," Clark said. "If this pilot was successful it would show there is a need and that the program needs to reside here."
The program would begin in the spring of 2022.
"That means we can start steering students to have prerequisites done this spring and fall," Clark said. "We could get students ready then they could apply next year at this time."
The specific details are not in place yet but should be by January.
The grant total is $99,600 total but $52,100 is for the Bitterroot College to purchase equipment, making hands-on labs possible.
"For simulation equipment in the medical field you want top quality, the most real-world and real life," Clark said. "That investment is hard for us to come up with and this grant is able to do that."
Another grant, also a partnership with Missoula College, is for the statewide certificate of technical skills for construction technology.
"We're working with Statewide Construction Trades Industry, standards set across the state," Clark said. "This would provide local instruction with access to a lab facility for hands-on skills."
Construction training includes blueprint reading, measuring, construction skills, OSHA training in an online portal. It provides 40-45 hours of initial instruction basics.
Other grants include a partnership with Missoula College for Instructional Technology Workforce Remote Education Initiative with three other colleges. It will offer entry-level industry-wide credentials that are needed to get into the IT field. BC will get $7,500 and are training their IT director to be certified so can be part of the teaching team, statewide.
The grant called Health Professions Basics: Online Micro-credential Program for Healthcare Careers is led by University of Montana and affiliates include Bitterroot College, Flathead Valley Community College and Missoula College.
"Their goal is to create curriculum to help our healthcare workers be a team," Clark said. "Health care is now done by a team and this initiative teaches medical professionals to work as a team. It will include inter-professional team-based practices, communication practices, value and ethics for inter-professional practice, and roles and responsibilities. This is how to do it so the patient wins."
The state-wide program will be online and available to all health care professionals as Continuing Education Units.
"It does speak to the COVID situation," Clark said. "This is a new level of stress and apropos for the moment. Our healthcare workers are asked to do heroic things."
The Bitterroot College doesn't receive funding for this but is a partner to help promote it or provide a classroom if needed. 
For the UM Western Education initiative, Bitterroot College is an encourager for the program.
"Western has wanted to reach out to the state and provide the pathway to licensure," Clark said. "It is for people interested in teacher licensure so they don't have to go to Dillon. We are looking forward to the direction they go."
UMW/Bitterroot College is offering one 12-week course towards early elementary licensure this spring. It is EDEC 247 Child & Adolescent Growth & Development and will be held Wednesdays 6-9 p.m., Feb. 3–April 22, and Saturday, Feb. 6. For more visit www.umt.edu/bitterroot-college/offer/ece/default.php.
"We want to attract high school students to take this as a dual credit class and get college credit," Clark said. "It will help them see if they are interested in this career pathway and earn college credit."
Get local news delivered to your inbox!
Subscribe to our Daily Headlines newsletter.