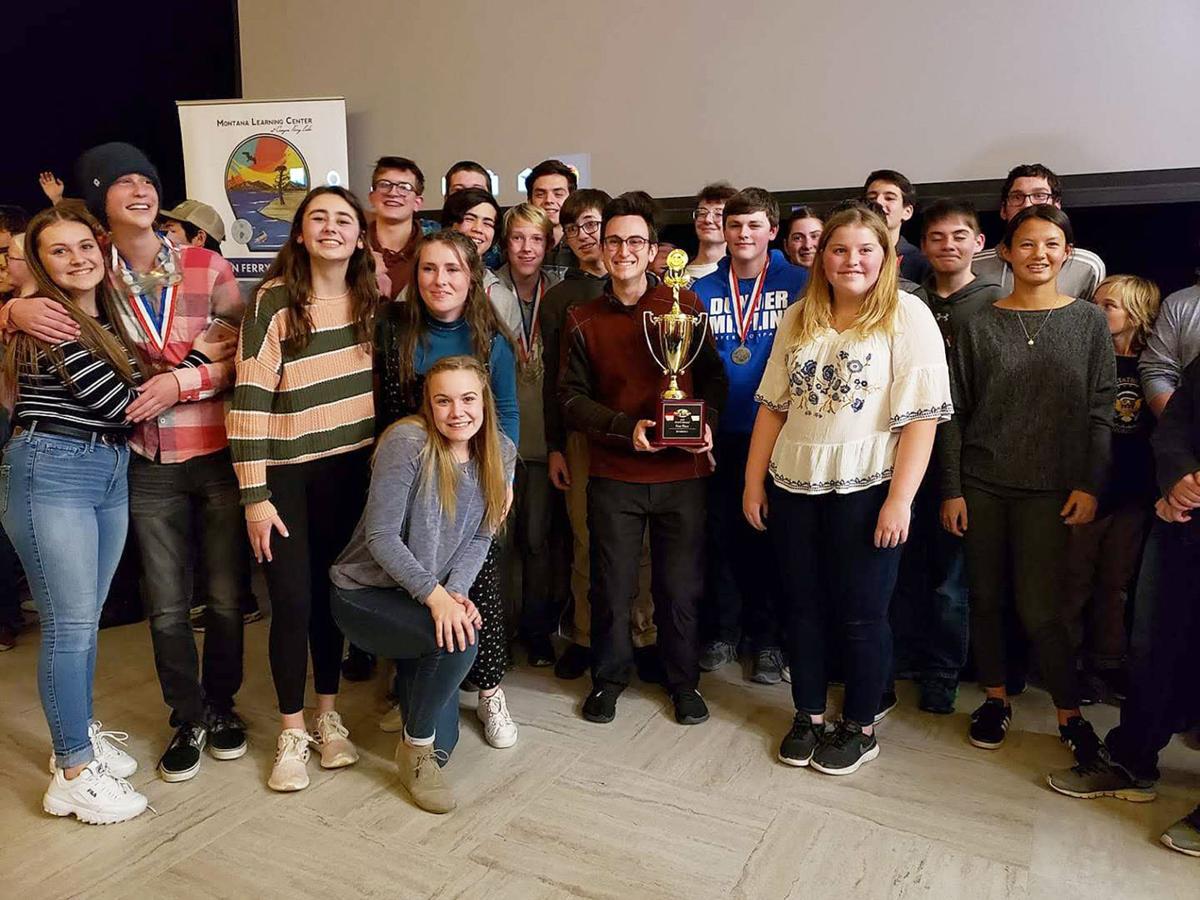 The Hamilton High School Science Olympiad varsity team is headed to the national competition after defending their state championship title at the 35th Montana Science Olympiad conference in Bozeman on Nov. 25 and 26.
Science Olympiad focuses on student exploration and mastery of scientific and engineering fields.
HHS celebrates their back-to-back state championship and their third time placing first throughout the Science Olympiad program. The HHS Science Olympian teams place in the top 15 in each of their respective events, resulting in an impressively low final score of 85 points (lowest final score wins).
HHS Coaches Dietrich Perchy, Jonathan Driggers and Michael Bonnes said they were pleased with the performance of the group of 30 students.
"I could not be more proud of these young scientists and engineers," Perchy said. "Between graduating about half of our team last year and (previous head coach) Tom Schmit's retirement, this year was definitely a period of development, rebuilding and growth. Even without the years of experience, this team stood up to the challenge and brought home a result that could make our community proud."
Hamilton High had five individual state champions: Colin Hanley — Anatomy and Physiology, Sounds of Music; Nathan Schwartz — Sounds of Music; Oscar Repetto — Anatomy and Physiology; Sam Duerr — Gravity Vehicle and McKayl Bailey — Wright Stuff.
The varsity team's placings: Tucker Belanger — Astronomy, 15th; Peyton Haddock — Boomilever, third; Logan King — Chem Lab, fifth; Hunter Bonnes — Detector Building, fourth; Fern Stewart — Experimental Design, 10th; Sofia Lewanski — Fossils, 11th; Oscar Repetto — GeoLogic Mapping, second; Harley Robertson — Gravity Vehicle, fourth; Cadogan Wheat — Protein Modeling, sixth; Andrew Searle — Water Quality, 11th; Derek Twardoski — Wright Stuff, seventh; and Olivia Burns and Molly Craig — Write It, Do It, fifth.
HHS created a junior varsity team this year, which finished second against other JV teams. The roster and placings included: Cole Kimzey — Anatomy and Physiology, 26th; Elijah Vallejo - Astronomy, ninth; Zsomi Kari — Boomilever, fourth; Isaac Harmon — Chem Lab, 25th; Collin Shook — Detector Building, second; Cheynne London— Experimental Design, ninth; Athalia Vallejo — Fossils, 22nd; Dawson Berglund — GeoLogic Mapping, eighth; Kenzie Rogers — Protein Modeling, 18th; Greg Simmerman: Sounds of Music, 3rd; Em Courchesne — Water Quality, 18th; and Bella Barber and AJ McWhirter — Write It, Do It, 29th.
Hamilton students shared their thoughts about the program.
Freshman Sofia Lewanski said Science Olympiad is an incredible resource for students who have a passion for science.
"I feel very fortunate to be part of a supportive team that can compete with other kids interested in the sciences nationwide," she said. "I have been able to explore many different fields and be able to try things I might want to look into as a future career path."
Sophomore Hunter Bonnes said he enjoyed exploring topics of his interest.
"I am able to explore a scientific topic in-depth and become familiar with different fields in science," he said. "For Detector Building, I had to create a circuit that could take the temperature of the water as accurately as possible. For Geologic Mapping, I had to learn many geologic principles along with a base understanding of different earth science concepts and be able to apply those concepts given different geologic maps."
Freshman Colin Hanley said, "Science Olympiad is a great opportunity to learn about a variety of different sciences and connect with people with shared interests across the state."
Junior Molly Craig described the Hamilton Science Olympiad team as "a truly loving group of students that are motivated to learn more about the world."
"With the help of incredibly passionate coaches, the students on the team fall in love with a deep exploration of science," Craig said. Her favorite event is called Protein Modeling where students build a model of a specific strand of protein and bring it to the Science Olympiad competition for judging. She plans on pursuing a career in the field of biotechnology to work with genetic manipulation and protein systems.
"I have always had an interest in this field, but Science Olympiad has shown me how much I love to learn and apply myself in work with proteins," Craig said.
Hamilton principal Ryan Wells said the school is proud of the Science Olympiad team and that competing at the national competition at Cornell University last year inspired the whole student body.
"We have grown into a school known for success within the Science Olympiad community, and we hope to continue to build on this great tradition," Wells said. "Our Science Olympiad competitors are incredibly dedicated at both the high school and middle school level, and the support our team has received from our community is truly appreciated. The students deserve all the credit in the world for their hard work and dedication to the events they compete in, and their success in an academically driven competition has had a great impact on our school."
Perchy said he is eager to work with his team gearing up for the national competition and at state competitions for years to come. The HHS varsity team is fundraising, and donations are welcome at Science Olympiad Team, Hamilton High School, 327 Fairgrounds Road, Hamilton MT 59840.
Hamilton Middle School placed 6th at the Montana Science Olympiad competition.
Get local news delivered to your inbox!
Subscribe to our Daily Headlines newsletter.