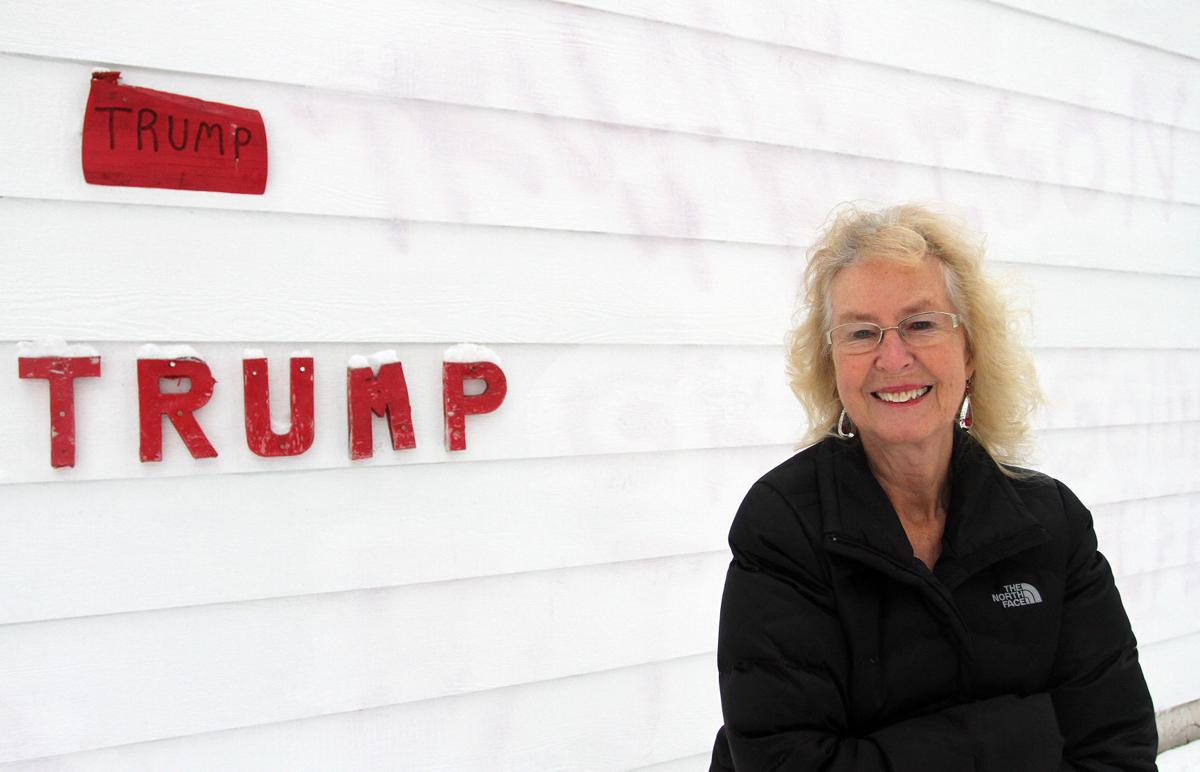 Stevensville's Dave and Golda Weber's Christmas season was temporarily shattered this year after someone painted anti-Trump graffiti on their garage wall.
But the kindness of strangers helped soften the blow.
Golda Weber found the graffiti on the wall of the couple's garage that faces River Road on the morning of Saturday, Dec. 28.
The Webers had posted a small wood cutout that read "Trump" on the wall several years ago. In May 2018, someone spray-painted profanity around the cutout.
"When I first saw it, I thought, 'Oh no. Not again,'" Golda Weber said. "It made me really nervous that someone would come up on our property and do that while we're sleeping. It makes you feel violated."
In this case, the person had included Golda's name in the graffiti.
"I don't know if they have something against me personally or if they are just mad at our president," she said. "If they are against our president, which a lot of people are, they have that right. But they don't have the right to come and express it on our garage.
"If they were trying to change someone's mind, it seems to me that it would work better using a little honey rather than vinegar," Golda Weber said. "If I want to try to convince someone of something, I try to tell them good things rather than slap them around."
The Webers weren't the only ones upset about the graffiti.
Marie Noell and her finance, Steve Fryer, live a couple of doors down from the couple. They noticed the graffiti and decided they wanted to help.
On Sunday, Jan. 5, the weather finally turned nice enough for the wall to be repainted.
You have free articles remaining.
Golda Weber made a trip to town to get another can of paint and she returned to find Noell and Fryer busy painting over the graffiti.
"We had never met them before, but we've found that they are nice people," Noell said. "Helping them out was the decent thing to do. You don't destroy someone else's property like that. … I'm not pro or against Trump, but regardless of who you support, there is no reason for anyone to deface someone else's property. That act kind of shocked me.
"We wanted to do the right thing," Noell said. "We didn't want a couple of old folks to have to be out there painting by themselves in the cold."
When the day ended, Noell and Fryer took the can of paint and a couple of paintbrushes home with the promise they would return to give the wall another coat when the weather permits.
Weber said they also received an anonymous card in the mail with a $20 bill inside.
"There was no last name, no return address," she said. "It was addressed to Fellow Patriot American."
Weber said the card contained a short note that said the sender was saddened by their troubles and wanted to let them know there were many Montanans with them in spirit. There were also supportive messages on Facebook, including people who said they while they weren't fans of the president, they wanted the Webers to know that they were upset over the graffiti.
"I hate this nastiness that we're living with now," Golda Weber said.
The 80-year-old said she can remember a time when people with different political affiliations could have a debate and still be friends afterward.
She saw that happen in her own family.
Her father was initially a Democrat but switched over to the Republican Party later in life. Her cousin's husband was always a strong supporter of the Democratic Party.
When her cousin's husband would come and visit, she said there were times the two men would find themselves in a spirited debate.
"I can still remember hearing Chuck's wife, my cousin, say, 'Now Chuck, that's getting to be a little too much,'" Golda Weber said. "My dad and Chuck would smile, shake hands, pat each other on the back and then go sit down at the dinner table. They loved each other to the day they died."