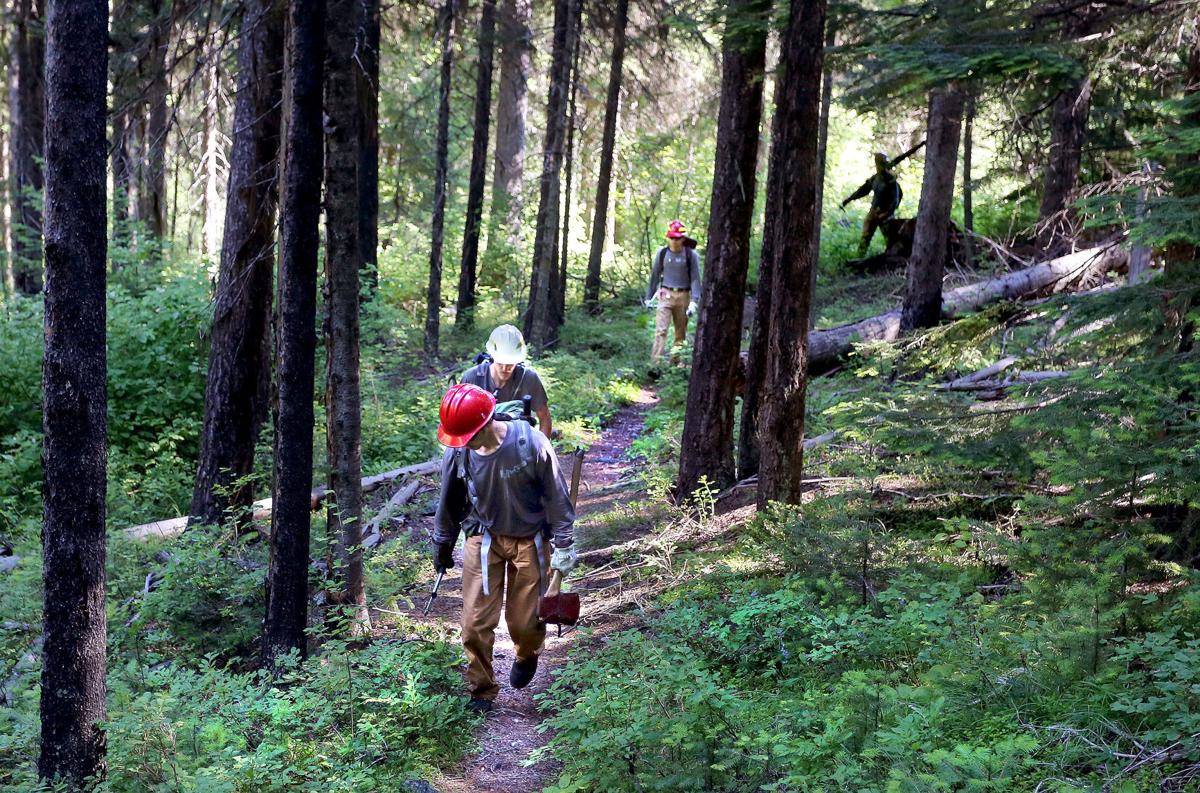 While there were tears of joy at the Anaconda Job Corps site Monday after it was announced the center would remain open, there were tears of another sort at Trapper Creek.
For two hours Monday morning, many of the 57 employees of the Bitterroot Valley job corps site listened to a webinar on how to prepare for losing their jobs.
"People are terrified about RIF (reduction in force)," said Trapper Creek Job Corps director Jesse Casterson. "They don't what that's going to look like. People are scared. I'm afraid employees are going to leave."
Trapper Creek is one of 16 Job Corps Civilian Conservation Centers slated to be transferred from USDA's Forest Service to the U.S. Labor Department and then privatized. The May 24 announcement also said nine CCCs would be closed, including the Anaconda CCC.
U.S. Sen. Steve Daines, R-Montana, said Monday he had secured President Donald Trump's approval to keep the Anaconda Job Corps training center open as a CCC.
If nothing changes, the Anaconda Center would be the only operating Forest Service Job Corps Center left in the country.
During a telephone press conference Monday announcing the Anaconda's reprieve, Daines said he could speak only about that one center.
Trapper Creek "was never on the closure list, but I know there's some administrative transfers going on from Agriculture to DOL," Daines said. "My focus was on Anaconda."
Daines joined the others on the Montana congressional delegation in signing a letter to Agriculture Secretary Sonny Perdue and Labor Secretary Alexander Acosta that voiced "strong opposition" to the decision to close a third of the CCCs and end the program in its current form.
"Civilian Conservation Centers have a unique mandate within the Job Corps program to help conserve, develop, and manage public natural resources and public recreation areas and respond to natural disasters, including wildfires and hurricanes," the letter read.
The 25 centers operate on 17 national forests and grasslands in 16 states and train about 4,000 young adults, many of whom are at-risk individuals who come from low-income, rural communities, according to the letter.
"The closure or alteration of all 25 CCCs — representing a fifth of all Job Corps sites — is a massive revision of the program undertaken without congressional consultation, notification or approval," the letter read. "This is especially troubling given that CCCs are overrepresented in the ranks of the highest performing Job Corps Centers."
The CCCs are the only Job Corps Centers that participate in disaster response, and their students often find themselves in the front lines.
In 2017, 1,200 CCC students provided the equivalent of 450,000 hours of service during the height of fire season, according to the letter. Students also provided 5,000 hours of support in response to Hurricane Harvey. In addition, CCC students spent 14,000 hours in treating 35,000 acres of hazardous fuels with prescribed fire and 10,000 hours in forest restoration work, it said.
As of Tuesday morning, the letter dated for Wednesday had 49 signatures, including those of Daines, Sen. Jon Tester, D-Montana, and Congressman Greg Gianforte, R-Montana.
Tester took to the floor of the U.S. Senate Tuesday to outline his proposed "Job Corps Protection Act" legislation that would prohibit the Forest Service CCCs from being transferred to the Department of Labor and not allow appropriated funds in 2019 and 2020 to be used to close any Forest Service Job Corps Civilian Conservation Center.
"I'm going to continue to fight until we get a firm promise from this Administration that these Job Corps centers are truly safe for years to come, and will be introducing legislation to block closures and prevent these critical employment centers from being subject to the whims of the president," Tester's prepared speech read.
"The administration's action to close or privatize Job Corps programs negatively impacts states across the whole country — so it is my hope that folks can check their politics at the door and join this fight to save one of our nation's most successful initiatives," Tester said.
Casterson said students from Trapper Creek have provided more than 100,000 hours in natural resource work in each of the last two years. 
The center was recently awarded the top CCC fire program of the year. Its students worked 60,898 hours of fire fighting and support in 12 different states.
"We're crushing the numbers," Casterson said. "We're, by far, we are the best fire program in the country."
The Anaconda Job Corps training center has about 170 students and 63 staff members.
At full staff, Trapper Creek has 63 employees. Currently it's operating with 50 full-time permanent staff members and seven contractors. There are 194 students at the center, with more expected to arrive in the next few days.
Trapper Creek consistently operates near its 200-student capacity. As of this week, 61 of those students have earned the credentials needed to fight wildfire this summer. Some have already helped with prescribed burns in Idaho and in the Bitterroot.
"We are the consistently the fullest in the country, which drives down per student cost," said Casterson.
On average just under 30% of those enrolled in a wide variety of trades have made it a point to become qualified to serve as wildfire fighters.
"These kids come from all walks of life," Casterson said. "You see pictures of them out there on there on the fire line and they are filthy and they're beaming ear to ear. Learning to serve others is changing their lives. Most have never felt they were important and now they're important to the country, they're important to the land and they're important to their community.
"If that doesn't change your life, I don't what will," he said.
Get local news delivered to your inbox!
Subscribe to our Daily Headlines newsletter.