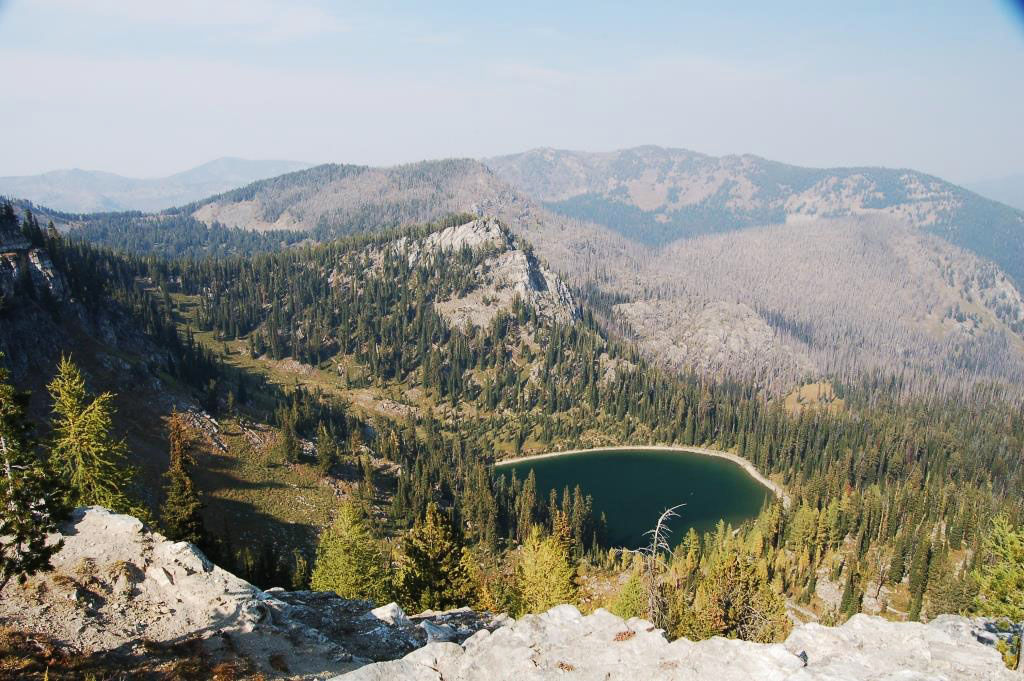 Sen. Steve Daines is being asked to hold meetings across Montana to hear from people about his federal legislation that would remove Wilderness Act protections on about 500,000 acres of study areas.
During a teleconference call on Monday, a new group called "Our Land, Our Legacy" launched a traditional and social media campaign to urge Daines and other members of Montana's congressional delegation to find a "balanced, bipartisan resolution" for the state's wilderness study areas.
"Our first goal is to raise awareness of wilderness study areas," John Todd, conservation director for the Montana Wilderness Association, said about the new campaign. "We want to help tell their stories and the importance of them for communities. But we also want to highlight the fact there is an expectation that when congressional decisions are being made about our lands, we expect to have a role in carving out the rules for those areas."
One person featured in a video is Kathy Hundley, a substitute teacher in Darby, who notes that "wilderness is priceless and we're never going to make any more."
"Before those in Washington make decisions for what's going to happen here, they need to sit down and listen and find what's the best way to proceed," Hundley said. 
Chris Marchion, a board member of the Montana Wildlife Federation, said what Daines has done "is just horrible."
"It's not consistent with what we expect; we expect him to engage with people, hold hearings here and base his decision on what people want on the ground," Marchion said.
"Sen. Daines not only sidestepped the public, he also ignored the wishes of our state Legislature, which passed a joint resolution last year that said permanent protection should be on the table for many of our WSAs."
Daines introduced S.2206 in December, which lifts possible wilderness designation in five study areas in Montana, opening the door to oil and gas development, logging, mining, grazing and motorized and off-road vehicle use.
The areas, which total about 449,500 acres, include the Blue Joint and Sapphire wilderness study areas in the Bitterroot; the Big Snowies WSA near Lewistown in Fergus County; the Middle Fork Judith WSA in Judith Basin County; and the West Pioneer WSA east of Wisdom in Granite County.
The wilderness study areas include public lands that, by definition of the Wilderness Act, provide "outstanding opportunities for solitude or a primitive and unconfined type of recreation" and also may contain "ecological, geological, or other features of scientific, educational, scenic or historical value." Use is restricted in wilderness areas to preserve those attributes.
The areas have been protected from development since they were put up for consideration as wilderness areas in 1977. The lands were to be studied for five years before recommendations were reported to the president; the lands' status hasn't changed since then.
In an email Monday, Daines didn't answer specific questions about the legislation, but has issued press releases saying his bill has the support of "dozens of local community groups" including the Montana Snowmobile Association, the Great Falls Trail Bike Riders Association, the Montana Farm Bureau Federation, and Citizens for Balanced Use.
Both the Ravalli County Off Road User Association and the Bitterroot Ridgerunners nowmobile Club support the release of some or all of the Montana WSAs. Rep. Theresa Manzella also sent a letter of support, noting that the lands "are in legal limbo."
"The failure of Congress to remove designations in non suitable areas ... severely harms multiple-use interests and other forest users, as well as Montana communities and Montana families economically supported by those activities," Manzella wrote. 
A spokesperson for Daines said he has heard interest about this in most meetings since he first came to office.
"Montanans are tired of the federal government locking them out of public lands," Daines said in a statement Monday. "The Montana Legislature and dozens of local community groups and elected county commissioners called upon its representatives to restore public access after 40 years of inaction and restrictions by Congress. My legislation is a first step in responding to the frustration of local Montanans."
Dave Byerly, of Lewistown, said he voted for Daines, but he can't support the bill in its current form. He said the water from the Big Snowies is some of the purest in the county, and he fears removing wilderness protections will allow gas and oil exploration that could harm the water.
"This WSA bill was a complete surprise and real disappointment," Byerly said. "Since his bill could open the door to oil and gas development in the Big Snowies and threaten our water, it was very disappointing that Sen. Daines didn't hold a single public meeting in Lewistown or anywhere else in the state to ask residents if this was something we wanted."
Karen Aspevig Stevenson, a longtime advocate of the Terry Badlands Wilderness Study Area, added that while her local WSA isn't included in Daines' bill, it sets a precedent that puts all areas at risk.
"Our outdoor legacy depends on these places, but Sen. Daines hasn't given the people who use and cherish these places — hikers, hunters, anglers, backpackers, backcountry horsemen and women — a single opportunity to tell him how we'd like them managed for the long haul," she said.
Commissioners in the four counties where the five wilderness study areas affected by Daines' bill are located were asked to write letters supporting S. 2206. In September 2017 the Ravalli County Commission wrote that a number of recommended wilderness areas (RWAs) are adjacent to private property and the Wildland-Urban Interface, which don't possess significant wilderness characteristics.
"Ravalli County is surrounded by millions of acres of Wilderness Areas and National Parks that are located within a day's drive," the commission wrote. "These Wilderness Areas are, in many cases, the origin of catastrophic forest fires that burn tens of thousands of acres of national forest, state forest and private property every year.
"… The commissioners also strongly encourage Congress to release all WSAs and RWAs in Ravalli County from a Wilderness Area designation."
After complaints that this letter and those from the other three counties didn't have adequate public input or discussion, the counties agreed to hold an additional hearing. Ravalli County is holding a public hearing beginning at 10 a.m. Wednesday, but Commissioner Jeff Burrows said he's not sure if the commission will revise or update its stance after the hearing.
Along with Ravalli County, Judith and Fergus counties submitted letters of support; last week, Judith and Fergus county commissioners said they also will hold public hearings but haven't set a date.
Granite County Commissioners initially withheld their support, but on Tuesday issued a letter of encouragement, saying "it is time to move forward."
Granite County Commissioner Bill Slaughter said that after hearing from Rep. Kerry White of Bozeman about legislation passed in Helena during the 2017 session, which called on Congress to eliminate protection for seven wilderness study areas, the county appointed an advisory committee to help manage the wilderness study areas regardless of whether Daines' bill passes.
Slaughter said he's been told that if Daines' bill passes, no changes will be made to the study areas unless the Forest Service makes changes to its management plan. Slaughter said that's where the county will have the most impact in helping update management plans.
Altogether, Montana has more than 1 million acres designated as wilderness study areas. When Daines' bill, called Protect Public Use of Public Lands, comes before the Senate Committee on Energy and Natural Resources on Wednesday, so will another bill from Montana Sen. Jon Tester, called the Blackfoot Clearwater Stewardship Act. About 10 years in the making, it's a compromise that allows mountain bikers, snowmobilers and the timber industry access to areas previously off limits, while adding 79,000 acres of designated wilderness in the Bob Marshall and Mission Mountain areas.