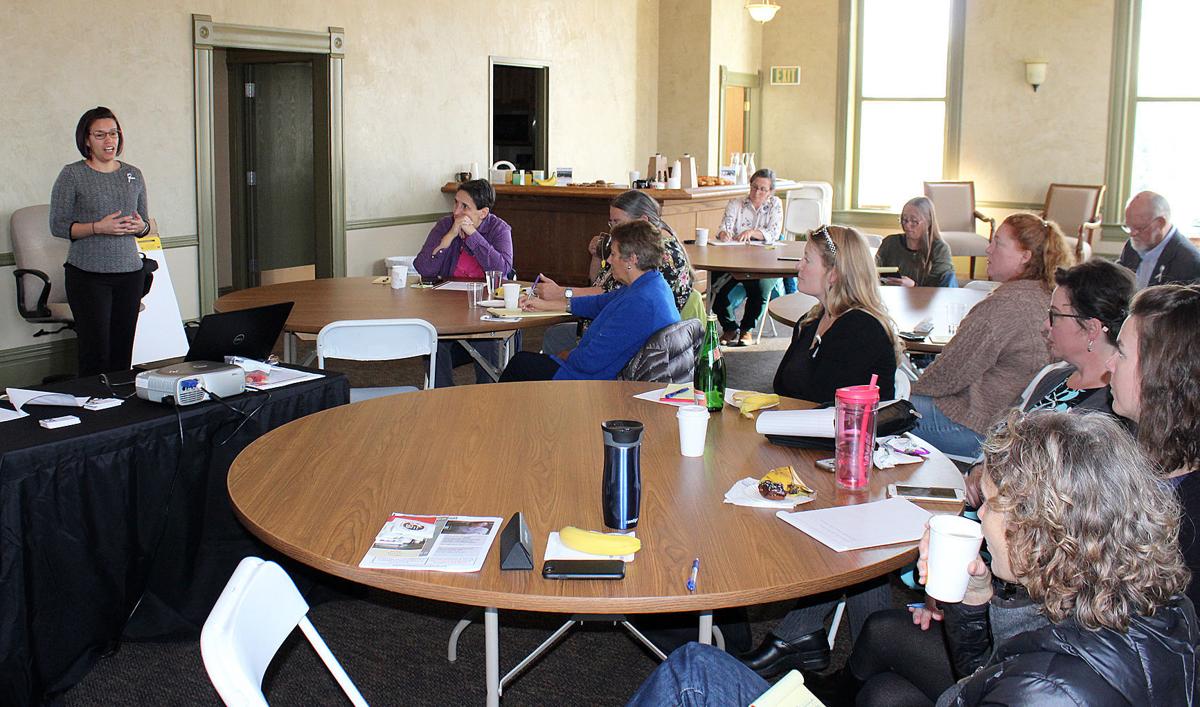 Nearly two-dozen community members and advocates of survivors of domestic violence met Thursday to discuss the economic situations, struggles and solutions in the Bitterroot Valley.
The "Build, Protect, Restore — Advancing Economic Justice for Survivors" workshop was organized by the Ravalli County Coalition Against Domestic & Sexual Violence. They invited crime victim advocates from the region and the Montana Coalition Against Domestic & Sexual Violence.
Sonja Bitterman, coalition coordinator in Ravalli County, said financial situations often create obstacles to freedom for those enduring domestic violence.
"Financial obstacles may be why they go back to violent situations," she said. "They need that second income, they need health insurance and they can't keep a job if they've got kids and their partner sabotages them, their job or their childcare."
She was hopeful that having community conversations with agencies and advocates may lead to solutions.
"Financial barriers are huge," she said. "If there is gender disparity on wages — we want to address economic equity based on gender equity and all those financial barriers that survivors face, over and over again."
Sarah Gonzalez Bocinski, program manager for Futures Without Violence, came from Washington, D.C. to present information and lead discussions about economic justice and workforce initiatives nationwide.
Bocinski said she focuses on economic justice for survivors and sees it as a key solution.
"We have seen that economic security truly equals safety," she said. "It provides opportunity for survivors to leave an abusive relationship and to recover."
Bocinski said that unfortunately, abusive partners are aware of their ability to use economics as a tool to entrap survivors whether it is manipulating their ability to hold a job, directly depleting or exploiting their financial resources by creating debt or credit card debt in their name.
"They can really undermine an individual's ability to achieve independence," she said.
The new research by the Institute for Women's Policy Research documents the actual costs nationwide.
"Eighty-three percent of survivors experience some form of interference with education and training, and while at their jobs – their abusive partners are constantly showing up at their workplace, calling constantly, slashing tires – anything they can do to make sure they weren't earning an income which is the pathway out," Bocinski said.
Other alarming findings include reproductive coercion to create further dependency.
"Forty-four percent of survivor's partners were sabotaging birth control or forcing them to become pregnant," Bocinski said. "They were successful 84 percent of the time where women were having children they didn't necessarily want to have and were furtherly economically dependent on their partner. There are a lot of insidious ways abusers are using economics as a tool to control the actions and opportunities available to their partner."
Jobs can be a safe environment and employers can help by being aware of abuser tactics, being understanding, providing flexibility or giving extra time off to retain their employee and help them have access to needed income.
Bocinski said it would eventually lead to survivors being able to support themselves and their children and be safe in the long run.
"As a community and advocates we can better support survivors in this situations so they are not experiencing incredibility limited choices," Bocinski said. "When we think of domestic violence we are thinking of the physical abuse but I've spoken to survivors that said economic control affects them for their entire lives. They want to be good employees."
The second session called "Building Strong and Resilient Communities" gave information on how to be understanding and supportive to businesses that may be employing survivors of domestic violence.
"We all have a unique role to play whether we are working directly with survivors, the community or employers," Bocinski said. "There are things we can do to help make sure that survivors get to be more economically secure. We can provide some more meaningful pathways."
The first workshop for advocates and helpers focused on survivor focus strategies including addressing survivor's economic needs and the economic impacts of abuse, providing career counseling, training opportunities, job development and employment support and providing financial literacy education.
Local advocates shared resource opportunities for classes, guidance and personalized assistance.
Dixie Stark, of Literacy Bitterroot, shared their free class offered through Bitterroot College called "Personal Employment Plan" that works to help potential employees discover their interests. Sibyl Solomon told of a class in February taught by Katelyn Anderson about economics and understanding relationships with money.
For the complete list of resources discussed or information on the workshop contact Jaime Ogden, Coalition Programs Manager, SAFE, Ravalli County Coalition Against Domestic & Sexual Violence.