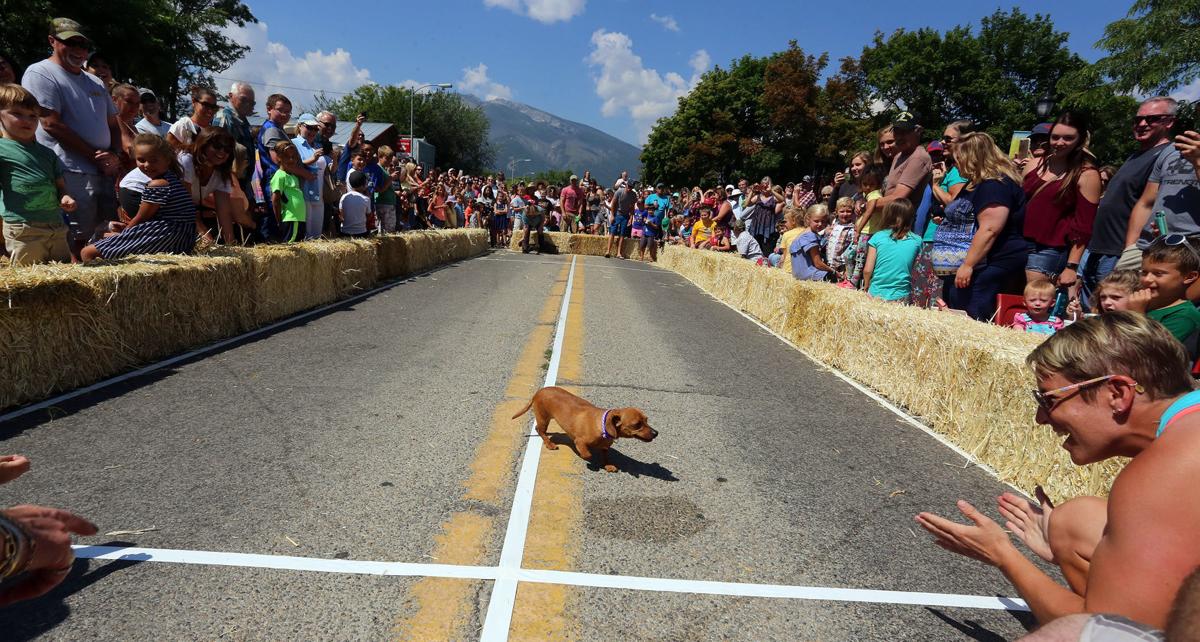 Weiner dog races on Hamilton's Main Street won't be a thing this summer, but folks who look forward to the annual Daly Days still have something to anticipate come July.
The Daly Mansion plans to hold its annual Daly Days event on July 25 on the expansive shade-covered grounds of the historic home.
"We have plenty of room for social distancing," said Daly Mansion Executive Director Darlene Gould. "Everything will be outside, but we're planning on it."
Most years, the Daly Days event is a split venue shared by the Hamilton Downtown Association and the Daly Mansion.
Hamilton's Main Street is normally cordoned off for vendors, games and events, including the popular weiner dog races and a street dance.
This week the Hamilton Downtown Association announced that it was canceling its portion of the event due to the COVID-19 pandemic.
"It is with a heavy heart that the Hamilton Downtown Association will be canceling this summer's Daly Days event," said a press release. "Although the state of Montana is expected to open on June 1st the board members feel that the current environment, though optimistic, is tenuous and needs to be nurtured by continuing responsible social distancing.
"We feel an influx of out of area/out of state tourists would be incautious and so will defer the event until next year," it read. "Our heart goes out to the businesses located on Main Street and from bridge to bridge that benefited from this event as well as our event-goers who will especially miss the street dance and Weiner Dog races. We thank you for your support and understanding in this decision."
Daly Mansion Events Coordinator Courtney Hartelius said plans are still in flux on just exactly what will be offered at the Daly Days event at the historic mansion.
"We have had to change the parameters, but we figured that we have our grounds that will allow people to spread out so they can still come to celebrate the annual event," Hartelius said.
At this point, the plans call for keeping the interior of the mansion closed to the public on that day.
The Bitterroot Ragtime Society will be the event's musical guests. There will also be a number of living history exhibits.
"We have always had re-enactors on Daly Days, but we do plan to do something a little different this year," Hartelius said. "Normally we limit the re-enactors to a specific year in Mrs. Daly's guestbook, but this year we plan to open it up and let people chose whatever year they want.
"We might have two Marcus Daly re-enactors," she said. "One might be 1890 and the other could be 1850. We are going to try to really ramp up the living history part of the event."
Anyone interested in being part of that can call the mansion at 363-6004, ext. 2.
"I think we will be able to come up with some good activities where people can still maintain social distance," Hartelius said.
Gould said the mansion's grounds are now open to the public on Wednesdays through Fridays from 11 a.m. to 3 p.m.
"We're calling it a soft opening," Gould said. "We're charging $5 per car. So far everyone has been fine with that. Hopefully we'll be able to open the house soon to visitors. We are working on a way to keep us safe, our volunteers safe, our visitors safe and the house safe."
Get local news delivered to your inbox!
Subscribe to our Daily Headlines newsletter.