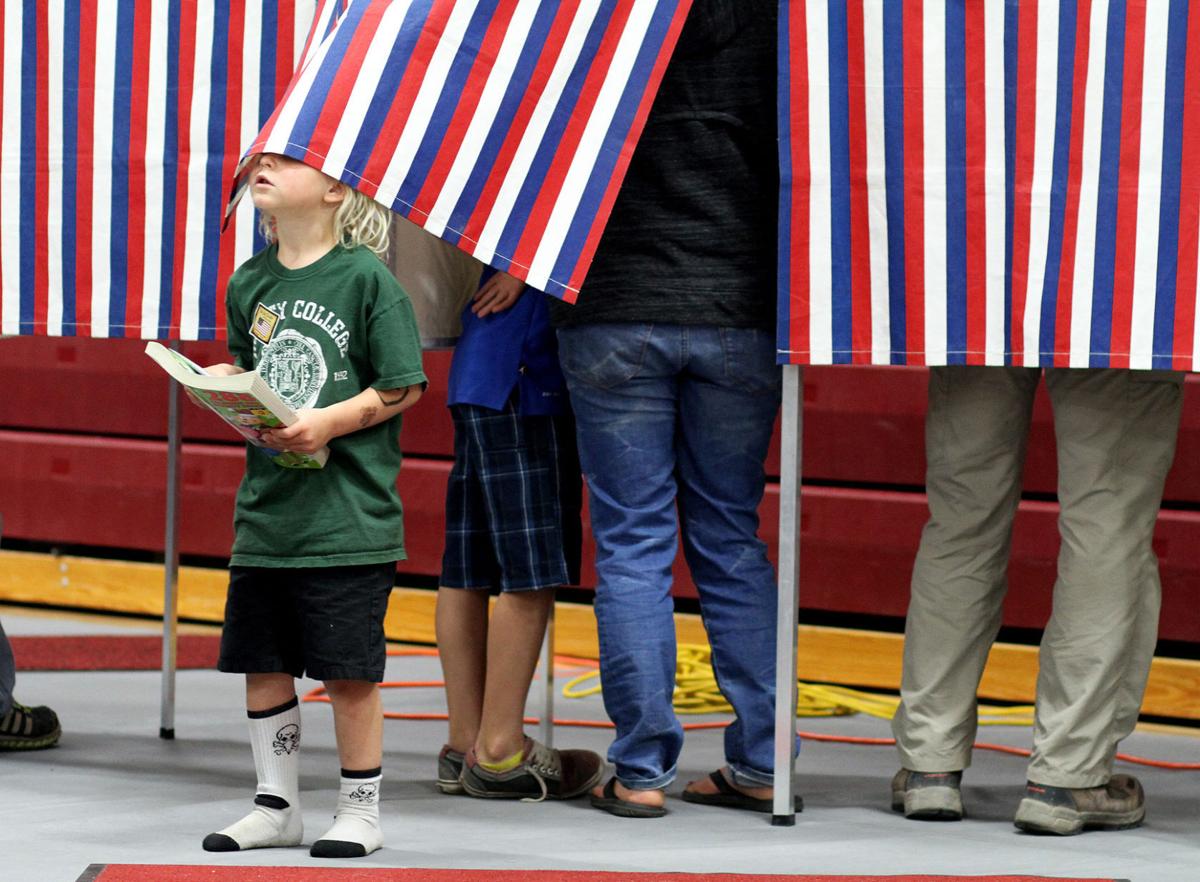 Ravalli County residents who want to vote in person on the day of the general election will likely get their wish.
Election Administrator Regina Plettenberg plans to offer a new plan to the County Commission Tuesday that will consolidate all in-person voting in one location at the county fairgrounds. Residents can also vote via absentee ballots.
"I did recommend a mail ballot, but commissioners told me it was not a plan they would likely go with," Plettenberg said.
Faced with a shortage of experienced election judges due to COVID-19 concerns and uncertainty whether schools would allow their buildings to open as polling places, Plettenberg said consolidation to one central location appeared to the best option for in-person voting.
"I feel like this is a plan that we can rely on from start to finish," Plettenberg said. "I think it is good middle ground."
Plettenberg said Friday that she will be able to use whatever buildings she needs of the county-owned facility. Most, if not all, of the voting will occur in the First Interstate building.
"It's really the most reliable location that I could get," she said.
Plettenberg will take her plan to designate the fairgrounds at the sole polling place for the general election before the commission on Tuesday, Aug. 25, at 8:30 a.m. Commission approval isn't required for the election plan, but commissioners do have to approve the consolidation of the polling places.
Because the meeting will be held in the commissioners' meeting room, Plettenberg asks the public to provide comments via email or telephone. The meeting can be viewed online by going to the Ravalli County website at https://ravalli.us/493/Live-and-Archived-Meetings-Audio-Video. The commissioners will take questions over the telephone during that meeting.
If the plan is approved, Plettenberg plans to send mailings to registered voters who aren't currently on the absentee list to let them know they will need to travel to Hamilton to vote on Election Day. The mailing will include an application for an absentee ballot, with a self-addressed stamped return envelope.
The applications require a name, date of birth, an address of where to mail the ballot, and a signature. People can return those by mail or drop them off at county election office at 215 S. Fourth St. in Hamilton.
Absentee ballots will be mailed Oct. 9. Plettenberg said it would help her office if people returned new applications for absentee ballots as soon as possible.
Two-thirds of registered voters in Ravalli County already vote with absentee ballots.
People wanting to vote in person will also have the option of stepping into the voting booth during the four weeks leading up the general election at the Hamilton election office. That office will be open for extended hours, as well as Columbus Day and the Saturday before the election.
There will be drop-off boxes for absentee ballots in Hamilton, Darby and Florence.
Plettenberg said she has talked with the Hamilton postmaster several times about concerns over a potential slowdown in delivery.
"He has assured me that Ravalli County has not seen any changes," Plettenberg said. "There haven't been any sorting machines removed, blue boxes taken out or any cuts in service. I'm not concerned in that regard."
The main challenge Plettenberg faces this election is staffing polls with experienced judges. Many who have worked as judges in the past are older and worried about the coronavirus.
"I had 40 experienced judges right out of the gate in March who didn't come to my training," Plettenberg said.
In Victor, 11 of the 15 experienced judges said they would not be working the general election.
"I do think I can get enough trained and experienced judges to run this one polling place," she said. "I feel like this is the best plan that we can do giving the current situation.
"I'm hoping we can keep lines to a minimum," Plettenberg said. "At peak hours, 7 a.m., noon and right after 5, I anticipate that there will be lines."
Ravalli County Commission Chair Chris Hoffman said he thinks that Plettenberg's modified poll election "should satisfy everyone's concerns."