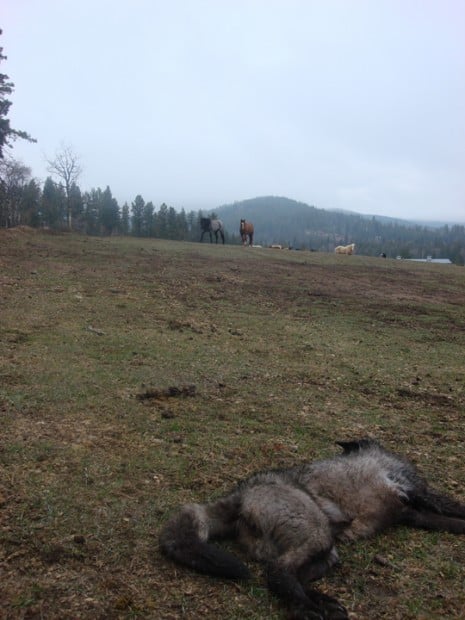 The yearling female gray wolf shot in the Darby area Wednesday was part of a pack which has a history of interacting with local livestock, horses and domesticated animals, wildlife officials said on Thursday.
One wolf killed a calf in 2009 while a second - the pack's alpha male - was killed while attacking a dog. One wolf was removed from the pack to address the conflicts.
The 70-pound wolf killed Wednesday, likely born in 2008, was shot by the manager of the Two Feathers Ranch as it was observed mixing with a herd of horses.
Over the past two years wolves from the Trapper Peak Pack have been seen with cattle and horses, and one was shot at last year, also on the Two Feathers.
On Wednesday, the Ravalli Republic incorrectly reported that the wolf was shot on the Chief Joseph Ranch. Two Feathers is adjacent to and once a part of the Chief Joseph, the ranch manager said.
The Trapper Peak Pack lives in foothills on the west side of U.S. Highway 93 near Darby. At the end of 2009 it had a population of six wolves. The pack was first documented in 2007 but was likely there the year before, said Carolyn Sime, the Montana Fish, Wildlife and Parks' wolf program coordinator.
"Our guess is that one of those six is a breeding female and has a den site," said Sime, who added that the shot wolf was not the alpha female.
Two Feathers' ranch manager Jeff Rennaker said he's had trouble with wolves bothering ranch cattle and horses; last year he tried to shoot at a wolf which was in with cattle.
Rennaker said he went out at 9 a.m. Wednesday to feed the cattle when he saw a wolf in with the ranch's 13 Quarter Horses.
"I saw them running scared - they were pretty nervous," he said.
Rennaker went back to his house and got a shotgun, drove back to the pasture, and shot the wolf. Because the horses were still scared he called and received permission from the county game warden to document the site and then remove the carcass.
Lou Royce, the game warden in Darby, said there have been numerous wolf sightings in the area south and west of Darby.
"We have been having lots of wildlife sightings toward that end of the valley," he said. "I don't believe we have had a confirmed wolf attack of a horse or cow on the Two Feathers, but they definitely have been running through there quite a bit."
Birthing season for wolves is typically mid-April, said Sime, who added that this pack is likely still capable of producing a litter this year.
Montana and Idaho share up to two dozen wolf packs which cross state lines, though the Trapper Peak Pack, Sime said, is not one of those. It was likely dispersed from a pack inside Idaho. The nearest pack is the three-member Como Lake Pack, to the north; two wolves were killed out of that pack during hunting season last year.
Liz Bradley, the Missoula-based state wolf management specialist, said it's unclear yet if the pack's alpha female has paired with a new male.
One yearling male in the pack has a radio collar, and state officials zero in on that signal about once a month to track the pack and try to make visual confirmation.
"We have not been able to document if a new male has joined the pack," Bradley said. "Typically when you lose an alpha male a new male moves in."
Word of the vacancy gets out thanks to howls and scent marking, she said.
"They are resilient, and unless they lose the major members the pack will still persist," Bradley said. "Wolf packs are dynamic, and a lot of turnover is normal. She may well have paired with a new male by now. She may not have a litter this year, but probably will next year."
Bradley said this killing was a best case scenario for wolf managers. Landowners have been given the flexibility to kill wolves in the act of harassment, and this situation fit perfectly into that provision, she said.
In Montana in 2009, said Sime, there were 255 documented wolf mortalities; 145 of those were livestock related - 135 were killed by wildlife officers and just 10 were killed by private citizens. Of the remaining 110, 68 were killed in the hunting season, 16 were killed illegally, 12 deaths were of unknown causes, eight were hit by vehicles or trains, two were electrocuted, two died of natural causes, one was killed in self defense, though the killer was later cited for illegal taking and one death was incidental and related to agency work.
"We have seen a steady increase in wolf numbers in western Montana, and we think that this is due in part to the Idaho wolves moving into and forming packs in Montana," Sime said.
Rennaker doesn't believe the killing on Wednesday will solve his problems, though.
"They are here now," he said, "so we are not getting rid of them overnight."
Sime said the state welcomes information about wolf sightings. For more information, go to fwp.mt.gov/wolf.