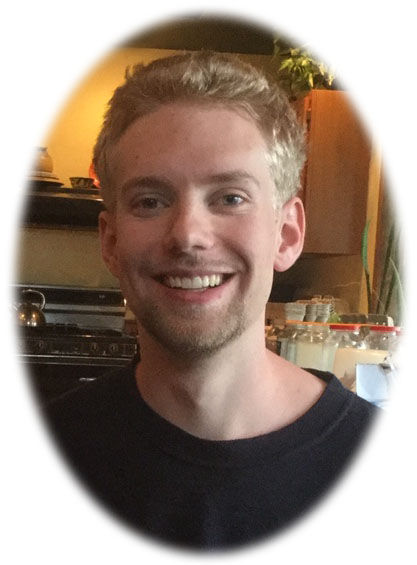 Kimmo and Monica Virtaneva want the record set straight.
Their son, Mika, was not a monster.
"Mika happened to be probably the nicest human being I've ever met in my life," Monica Virtaneva said.
"This is a kid that when he found a spider on the window sill, he would take two fly swatters and have it bouncing between the two as he took it downstairs before depositing it safely on a plant," she said. "That was our Mika."
What they didn't know until last year was their son suffered from paranoid schizophrenia. And the couple had no idea that disease would lead to a journey through the criminal justice system that would cost him his life.
Their hope now is that by sharing his story they might change the lives of others.
"Mental illness is one of those things that people are afraid to talk about," Monica Virtaneva said. "For too long, it's been viewed as a character flaw or that something wrong had happened in a person's home life to bring it on.
"It's a brain disease, no different than M.S., Parkinson's or Alzheimer's," she said. "It's a medical disease that needs medical intervention."
When the couple looks back, they said the signs were there that Mika suffered from a mental illness.
"If we had the checklist that they used at Warm Springs, we might have known," Kimmo Virtaneva said. "He was like the poster child for schizophrenia."
Mika was also a young man whose smile could light up the room. His creativity was sought after by students in Hamilton's MAPS Media Institute. He served on the board of directors for Literacy Bitterroot and the teen-based Community Cooking Connections.
Last January, he suffered his first psychotic breakdown at his parents' home, which started his downward spiral. The Virtanevas had never seen anything like it.
"We thought he was having a seizure," Monica Virtaneva said. "He was shaking. He was not making sense when he was speaking. He didn't know who we were. He didn't know who he was."
The couple tried to get him into their car so they could take him to the hospital. When his mother attempted to take hold of one of his arms, Mika punched her. From there, the couple pushed him outside.
"It was cold out there," she said. "We thought maybe the cold air would wake him up. He used a shovel from outside to break the window and then threw himself through the glass. He cut himself on way back inside.
"His eyes were just like someone with Alzheimer's. They don't really see you. They look right through you. He was making sounds that we had never heard before. Guttural sounds. There was so much broken glass and blood. We tried to restrain him, but he was so slippery from all the blood."
They finally got him restrained just before the first responders arrived.
"If felt like it lasted for an hour, but it was only eight minutes," Kimmo Virtaneva said. "He didn't know us. He is your child, but you know he's not there. So you protect him as best you can.
"We were trying to take Mika to the hospital," she said. "He didn't break in and attack us."
They were both relieved to see the first responders, but shocked at what happened next.
"We could tell that this was a medical neurological issue," Monica Virtaneva said. "What we didn't know was that he would be treated as a criminal and after a day of observation in the hospital that he would be thrown in jail."
The newspaper article that followed made the situation worse.
"It portrayed Mika to be a monster," she said. "I called the Missoulian and told the man that it was written in a really harmful way. He said the public has the right to know about dangerous individuals … The man said it was just news.
"It wasn't just news to us," Monica Virtaneva said. "This is our family and our community and we're not just news. We're a family who has tried to do our best. Mika had done a lot of things for our community.
"His whole world came crashing down that day," she said.
Mika lost his job at MAPS and his two board positions. And he had to face the fact that something was wrong.
"He woke in the hospital and didn't know what had happened," she said. "He would ask every person he met if his mom and dad were alright. He was horrified and scared."
Mika was charged with four felony counts, including attempted deliberate homicide.
It took the couple 10 days to get him out of jail.
"The jailer told us we needed to get him out of there," Kimmo Virtaneva said. "He said he was like a lamb. That he didn't belong there."
Since Mika was charged with a felony, the Providence Psychiatry Center in Missoula wouldn't accept him. He also couldn't leave the state to seek treatment.
"It was like a Catch-22," Monica Virtaneva said. "No treatment facility would take him because of the felonies. We couldn't get him anywhere to find out what was happening. We were warned against taking him to the criminal side at Warm Springs because he would not be safe. He couldn't go out of state because of the felony charges."
Mika spent several days at Hamilton's West House Crisis Mental Health Facility.
"That was really helpful," she said. "That gave us time to catch our breath and figure out what to do. West House is a wonderful asset to our community."
It would take months before Mika received a diagnosis of paranoid schizophrenia following a two-month commitment to Warm Springs. Medication helped still his mind, but his parents saw sadness replace Mika's joy.
"He wasn't the same person after January," she said. "He was more sad. I think he knew he was losing his creativity and intellectual ability."
The Virtanevas said their son worried about his future.
"This is a small community," Monica Virtaneva said. "He had an unusual name. It was not like he could just disappear. His picture and name would be on the internet."
The family talked about changing his name or even moving back to his Finnish homeland where there is no stigma attached to mental illness.
"We ran all kinds of options by him on how we could get him a fresh start," she said. "We told him we're willing to walk this lonely road with you. We're willing to get out of here and go to a place where he could start again because his name was going to be a permanent life sentence.
On Oct. 4, 2018, Mika taped a warning note on his bedroom door that said "danger. Nitrogen gas." And then he used a can filled with nitrous oxide to kill himself.
"He had left the windows open and put a sign on his door to warn us," she said. "He didn't want us to get hurt."
Since their son's death, the couple has been surprised to hear from so many people whose lives have been touched by mental health issues.
Kimmo Virtaneva is a scientist who works in the genomics group at Rocky Mountain Laboratories. He and others at RML have come together to raise awareness about mental illnesses and to share research with the community.
RML staff invited Maryland Pao, clinical director of the National Institute of Mental Health, to Hamilton to meet with local mental health providers and to speak about the latest research at a public event on Jan. 22 at the Hamilton Performing Arts Center, 327 Fairgrounds Road.
Her talk, "Changing the Stigma: Understanding and Living with Mental Illness," is free and intended for a general audience.
"Mika's suicide was a devastating end to a struggle that began with a schizophrenic episode and diagnosis earlier in 2018," Virtaneva said. "In working through our loss, my wife and I have discovered that most people have personal stories to share of family and friends with varying degrees of mental health, wellness or illness problems, and we want to help educate people and continue having dialogue on these issues."
The couple hopes that something good may come from something bad.
For that to happen, they said laws need to be changed that allow someone in a mental health crisis similar to their sons to be allowed access to treatment instead of incarceration. And the stigma surrounding mental health issues must go away.
"The stigma needs to change so people can talk about it without repercussions," Monica Virtaneva said. "The law needs to change so once people have a mental illness they can get treatment more quickly and more efficiently without having to take a detour drive through the criminal justice department."
West House Director Kari Auclair said law enforcement and the mental health community are working together toward that goal.
Both the sheriff's office and Hamilton police officers have completed crisis intervention team training that helps them work through situations that involve psychotic episodes that can be addressed at the mental health crisis facility. There is also a counselor and case manager working in the jail.
"It's by far not a perfect system yet," Auclair said. "I do think we have our hands on it much better than we did five or six years ago."
Auclair said there needs to be more awareness about mental health issues in the community.
"It's very brave and courageous for this family to step forward and ask how they can bring more awareness to this topic," she said.
The diagnosis of schizophrenia is particularly challenging considering the first presentation of the disease often occurs in people in their early 20s.
"It's kind of hard for people to wrap their minds around," Auclair said. "People have lived normal lives for more than 20 years and then the brain suddenly decides to take a hiatus and starts doing something totally different. The presentation is often so bizarre and so different that it's hard for people to understand what's happening.
"It is a medical condition," she said. "It's not something that they've learned somewhere. They're not acting like that because they want to. These people don't want this, but it's part of the DNA cards they were dealt."
Mika is missed by many in the community.
Dixie Stark, executive director of Literacy Bitterroot, first met Mika when he graduated from her program. He subsequently became a board member and served in that capacity for about five years.
"While on the board, he built our website and whatever else we asked," Stark said. "He did more to help others than any other board member we have ever had. His first thoughts were always of others. He was a perfectionist. Everything he did, he did extremely well.
"He was also the kind of young man that if he saw a fly run across a table, he would get a piece of paper to pick it up and help it on its way," she said. "He wouldn't hurt a fly.
"It was a huge loss to our community lose Mika," she said.
Get local news delivered to your inbox!
Subscribe to our Daily Headlines newsletter.