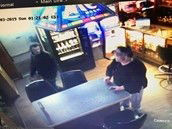 Criminal mischief and theft
The RCSO is investigating a criminal mischief and theft incident that occurred at a Corvallis business on Nov. 2.
If you recognized the male in the hoodie from a surveillance photo, please contact Ravalli County Deputy Hachenberger at 406-363-3033.
You have free articles remaining.
Fraudulent scam phone calls continue to identify themselves as IRS or Social Security Administration employees.
Ravalli County citizens are encouraged to treat every solicitation for money calls as suspicious. Never send money to someone you do not know. Legitimate businesses or organizations will not ask you to wire money or purchase prepaid debit or gift cards.
The Ravalli County Sheriff's Office is investigating the theft of a utility trailer from the Victor area.
The trailer is described as a 2003 Trail Max Tilt Bed Utility Trailer bearing MT 13TR-S694 license plate and VIN# 1G9KS21233A065654. The trailer is a bumper-pull style and white in color. The trailer is valued at $5,500.
Please notify Ravalli County Sheriff Deputy Monaco at 406-363-3033 if you have information regarding this theft.