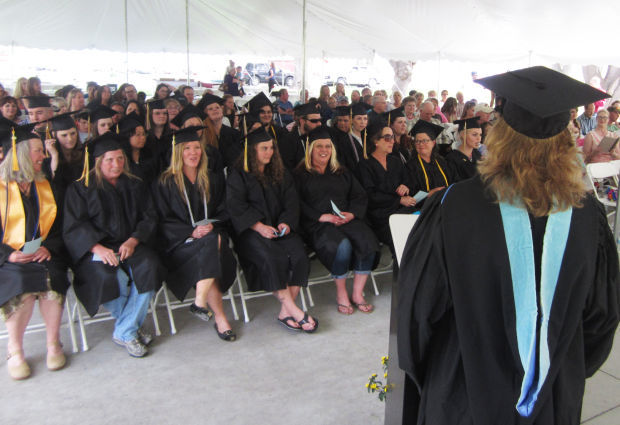 The Bitterroot College of the University of Montana held its first formal graduation on Friday afternoon.
"Education is its own reward," director Victoria Clark told the graduates.
The degree candidates wore their caps and gowns, while faculty and school administration wore their full regalia: doctoral and master's degree hoods, caps and fancy sleeves.
"We haven't had a formal ceremony because we weren't handing out the diplomas," said Clark. "The expectation by the UM was that the students would go to Missoula for the graduation. But the timing is right for us to do our own. We are stepping it up a notch – we have evolved."
Twenty-six students earned their Associate of Arts and Associate of Applied Science (Business Technology) degrees.
The Bitterroot College graduation featured three main speakers. Keynote speaker was John Cech, the deputy commissioner of higher education for the Montana University System, responsible for two-year and community college education, from Helena.
Speaking for the faculty was Clint Burson, an instructor of communication classes at Bitterroot College and assistant news editor at the Ravalli Republic. He encouraged the graduates to never stop learning.
The student speaker was Summer Bruso, a 2012 Bitterroot College graduate, completing her bachelor of arts degree in political science with a minor in communication studies at UM.
The graduation ceremony was at the Daly Mansion, in the outside tent.
"The Daly Mansion is a great partner in this and it complements the Daly legacy," said Clark. "Marcus Daly and his family have always been interested in education in the valley and it's a great way to commemorate their interests. We hope this will be a tradition."
Degree candidates included: Jaylene Anderson, Stephanie Colley, Kenneth Colley, Chelsea Dierzen, Tosha Gillis, Renea Harter, Christina Limbaugh, Donna Lipscomb, Brandy Mattoon, Vonnie McDonald, Erika Morris, Catherine Orr, Gabrielle Petersen-Couch, Thongsee Robbins, Megan Root, Amanda Sampson, Nancy Schneider, Elaine Serwacki, Samantha Sisson, Desirea Slate, Colleen St. Germain, Diana Thomas, Jennifer Turner, Nancy Valk, Amanda Zeiler and Jeffrey Zilko.
Two of the Bitterroot College graduates are veterans - Jennifer Turner and Diana Thomas.
Jennifer Turner, secretary of Darby High School, was in the Navy for five years as Petty Officer 2nd Class - Photographer's Mate.
Turner said she was able to attend Bitterroot College due to "their connection with UM and their ability to make courses available to working people."
"Working full-time and attending college part-time is never easy," she said. "But it's worth the sacrifice in the end. Royce Engstrom recently introduced veterans cords to recognize military service at graduation - this is a brilliant addition to UM's initiative to graduate more veterans."
Turner said her military experience was helpful.
"The financial aid from the G.I. Bill covered all of my tuition. My military experience taught me organizational skills and good time management that enabled me to coordinate part-time school work with full-time employment."
As secretary of Darby High School, Turner said education is always on her mind.
"I work at a high school and I watch these highly educated teachers work full-time, grade papers at home, coach on the weekends and still find time to further their own education. Teachers inspire more than just the children in the classroom," she said.
Darby native Diana Thomas graduated from Darby High School, then served in the Navy. She was an undesignated airman and worked on F-14s, then was a crypto logic technician administrator [top-secret secretary].
She said she did see the world.
"Joining the Navy gave me self-confidence. You can't run home when things are bad," she said. "The Navy made me grow up. I got to see so much and I met my husband."
After the Navy, Thomas and her husband returned to Darby to have their first child.
She enrolled in the Bitterroot College in 2001 when classes were taught in Hamilton High School.
"I was in the Navy for seven years and I thought I knew a lot," said Thomas. "But it's the mixture of classes and having a family that is challenging."
Thomas is now the mother of four children, ages 5, 8, 11, and 12.
"Being a non-traditional student was hard. I took time off to take care of my family," she said. "I'm trying to balance everything: four classes and trying to raise a family. I'm constantly telling people I can't help with that, I have to stay home and study.
"It has been 20 years this summer since I graduated from high school - so it is kind of bittersweet that it took me 20 years.
"It has been fun to watch Bitterroot College grow – from the high school to the Carriage House to their new facilities. It has been amazing what they've done over the last years. The staff is really helpful and can help guide you. They helped me find scholarships and financial aid. Bitterroot College has smaller classes, about 15 students, so I'm not competing with 100 other students. The teachers are amazing and really helpful. It's been fun to watch their classes grow."
Thomas received her associate's degree in applied arts - a general education degree.
"I did my whole schooling by commuting to Hamilton and a couple of classes online. I'm trying to make up my mind if I can go to the UM. With a big family you don't get extra money to travel."
Thomas is considering a degree in either social work or psychology, but for the summer she'll take a break and spend more time with her family.
"My parents and husband have taken care of the kids and done the little extra things I've not been able to do - like wrestling tournaments. I don't know how people do it with out families," she said. "I would say to other veterans to take advantage of all the education you can while in the service. I waited too long and lost my G.I. Bill benefits part way through.
"It's nice to be able to show my kids that you can set a goal and meet it. Bitterroot College makes a dream attainable."
Get local news delivered to your inbox!
Subscribe to our Daily Headlines newsletter.