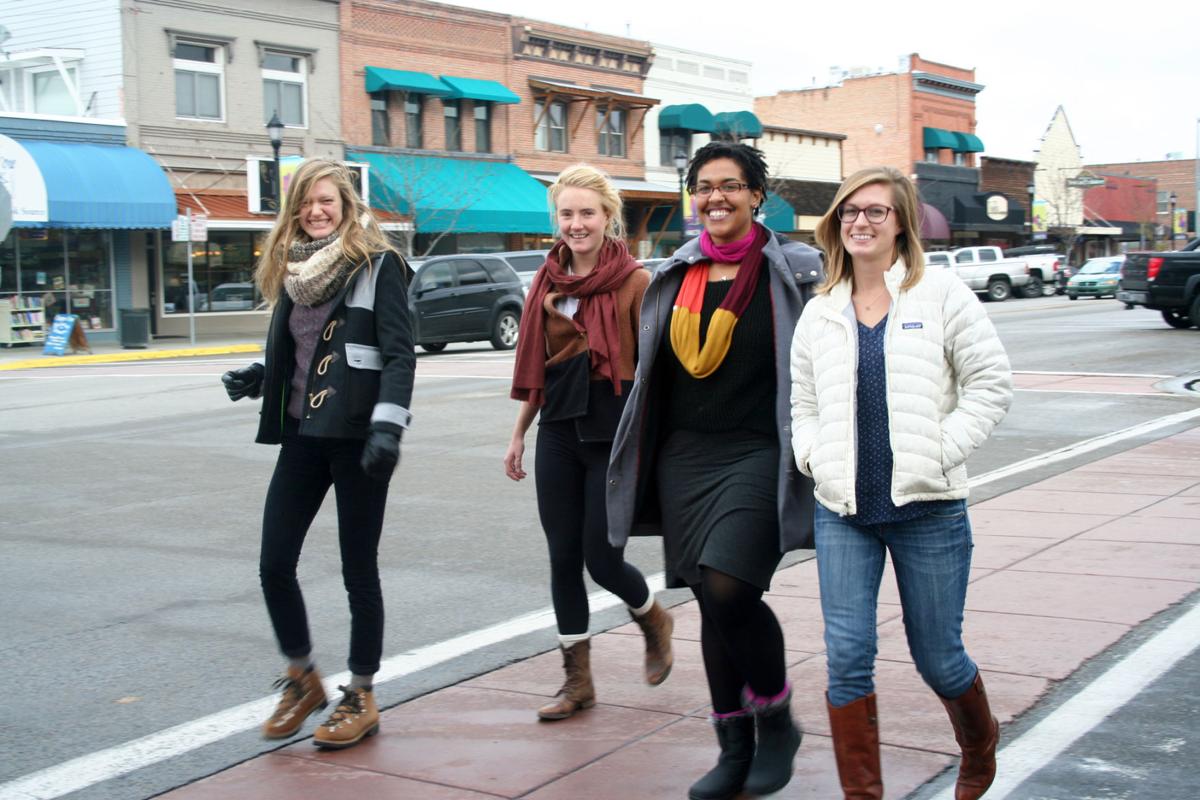 Four AmeriCorps members are making a big impact in Hamilton: Kate Johnson and Hannah Honey with Bitterroot College, Victoria Green with B.E.A.R., and Carolyn Prescott with the Bitter Root Water Forum. Three of the workers began in January, and Honey began this month.
Carolyn Prescott, in the AmeriCorps Big Sky Watershed Corps, completed her term of service this week. She worked at the Bitter Root Water Forum, a nonprofit organization that improves the Bitterroot Watershed through restoration projects and education.
Prescott developed and delivered educational programs for youth and adults about the watershed. She organized six field trips, taught more than 500 students and recruited more than 50 volunteers. She also collected more than 400 data points to monitor the success of stream-restoration projects.
This was Prescott's first time in Montana. She grew up in Illinois and attended college in Minnesota. She has a bachelor's degree in geology.
Prescott said she learned about herself this year.
"I thought I wanted to do research science but I ended up in education and, honestly, my next position is an education position," Prescott said. "The Bitter Root Water Forum was very supportive, and I've learned a lot about nonprofit work. It was great to see how much one organization could do – they are highly motivated. There's only a three-person staff and they get a lot done. It's been very inspirational."
Katie Vennie, program operations assistant for the Bitter Root Water Forum, said AmeriCorps has allowed them to build and grow.
"Carolyn has been a great asset. (She) led our education programs throughout the year and did a fabulous job," Vennie said.
Victoria Green is with AmeriCorps VISTA in the Prevention Resource Center. She moved to Montana from Ohio, and this is her first experience living in a rural area.
"It's been a big change," Green said.
Green has degrees in psychology and criminal justice, and this year is her gap year before graduate school. She works with Bitterroot Ecological Awareness Resources (B.E.A.R.). The group's mission is to inspire at-risk and higher-risk youth to connect to their potential by combining outdoor adventures with mentoring.
Green develops resources, partners and mentors to reach more at-risk youth.
"A highlight for me was co-leading our summer backpacking trips with Diane Olsen, our program director, and Amy Gladwin, a dedicated volunteer," Green said. "It's was a great opportunity to observe youth as they learned to communicate, work as a team and develop the leadership skills necessary to trek over 18 miles throughout the Selway-Bitterroot Wilderness."
Green said she could see the impact as young people learned to identify and cultivate their strengths.
"They left feeling a stronger connection to nature and each other," Green said. "It was truly amazing and a truly inspiring experience. I'm interested in doing research based on rehabilitation needs for adults. I was drawn to B.E.A.R. and could not have chosen a better service site."
B.E.A.R. Executive Director Diane Olsen said Green's work is appreciated.
"Victoria has helped B.E.A.R. make considerable progress toward our sustainability and capacity building goals by creating an annual report, updating our website, increasing our presence on social media, organizing fundraisers, finding new grant sources and more," Olsen said. "She is incredibly motivated, productive and all-around a lovely person to have with us."
Kate Johnson is serving AmeriCorps Vista with Montana Campus Compact. She works at Bitterroot College using her economics and English degrees to develop its marketing plan and community-outreach strategies.
"The position is really gratifying to work at because of the college's need for marketing and my ability to design how to do what they need done," Johnson said. "I'm really proud of all of the attention the college received when it moved to its new location. I think a lot of people got excited about the college expanding its physical location and the opportunities that its students would have."
Johnson grew up in a very rural area of New York.
"The Bitterroot Valley has been great," Johnson said. "I think the college realizes it needs a marketing position, but the University of Montana is experiencing a $3 million budget shortfall so we'll see if a position comes through."
Hannah Honey is an AmeriCorps member with Montana Campus Compact and started working at Bitterroot College Nov. 2. She is a Darby graduate with a degree in psychology from the University of North Carolina, and she worked at Duke University for three years.
Honey is developing pre-college programming activities to encourage high school students and their families to consider, plan for, and apply to college. She will also work in Darby, Hamilton and Corvallis high schools.
"I am extremely excited to be serving in my home community, and can't wait to get things done," Honey said.
A national grant program provides funding for these positions in AmeriCorps.
In more than 20 years of the AmeriCorps program, 900,000 AmeriCorps members have contributed more than 1.2 billion hours in service for nonprofits, schools, public agencies, and community groups across the country.
Get local news delivered to your inbox!
Subscribe to our Daily Headlines newsletter.