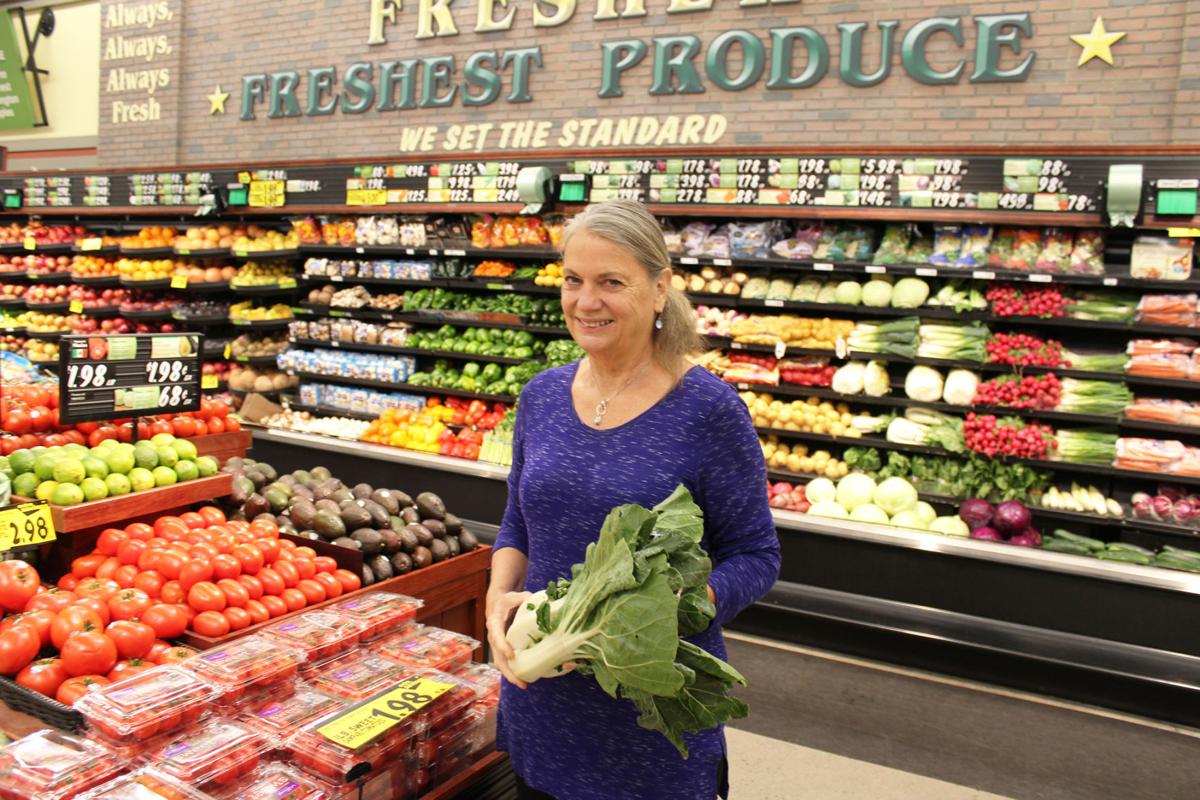 Ginette Gundlach, a retired registered nurse and a licensed 'Food for Life' instructor with the Physicians Committee for Responsible Medicine, is teaching a five-week continuing education class at Bitterroot College.
She said food is the key to health and well-being, which is one reason she's offering the class. 
"There is so much talk about health care in the news, the media, and everywhere we look, but there is not one mention of food," Gundlach said. "I want people to think of food as their own health care plan. It starts in the grocery aisle, goes into your kitchen, onto your fork and into your mouth."
Gundlach said eating whole plants foods is powerful nutrition.
"This is actually a way of eating that has been proven to reverse some diseases and prevent other diseases," she said. "You can't go wrong eating this way. Food for Life is based on a plate with fruits, grains, starchy and non-starchy vegetables and legumes."
Gundlach said the healthy eating plan changed her life. She lost weight, and is pain-free and symptom-free from arthritis.
"When I first started this I was the heaviest I've ever been in my life and avoided having my picture taken," she said. "I'm 66, my husband is 69 and his cholesterol dropped in just a short time. I can't say enough good about it.
"In 31 years of critical care nursing I never took care of any one who ate like I do now. That's my best testimony. That's the empowerment of these brightly colored rainbow of food that we can put into our bodies to heal us."
The Physicians Committee for Responsible Medicine was formed in 1985 and has 150,000 members across the United States and around the world. They strive to bring nutrition into medical education practice and encourage people to take control of their heath through nutrition. Other programs offered include the Food for Life cancer project, diabetes initiative, kids' health and employee wellness.
"The Food for Life curriculum was developed by physicians, dietitians and nutritionists, and nurses in 2001," Gundlach said. "We have close to 250 instructors and we're worldwide. I'm the instructor for Montana and I'm very excited to bring this to Montana and especially to the Bitterroot."
The Bitterroot College class begins Oct. 7 and covers basic nutrition, how food affect health and wellness, and how to incorporate healthy foods into daily living.
"I'll be giving a cooking demonstration so people will be able to taste the recipes," Gundlach said. "I always make extra and I tell people to come hungry because I'll feed them."
The class is based on Dr. Neal Barnard's book 21-day Weight Loss Kickstart and will have a short video by Barnard.
Gundlach hopes the students in her college class and community members will form a support group to meet regularly, have potlucks, recipe exchanges and discussions.
"I want it to go on from the class," she said. "I think it is important for people to have ongoing support when they are incorporating something new in their life. The Physicians Committee provides classes that are community-based with ongoing support from the PCRM website and through me."
Gundlach said that to become a licensed 'Food for Life' instructor she had to apply, make a cooking demonstration YouTube video, and submit letters of recommendation.
"I'm a registered nurse and just I retired after 31 years of critical nursing," she said. "I say I retired, but I'm taking my care-taking into the kitchen."
Gundlach said increased energy is another side effect of healthy eating.
"That's what's good about this program; once you start feeling better you automatically start moving more," she said. "All of a sudden you feel like going out. Go out and start enjoying nature. I, personally, do not take any medicine - none at all. This is eating the right foods to heal your body."
Gundlach said her Bitterroot College class is sponsored by Missoula Vegetable and Grain and Super 1 Foods. She also is teaching a basic foods class and a diabetes class at the Food Bank in Missoula.
Bitterroot College Continuing Education classes are free to veterans, through the Veteran's Upward Bound program.
Gundlach said her goal is to teach the class free everywhere because it is such a powerful program.
"I want to target people my age because it seems that when people get older they give up. But you're never too old to embrace this way of eating," she said. "The younger the better, but you're never too old and there are huge benefits. The class is open to every age and baby boomers are especially invited."
To register for the Food for Life Bitterroot College Continuing Education course call 375-0100, email bc@umontana.edu or visit the college at 103 So. Ninth St. in Hamilton. Reach Ginette Gundlach at ginetteRN@gmail.com or 546-8975.