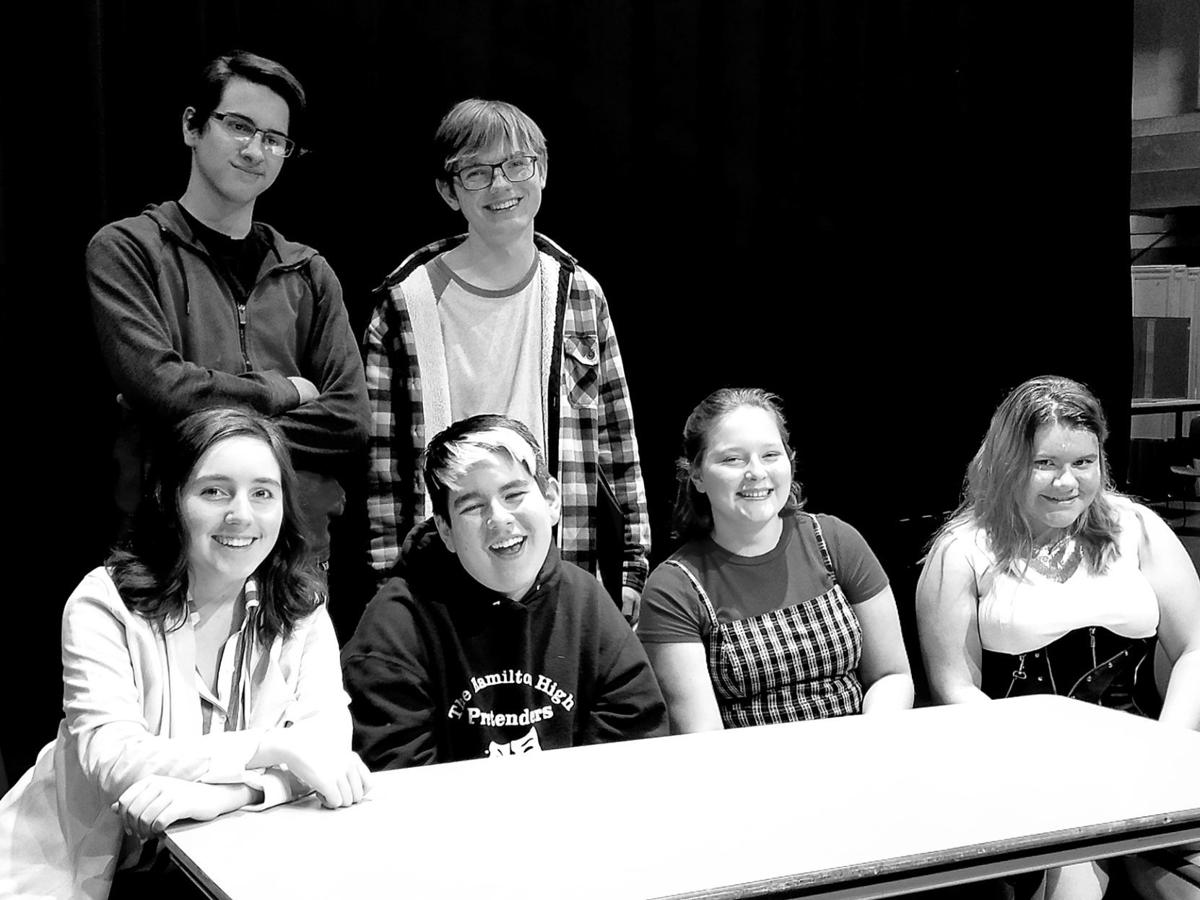 Actors in the Hamilton High School drama department are producing "Over the River and through the Woods" about food, family and fun on Oct. 25 and 26.
The play is about a young professional named Nick Cristano who has grown up in an Italian-American family near all four of his grandparents in Hoboken, New Jersey. Each week he faithfully goes to have Sunday supper with them. Conflict comes when he receives a job offer on the West Coast, away from family.
Theater Arts, Performing Arts Center Manager Faylee Favara said the show is filled with acting challenges.
"The show is replete with food. It is hysterical," she said. "I picked the show because it has challenges for young actors like eating on stage, learning a dialect, there is a mandolin that has to be played and it is an ensemble cast where everyone has to rely on everybody else. It is about love and family and is very funny."
Play Author, Joe DiPietro, also wrote 'I Love You, You're Perfect, Now Change' but this play is an autobiographical production about changes and family.
"Over the River and through the Woods" also challenges the kids to portray elderly characters.
"They can't be caricatures they have to be characters — real people," Favara said. "I've asked them to watch videos, visit with their own grandparents and not confuse age 60 with age 90. I'm basically challenging them with not to confuse age with infirmity but think about who they are in 50 years and they are developing great characters."
Favara said that this is the first full-length show for almost every member of the cast.
The cast is Jonah O'Connor — playing Nick; Ian Burns — Frank, Logan Busa – Aida; Oliver Holmes — Nunzio; Abigail Baker — Emma; and Ava Lilienthal — as Caitlin.
Production crew is Dannie Meuchel — stage manager, assistant director; Allie Haworth and Alyssa Mcwhirter — lights, sounds; Maddie Neal and Hayley Bender — costumes, makeup; Katee Kostecki and Bella Farrenkopf — props.
Favara said the actors are doing a nice job.
"It is a super cool show about changes and family," she said. "I like it a lot and the kids are loving it. We have neat young people who want to work hard and they love this stuff."
Favara teaches classes Theatre Arts I, II and III at HHS and said she has "some crazy-good acting groups this year."
"The Theatre Arts II class that had three students now has 20, so it is growing," she said. "Kids are coming back and wanting the challenges."
The funds from the show will support the HHS Drama department, future performances and allow acting students to attend the state-wide International Thespian Society Conference in Missoula, Feb. 1 and 2.
Favara said the production next week is filled with delectable food.
"I feel sorry for the audience because they watch all this great food coming in and out," she said. "My suggestion is for them to have dinner before they come. Before my grandma passed she taught me how to make her cannoli and it will be a fun, neat show."
Tickets to "Over the River and through the Woods" are $5 and there will be a bake sale with Italian treats. Attend the performances at 7 p.m., at the Performing Arts Center, Hamilton High School, 327 Fairground Road on Oct. 25 and 26.
Get local news delivered to your inbox!
Subscribe to our Daily Headlines newsletter.