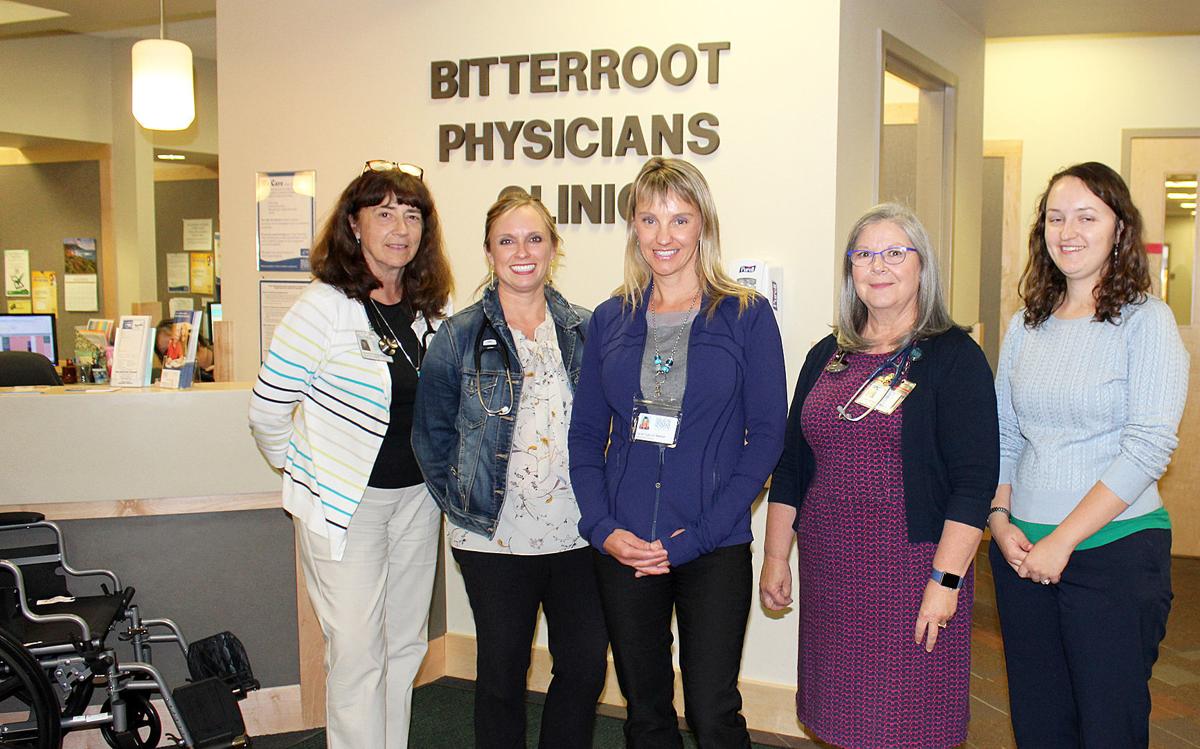 Marcus Daly Memorial Hospital has added mental health services for improved patient care.
Sarah Gabriel is the Psychiatric Mental Health Nurse Practitioner at Bitterroot Physicians Clinic.  
"I am dedicated to providing my clients with personalized and holistic treatments based on evidence and trauma informed care that will help them and their families gain control of their mental and behavioral health problems so they can live a more meaningful life," Gabriel said.
Her road to Montana, being part of a rural community and making a difference, began in Ohio.
Gabriel received her Bachelors of Science in nursing at Cleveland State University then worked as a traveling nurse. She spent most of her medical career in intensive care and emergency rooms. There she observed patients in mental health crisis and realized they needed better behavioral and mental health care.
Gabriel entered nurse practitioner school for an advanced degree in mental health care at the University of Nevada, Reno, and worked at the Northern Nevada Corrections for the opportunity to work with the seriously mentally ill.
"Emergency rooms are not the appropriate place to care for psych patients for weeks at a time," Gabriel said. "It is a hectic environment, they need a continuity of care and not all nurses feel comfortable with them."
Gabriel said she felt that physical care for patients with behavioral health problems like toxic substance abuse was not enough.
"We pretty much just got them detoxed and out of the emergency room and a lot of times they don't get the follow up care that they need," she said. "I saw a huge need for people who have problems with substance abuse and I hope to do more for them in the future."
Gabriel said there is a huge need for mental health problems like depression, anxiety, panic attacks and psychotic breaks. She listed signs and symptoms to watch for as loss of interest, sleep problems — sleeping more or less, eating more or less, energy deficits, concentration problems, lack of concentration, self-harm and expressed feelings of guilt, worthlessness or and hopelessness.
"One of the biggest signs in children is acting out," she said. "Bullying can come about from depression. It is really rewarding to see children get better. If they don't get the mental help they need then it can turn in to something really hard to manage as adults."
You have free articles remaining.
Gabriel said to be physically healthy you need to be mentally healthy. She referenced the Adverse Childhood Experiences Study (ACES) a research study conducted by the American health maintenance organization Kaiser Permanente and the Centers for Disease Control and Prevention.
"They are finding more and more that children who have had all these adverse effects in their lives (can have) mental problems in the future but also medical problems like hypertension and diabetes," Gabriel said. "The more traumatic their childhood, the more problems they will have. It kind of makes sense when you look at the patients with autoimmune disorders. Those can be caused by traumatic events in their childhood."
Gabriel said anxiety can go "hand in hand" with depression and recommends watching for anxiety signs and symptoms — muscle tension, fatigue and concentration issues.
Her philosophy of care is to "integrate an evidence-based care treatment plan, a holistic treatment plan that will help patients and their families live more meaningful and satisfying lives."
Patients come to her through a referral from a primary care medical provider. She said prompt referrals are good, allowing problems to be addressed early.
"I can tailor an individual's mental health treatment plan in a holistic way based on their psychiatric needs," Gabriel said, "especially if they have a lot of medications that are psychopharmacology."
She said she uses a holistic approach of medications and therapy and works with patients' primary care physicians.
"I'm not going to be taking over for them completely but working together with the medical provider to come up with the best plan of care so patients can live as functionally as possible," Gabriel said. "Sometimes it is just getting them to be able to function better every day. We're trying to help people enjoy life to their best ability."
Gabriel chose to live and work in Montana because she loves the outdoors including skiing, snowmobiling and biking.
Chief Medical Officer John Moreland said that on "behalf of the Marcus Daly Medical Staff and all involved in patient care we are very pleased to add Sarah Gabriel, Psychiatric Mental Health Nurse Practitioner, to our medical staff."
"Marcus Daly Memorial Hospital has long wanted to add mental health care to our available services and care potential," Moreland said. "This is a much needed and very welcomed addition to the community."
Bitterroot Physicians Clinic can be reached at 406-363-1100 or 1200 Westwood Drive, Hamilton.