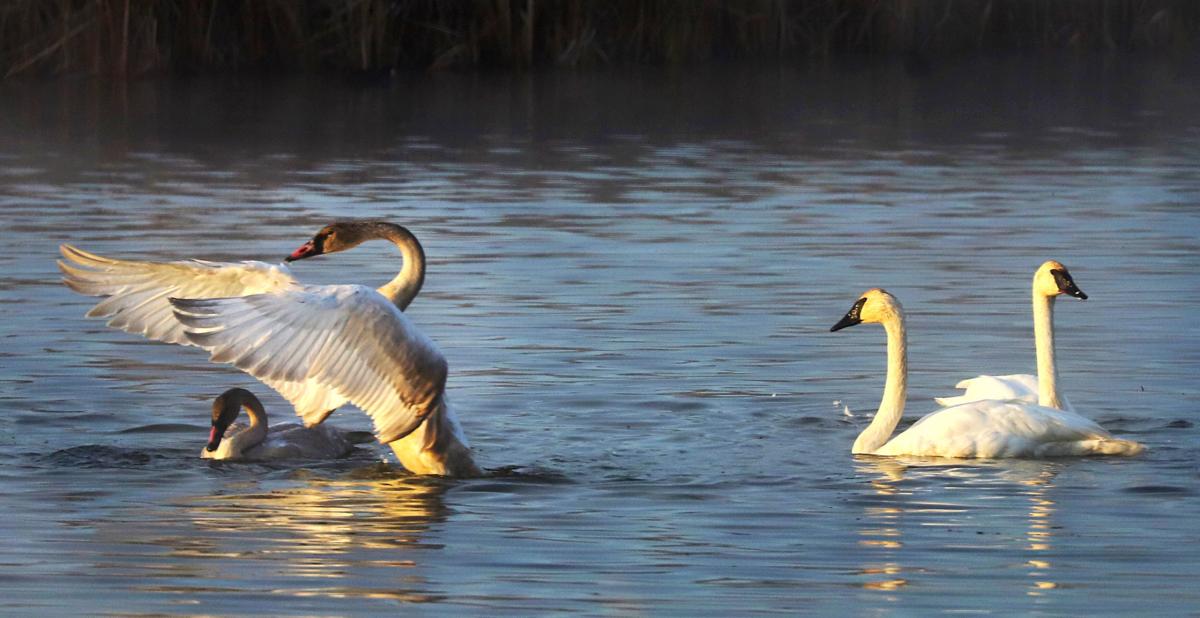 Fans of the Bitterroot's Valley first cygnets hatched in the wild in recent memory will be happy to learn they weren't among the seven swans recently found dead near a pond in Bozeman.
Lee Metcalf National Wildlife Refuge manager Tom Reed said the cygnets and their parents spent the winter on or near the refuge.
Trumpeters and tundra swans have recently become a common sight along Wild Fowl Lane near the refuge headquarters.
"We've had more swans than normal this year," Reed said. "Visitors are almost always seeing swans. It's been exciting for them. There are some who have adopted the cygnets as if they are their own."
On Wednesday afternoon, Reed said he could see nine swans from the window at the headquarters' building. While he couldn't see the cygnets — which are still a little bit darker than adults — Reed said he has spotted them several times over the last few weeks.
Swan cygnets will often stay with their parents through the second summer.
"It's going to be interesting to see what happens this spring," he said. "The swans might not initiate this year because they have cygnets with them, or they could push them off and nest."
With the relatively larger number of swans using the refuge, there's a chance that perhaps another pair will decide to try their luck.
"There's plenty of them around," he said. "We just need to ensure there are some isolated water bodies without a lot of disturbance. They seem to like muskrat lodges. There are a lot of those around, too."
Last fall, the refuge saw a record number of hunters. Reed said he didn't hear of single swan being accidentally shot.
Montana Fish, Wildlife and Parks is investigating the cause of death for the seven trumpeters that died between the towns of Belgrade and Manhattan last week. As of Tuesday, the department hadn't ruled out any cause of death, including poaching or the swans eating moldy grain.
Trumpeter swans are North America's largest waterfowl with a wingspan that can reach 7 feet.
Reed said a wide diversity of waterfowl that are beginning to arrive at the refuge, including hooded mergansers and the great blue herons that set up shop in a rookery just west of the refuge headquarters.
A few days ago, Reed spotted a pair of geese initiating a nest in the bowl of a cottonwood tree, which reminded him of the 1987 Mutual of Omaha's Wild Kingdom program called "Where Geese Nest In Trees" that was filmed at the refuge and lives on YouTube at https://www.youtube.com/watch?v=wHyuYvvNMe4
"I expect that spring is getting close," Reed said. "I think we be seeing a lot more new arrivals soon."
Get local news delivered to your inbox!
Subscribe to our Daily Headlines newsletter.