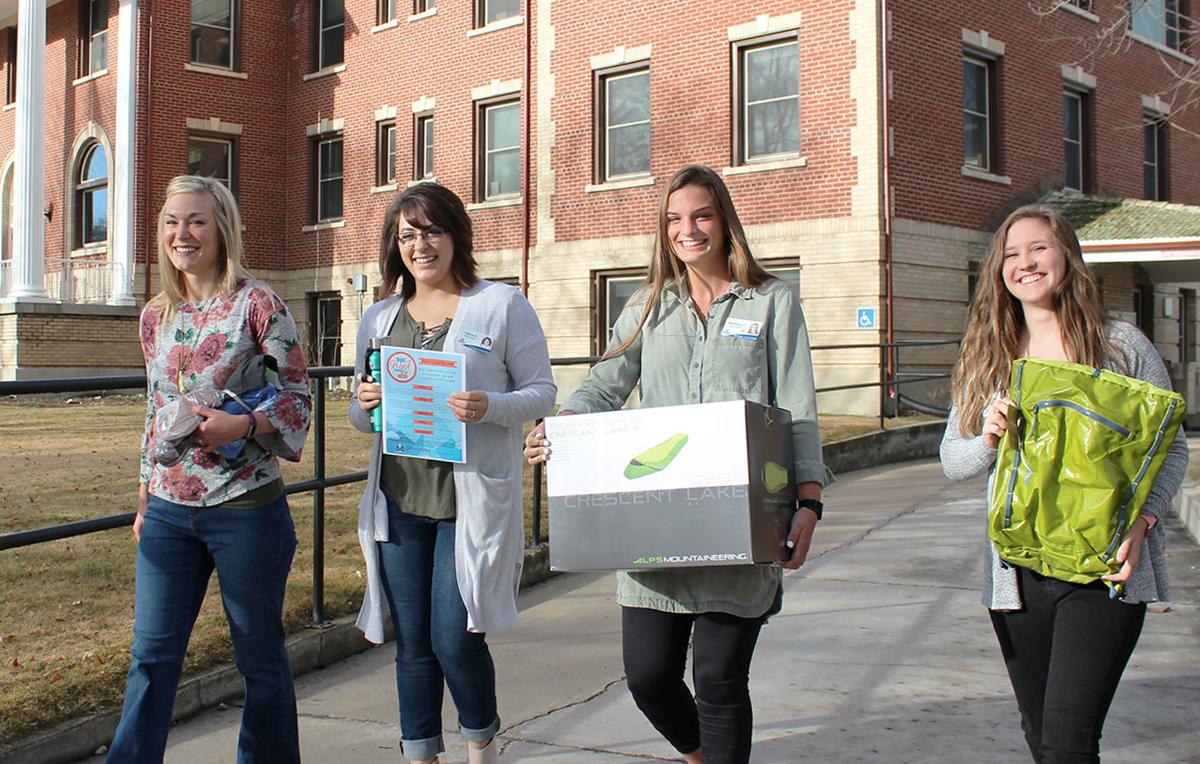 "Bike, Walk, Roll & Win" is ready to begin May 1 and will run through June 30.
The community incentive program to get physical in Ravalli County was designed by Katelyn Andersen of MSU Extension and nursing student interns. The Montana State University nursing students on the campus of the University of Montana graduate May 4 but interned with Andersen to fulfill the requirements for a class on public health.
This semester Madison Channer, Hadley Jones, Cierra Epp and Shelby Robinson worked to design the health experience and gather prizes for community health.
Channer is a Corvallis High School graduate.
"I have a little more of a buy-in with this project because the community has done a lot for me — getting me through middle school, high school and even college," she said. "So, giving back is really nice for me."
In February the nursing students began informing the communities and business owners about importance of the project and to gather prizes.
"Physical activity is important in your overall health," Epp said. "Cardiovascular disease is the number one cause of death in the United States and getting outside and walking helps reduce your blood pressure, increases your cardiovascular health and helps you lose weight."
Epp said that even walking 30-minutes a day can dramatically improve health.
Andersen added that 10-minute chunks of exercise were touted by health care professionals but now the suggestion is 150 minutes a week.
"It doesn't matter how you do it, it just needs to get done," Andersen said. "Ten minutes does get you more engaged, it gets that flow going in your brain so you're not thinking about the work you have to do but just being in the moment and enjoying getting rid of that stress."
Jones said that above cardiovascular benefits, exercise improves mood.
"When you are super-stressed and go exercise you feel so much better," Jones said. "Being outside is so important for your mental health. Around here we have inversions in winter and don't see enough sunshine for two or three months straight."
Andersen said that mental health is as important as physical health and keeping your mind focused on more positive aspects of your life is key.
"Participants of the incentive program have indicated that it has helped boost their mental health. Both years over 60 percent of participants indicated this benefit," she said. "However, physical activity can only help so much."
According to the National Institute of Mental Health (NIMH), "Depression – also called 'clinical depression' or a 'depressive disorder' – is a mood disorder that causes distressing symptoms that affect how you feel, think and handle daily activities, such as sleeping, eating or working."
Andersen said that if someone is showing signs or symptoms of depression that interfere with their ability to work, sleep, eat and enjoy life for more than two weeks, encourage them to talk to a medical professional for assistance.
"A walk isn't going to solve the world's problems but it can help with low symptoms and it can help with your overall mood," she said. "Taking a break every few hours at work to get out and enjoy the fresh air and sun helps. Just a quick trip around the block helps me re-energize and feel refreshed, refocused and on-task."
Andersen said she was encouraged by the results from the 2018 program.
"The Bike, Walk, Roll 2018 health-focused incentive program encouraged 74 participants in the months of May and June to log over 469 routes totaling 1,221 miles collectively," she said. "Additionally, 2018 participants reported 63% increased physical activity, 61% improved mental health, 36% improved stamina and 19% improved balance."
This is the third year for the program that has added a new community map each year with routes, miles and health information. The maps, designed by previous nursing students, help people engage in daily physical activity, improve their overall health and provide a handy way for community members to direct guests and visitors to see the towns and historical sites.
New this year is a Darby map that lists routes, interesting sites, places to explore and resources. During Pick up a Darby Walking Map at MSU/Ravalli County Extension's booth and learn more the programs from 10 a.m. to 2 p.m. on Thursday, May 28, at Darby Farmers Market.
"Bike Walk Roll and Win" has been expanded for 2019.
Previously, participants were required to follow one of the map routes but this year participants can engage in any form of physical activity in Ravalli County.
Channer said that the program is for every physical activity including walking, running, riding a bike, rollerblading, cross fit, longboarding, yoga and swimming.
Following one of the map routes, automatically earns five entries into the final drawing per day where as other activities earn one entry each day.
"We try to incentive you to use one of the maps but any form of physical activity can be reported," Andersen said. "People say this program helps them stay motivated or if they're already engaged in physical activity it helps them get beyond any excuses such as 'it is too cloudy outside.'"
Epp said local businesses were receptive to supporting the program.
"They were super-excited about it and eager to donate and participate," she said.
This year the program has twice as many prizes and many have a health related focus. The biggest prize is a kayak. Other prizes are non-prescription Ray-Ban sunglasses, a sleeping bag, gift cards, headphones, water bottles and more.
"Wild about Pets gave a cat-lovers basket and a dog-lovers basket," Andersen said. "This year Valley Bicycles is giving a bicycle tune-up and a cross country ski rental. So that shows to me that they believe in the program and it is something they support our community."
Andersen said physical activity should be viewed as part of life, not as a chore.
"It enhances our life," she said. "We encourage people to stretch their idea of physical activity. Maybe they don't enjoy running but maybe they would enjoy strength training or kickboxing."
The final "Bike Walk Roll and Win" prize drawing event will take place on July 9 at the MSU Extension booth at Darby Farmers Market
Get local news delivered to your inbox!
Subscribe to our Daily Headlines newsletter.