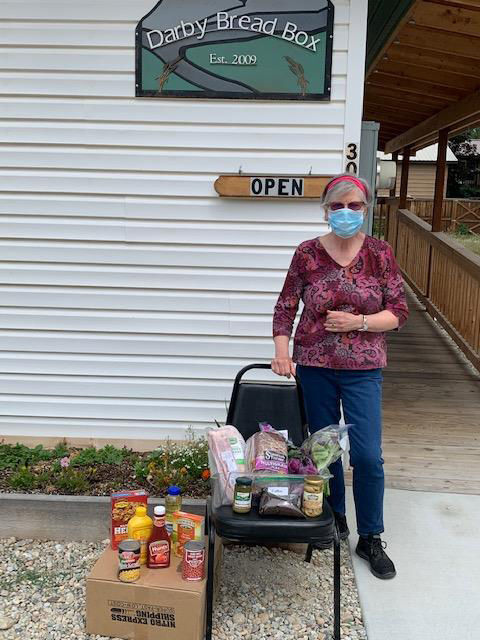 Having low numbers near the end of July, during a pandemic, has Darby Bread Box Manager Mary Lockwood wondering what is going on.
"We have probably half the amount of clients we normally have and we're not sure why," Lockwood said.
Out of curiosity she called some clients. Some said they didn't know the food pantry was open, some didn't know how the Darby Bread Box safety worked, some said they didn't want to take food away from families and some said they just didn't need to come in.
"The last three months our numbers have declined," Lockwood said.
The Darby Bread Box has plenty of food as it has had recent donations of food and funding.
"We don't know what is going on," Lockwood said. "Other food pantries in the valley are slow also. My thought that is the reason we are getting donations is people are watching TV and they see other states and other areas have long lines of people waiting for food. That isn't happening in Ravalli County."
Safety measures to prevent the spread of the coronavirus include fewer volunteers, a change from 20 to 10 people each week.
"We're limiting it because if one of them gets it (the coronavirus) we're going to be closed, or isolated for 14 days," Lockwood said. "We are trying to be as careful as we can — for their sake and for ours. We're doing it differently."
The change is for less contact. Clients ring the doorbell and return to their car. Volunteers go out with their masks on and do not exchange paperwork. The clients open their trunk or back door and food is placed inside.
On Friday the Darby Bread Box had eight customers.
"That is more than we've been having," Lockwood said. "It was that if we had 17-20 clients that was good, but now eight is a good day."
Donations have come from the Connor Church, People's Market, anonymous donors and grant funding from Dennis Washington, Rapp Foundation, the Darby Endowment Fund and a Bozeman grant for cleaning supplies.
Usually produce and personal items are a bonus for boxes, but with so much produce on hand, Lockwood said clients need to come while it is fresh.
The Darby Bread Box will keep some of the donations to buy a few extra things for Thanksgiving and Christmas boxes.
"They get their normal box but will also get a Thanksgiving box and a Christmas box. We thought we'd add in some frozen pies," she said. "The money isn't going to waste but we're using it differently."
Donated items include a pig from the Rennakers' family ranch, and two deer from North American Foods meat processing and packing.
"People are donating food and money, which has been nice. It's just that we'd like some clients," Lockwood said. "I don't know if people are using their stimulus money, their tax refund or food stamps. Maybe they just have money they aren't used to having and decided not to come to the Bread Box. Our clients would rather buy their own groceries."
Darby Bread Box is open from 10 a.m. to 2 p.m. each Monday, Wednesday and Friday at 304 E. Tanner in Darby, phone 406-821-2081.
MSU-Ravalli Extension SNAP-Education Instructor Jennifer Murrillo said that while many people have vegetable gardens to select from or freezers stocked with food, many community members are experiencing hunger pains around meal times from food insecurity.
"Here at Montana's Buy, Eat, Live Better Program (SNAP-Ed), we aim to boost knowledge that will help stretch food dollars, play with scratch cooking. It's truly simpler than you may imagine and makes the healthy choice the easy choice," Murillo said. "Today it starts with highlighting the Darby Bread Box's surplus of food — nutritious, affordable food to fuel our bodies and our brains, especially on these scorching summer days."
Murrillo recommends visiting the MSU Extension — Nutrition Education Department's recipe webpage www.buyeatlivebetter.org for a nutritious Wild Game Three Sisters Skillet and a Wild Game Soup.
"Toss some wild game, vegetables and herbs into a pot and call it delicious for lunch and dinner," she said. "Remember, cook once, eat twice; especially on these blue sky summer days."
Murrillo said pork can be a lean meat by trimming off the fat prior to cooking, and baking, broiling, or grilling it and then pairing it with fresh summer vegetable.
"The SNAP-Ed nutrition educator in me loves that pork can be lean, full of nutrients, and used in a variety of ways in wraps and sandwiches, to whole-grain bowl fillings, and on top of a leafy green summer salad, and it can be cooked low and slow depending upon the cut of meat, grilled, baked and broiled," she said. "Yes, the sky is the limit and pork and wild game can pair quite nicely with a variety of vegetables. Vegetables are great for their rich content of vitamins, minerals and fiber that our bodies require. Vegetables can be eaten crisp and fresh, steamed, sautéed, grilled, baked, broiled, mashed, you get the idea."
But if you still find your stomach, fridge and pocketbook near empty, she recommends going to the Darby Bread Box.
"Their kind volunteers would jump for joy to unload their stockpile of tasty, delicious foods upon you," Murrillo said. "While you're at it, will you consider joining a free, online class — mine of course — that dives into nutrition knowledge such as 'Is coconut oil as healthy as it's advertised to be?'" The class includes tips on to stretch food dollars; how to plan, shop and save; recipes and fun, affordable physical activities, she said.
Call Murrillo at 406-375-6609 with Ravalli County Extension and Buy, Eat, Live Better Program or email her at jmurrillo@rc.mt.gov. She will answer questions, help you register for the free online classes and assist with special accommodations or physical access needs.
Concerned about COVID-19?
Sign up now to get the most recent coronavirus headlines and other important local and national news sent to your email inbox daily.