Anyone who's ever admired a fine painting of the old west will readily admit that Charlie Russell knew the subject better than any man that ever put brush to canvas, but most of us are probably not as familiar with the story of how he first came into the wide-open spaces of the Big Sky Country.
Born and raised in St. Louis, Missouri, Charlie had dreamed of the Wild West from an early age, and when he was just 15 years old he finally got the chance to experience frontier life for himself. 'Pike' Miller, a friend of the family, was heading back to his sheep outfit in Montana, and offered to put the tow-headed youngster to work on his ranch. Charlie had already run away from home twice before, and his father realized that the only way to cure him of his wanderlust was to send him west to work off some of his youthful exuberance.
As a youngster Charlie had read many of the dime novels that recounted romantic tales of a cowboy's life on the western prairies, and he often spent hours watching jealously as the soldiers and fur-traders left St. Louis for the upper regions of the Missouri. Now it seemed that he finally had the ways and means of making his childhood dreams a reality.
On March 15, 1880, just four days before his sixteenth birthday, Charlie and Mr. Miller set out for Ogden, Utah, where the pair boarded the Utah Northern train for Red Rock, a small trade center located in the southwestern corner of Montana. From Red Rock, they caught a stagecoach to Helena, where Mr. Miller purchased a four-horse team and wagon. Charlie bought himself a good saddle horse to complete the hundred-mile trip to Miller's sheep ranch in the Judith Basin.
The young lad from St. Louis must have been ecstatic at the thought of finally riding out onto the open range, however it wasn't too long before he realized that sheepherders were situated near the bottom of the totem pole in social circles around Montana. After about three weeks on the job, Charlie decided to quit Pike Miller's operation, and prepared to go to the nearest stage station, where he had been offered a job herding horses. Miller didn't take the resignation very well and told the teenager that he would never make it in Montana.
While Charlie was packing up his meager possessions, Miller hurried off to the station, where he told the proprietor that young Russell "wasn't worth his grub." Meanwhile, Charlie saddled a pony that he had bought off of a passing Indian, and with his brown mare in tow, he rode out to the stage-stop, only to find that the job offer had been rescinded.
With little in the way of prospects, Charlie went a ways up the Judith River and made camp. In his short autobiography, 'A Slice of My Early Life' Charlie recalls that while he was sitting there wondering where his next meal might be coming from, "a rider with several pack horses appeared and made his camp on the river near mine. I recognized him as Jake Hoover, whom I had seen several times. After getting his packs off, he strolled over to my camp and looked it over."
Finding that the youngster had no food, Hoover took pity on him and offered to throw in with him and show him the ropes. Early the next morning the partners broke camp and headed for the mountains, where Jake had a small cabin. The well-known mountain man was earning his living as a hunter, providing deer and elk meat to the widely scattered local population. For the short time he stayed with Hoover, Charlie gained a wealth of outdoor lore, and in his reminiscences he relates that Jake Hoover knew more of nature's secrets than any scientist ever did. Years later Russell fondly portrayed the memories of those early days in some of his most celebrated paintings.
Even though his time with Hoover was well spent, Charlie still dreamed of becoming a real cowpoke, and after a year in the wilds with Jake, he finally met a man who would help him achieve his goal.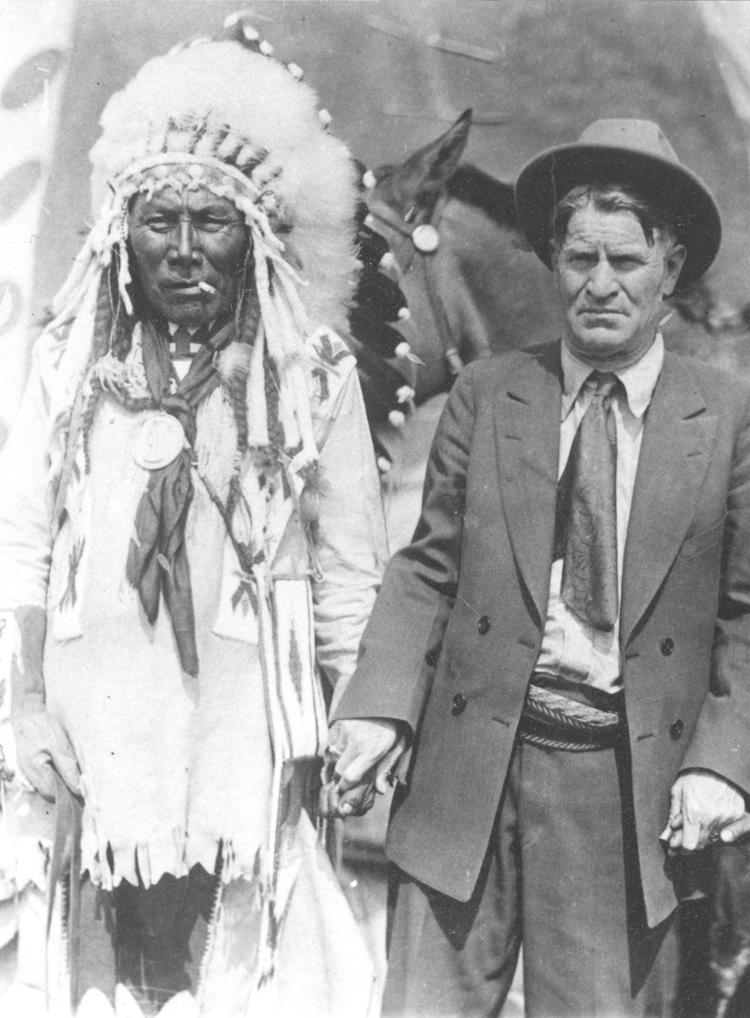 Pat Tucker was a seasoned cowpuncher of the highest caliber, and he skillfully led Charlie down the path of becoming a true Montana cowboy. Tucker described his first impression of a young Charlie Russell as follows, "His outfit was all wrong. His boots were too big. One stirrup was longer than the other. His las' rope was sea grass. It was not coiled right. He had on his head a cheap wool wide-brimmed, low-crowned hat. His bridle and saddle were a mail-order outfit."
Pat Tucker was working for the Iowa Cattle Company at the time, and was watching over a herd of eighty-six saddle horses that he had brought in to the Judith Basin from Oregon. Charlie explained his desire to learn the ways of the cowboy, and asked 'Tuck' if he would put in a good word for him with the boss of the outfit. The old pro must have seen something he liked and told him he would do what he could, but with a smile he added, "I'll get a gunny sack and we'll put your saddle in the sack. The boys will have a lot of fun with you if they see your pilgrim saddle. You can ride my extra saddle."
That same day Charlie was hired on to wrangle saddle horses at forty dollars a month. Tuck rode side by side with him to the main camp, where the cook was busy digging a hole right where the campfire had been.
Young Russell, still very much the greenhorn, asked if he was digging a grave. "No," says Tuck, "he is going to cook whistle-berries in a Dutch oven, cover it with coals, put the hot earth back over it, and in the morning the whistle-berries will be ready for the boys' breakfast." Charlie innocently asked what a whistle-berry was, and Tuck, knowing he had pulled off an old joke played on all the pilgrims, grinned and answered, "Beans."
The very same man who was busy preparing his pot of whistle-berries later came up with the nickname of Kid Russell for Charlie. It seems there was sort of an unwritten law in those days that the cowboys got to name the landmarks, and the camp cooks got to name the cowboys.
Just as an indication of how raw and unsophisticated the West was at the time, there was a certain Hotel in the region that had some peculiar house rules posted for their guests to adhere to. Among the items on the list were these four homespun jewels: "Spurs must be removed before retiring. Dogs are not allowed in the bunks, but may sleep underneath. Towels changed weekly. Guests are requested to rise at 6 a.m. This is imperative, as the sheets are needed for tablecloths."
No doubt, Kid Russell was right at home with these unusual ways of the west, and his unique sense of humor often came out in the fascinating stories he told and the wonderful pictures he painted. In his book, 'Trails Plowed Under' he gives us a real feel for the type of men that ruled the range in those glorious decades just before the turn of the century, but none of the tall-tales and collected stories actually speak of Kid Russell himself.
For that we must turn to Pat Tucker, who rode the dusty trails with Russell for over a decade, and leaves us with one of the best views available of Charlie Russell, the Montana Cowboy. Tucker was encouraged by Russell to put down his experiences in a book, and in return Charlie would help out by providing twenty-five illustrations for the work.
This was many years after he and Kid Russell had quit the range and parted ways. Tuck diligently wrote his memoirs all out in long hand, and having little formal education, spelled things the way they sounded to him. When the copy editors printed his manuscript, Tuck gave a copy to Charlie to look over so he could come up with the sketches to fit the stories. It didn't take Russell long to realize that the editors had ruined the manuscript, and he reluctantly broke the bad news to his old partner.
Unfortunately, Tuck was somewhat embarrassed by his grammatical ineptitude, and had hastily thrown all of his original notes in the fire. Charlie told him he would just have to start over, but before he could get the revised edition to Russell, the famous artist had already "crossed the great divide." Pat Tucker's book "Riding the High Country" was finally published without Charlie's artwork, but thankfully Kid Russell did manage to take center stage in most of the hair-raising adventures laid out by his old friend.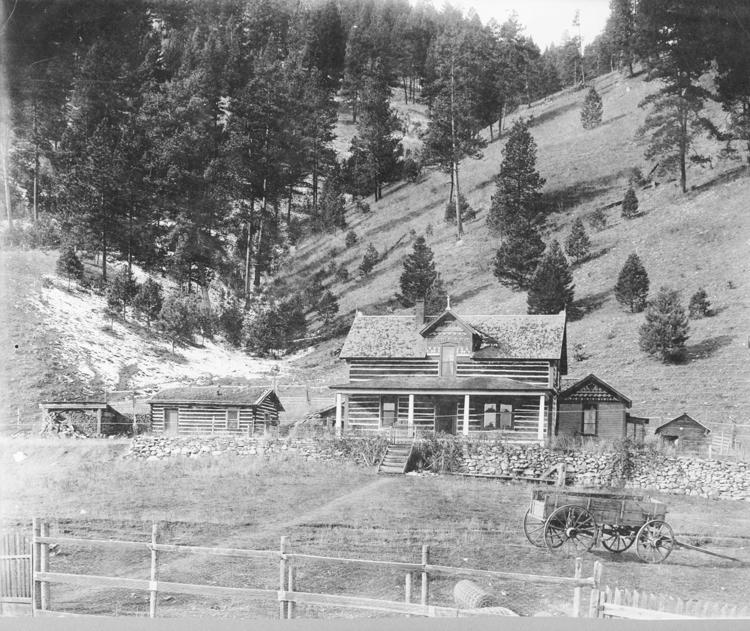 Several years before he died, Russell was commissioned by the state of Montana to paint a large canvas to adorn the walls of the House of Representatives in Helena. Russell chose to paint Lewis and Clark meeting the Salish Indians at Ross Hole, and in the spring of 1912 he and his wife came to the valley to get the proper lay of the land where this historic event had taken place. On May 30th they took the 5:15 train to Darby and as Russell admired the rugged beauty of the Bitterroot Range, he was quoted as saying "What a fine picture they would make."
Charlie was a real stickler for detail, and his finished work firmly attests to the fact that he went all out to get things right. The Russell's stayed with the Jake Wetzsteon family at Sula while Charlie made his detailed sketches of the surrounding landscape. The Wetzsteon homestead was nestled up against the foot of Sula Peak, and their front porch commanded a panoramic view east towards the largely unsettled basin. Kid Russell gazed out on that long abandoned campsite where the famous explorers had first met the Salish, and artfully utilizing all of his finely honed skills of observation, he drew it just as if he had been there on that historic day so many years before.
The Ravalli Republic is teaming up with Ravalli County Museum to bring you a series of local history and photo features. If you would like more information on today's subject please contact the Ravalli County Museum at www.ravallimuseum.org. You can also find them on Facebook, Twitter and Instagram.
Get local news delivered to your inbox!
Subscribe to our Daily Headlines newsletter.